This text is machine translated.
About Cable TV Amplifiers
What was Cable TV Amplifier?

When do ich need a cable TV amplifier?

Technical criteria for selecting cable TV amplifiers

FAQ – Frequently Asked Questions about Cable TV Amplifiers
What was Cable TV Amplifier?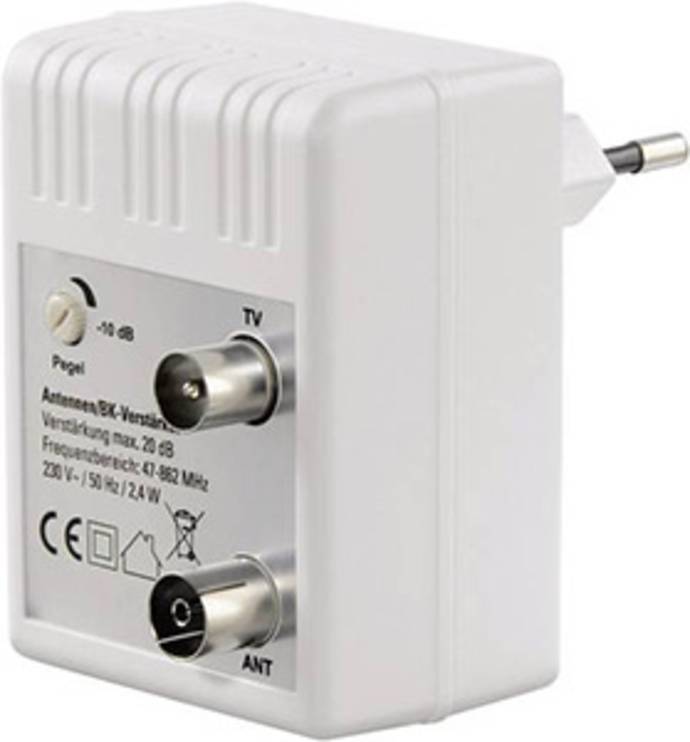 Cable TV amplifiers – also known as home connection amplifiers – provide stable and high-quality TV signal transmission by increasing the level of an incoming signal. The quality of electrical transmission signals can be negatively influenced by a large cable length. At the same time, as with all electrically transmitted signals, the TV signal becomes weaker as the transmission path increases due to the resistance on the conductor cable, was this, which can lead to reception problems in connection with occurring interferences.
House connection amplifiers pick up the incoming signal, prepare it actively and transfer it to the cable receiver in better quality. Signal amplification is usually adjustable and can be programd to suit different scenarios. Models with feedback channel capability are also offered, which are used for bi-directional connections, for example for Internet applications and telephone connections. As a rule, power is supplied via an integrated power supply. House connection amplifiers are mounted and connected directly behind the BK house transfer point (broadband cable system).
When do ich need a cable TV amplifier?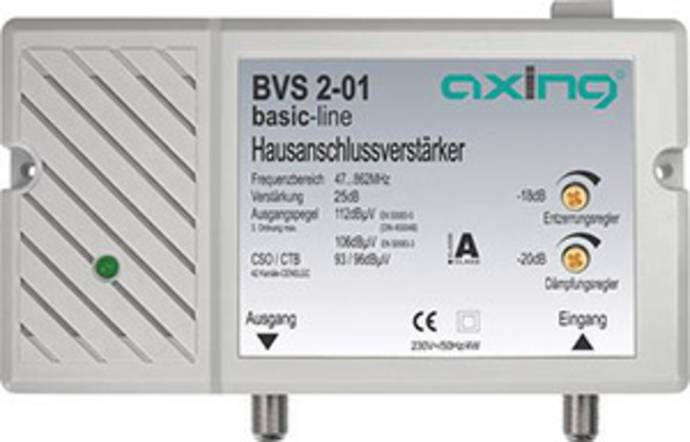 The use of a cable TV amplifier is generally recommended for optimum signal transmission. The device ensures that incoming TV signals, which have been weakened by long lines or other causes, reach the TV receiver with an appropriate signal strength. If reception problems occur, a distinction must be made between a signal level that is too weak and a signal quality that is too poor. Poor signal quality results in increased signal transmission errors that reduce image quality. The amplification of a bad signal makes only limited sense, since the interference components of the signal are also amplified. A weak signal level, on the other hand, can be raised to an acceptable level by amplification, which was noticeable by a stable transmission.
Technical criteria for selecting cable TV amplifiers
Although cable TV amplifiers can be set in their parameters, they are limited to a defined range of values. When selecting the appropriate cable TV amplifier, the following aspects must be observed: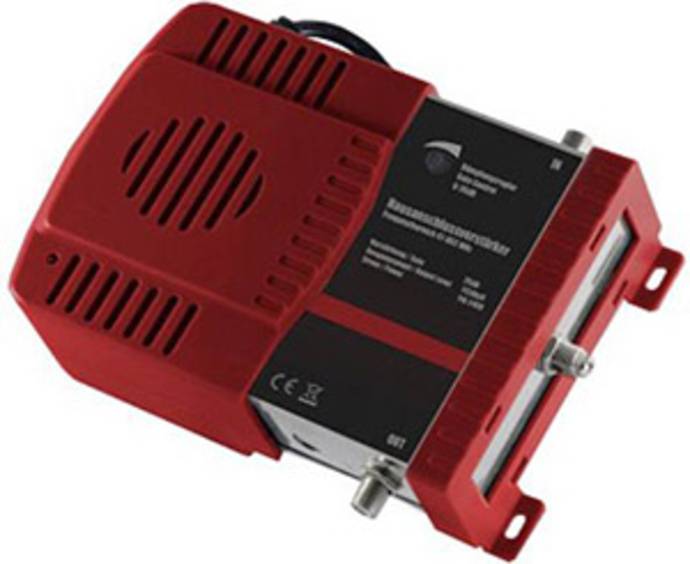 Amplification
The signal strength of a TV signal is expressed in decibels (dB). Common signal optimizations are realized when using cable TV amplifiers with values between 20 and 30 dB. Some models have sliders that set a fixed value.
Frequency range
The frequency range is the bandwidth of the available transmission frequencies for cable television. This defines the number of channels that can be used simultaneously. The usable frequency range is continuously extended by the operators. In extended areas, the range between 80 and 862 MHz is currently available for incoming transmissions (downstream). As an expansion of the usable frequency range is currently underway, it will in future extend to the range of 85 - 1006 MHz. At the same time, the range between 5 and 65 MHz will be used in future for applications with reverse channel (upstream), which was necessary for the corresponding preparation of the house connection amplifier, if one wants to use the corresponding services.

Noise factor (NF)
This is a measure of randomly generated interference voltages in an electrical line that are not part of the useful signal. Interference voltages occur in all electrical systems and are also generated by an intermediate amplifier, was this in turn influences the signal transmission. The noise factor is measured in decibels (dB) and should be as low as possible in a house connection amplifier – ideally between 5 and 10 dB. Due to the construction and materials, the values vary according to the manufacturer. Basically, the lower the noise factor, the higher the quality of the device.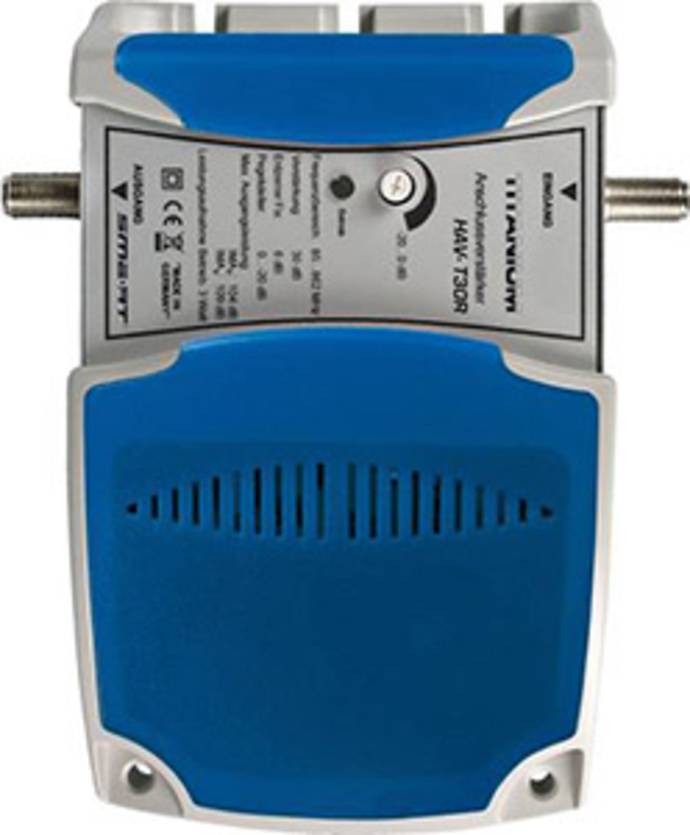 Standards and guidelines
The standards according to EN 60728-11, EN 50083-2 and EN 60065 apply to the installation of house connection amplifiers. Among other things, they help you to select the suitable house connection amplifier.

Reverse channel
A return channel is required for the transmission of telephone and Internet signals within the framework of corresponding applications. Without the provision of a return channel gain, an amplifier can receive incoming signals, but cannot return outgoing signals to the source at an appropriate level. Manufacturers usually apply for feedback channel amplification with the term "return channel switches", which can be set in most cases.

Input/output sockets and plugs
A total of two types of inputs and outputs are distinguished for cable TV amplifiers: Coaxial and F connectors. Conventional antenna cables use coaxial connectors, while satellite cables require F connectors.
FAQ – Frequently Asked Questions about Cable TV Amplifiers
How do ich select the settings for an optimal image?
Measuring instruments are required to determine the correct signal values. In principle, an acceptable quality image can also be achieved by simply trying out different settings. However, overmodulation of the amplified signal should be avoided as the receiving receiver or the amplifier itself can be damaged.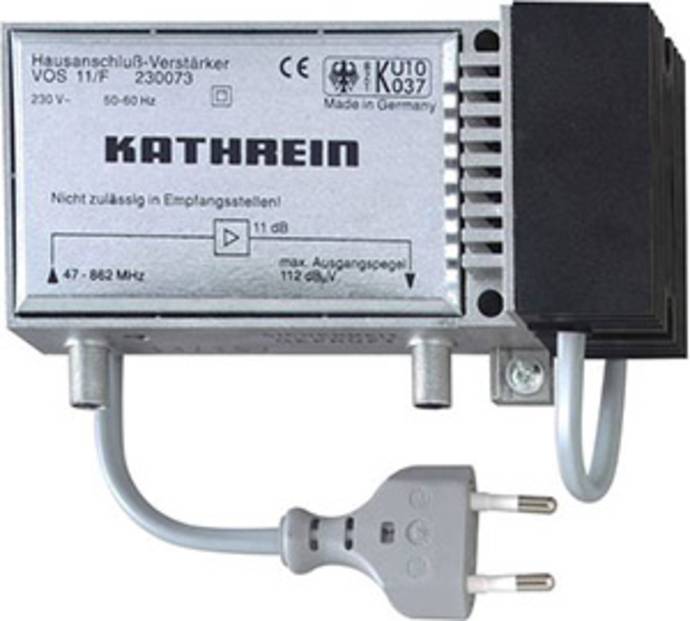 Can an amplifier amplify bad signals?
Yes, a cable TV amplifier can certainly amplify interference signals. The most common cause of excessive interference is poor quality cables with poor insulation. Therefore, pay attention to high-quality cable management for complex networks.

Where do cable TV amplifiers need to be mounted?
This primarily depends on the position of the house connection. If it is located in the basement, amplifiers with housings are suitable for indoor mounting. For outdoor use, care must be taken to ensure weatherproof designs and housings. In addition, the expected interference signals at outdoor installations are somewhat stronger than in indoor areas.

What was the difference between the antenna amplifier and the cable TV amplifier?
An antenna amplifier can be used equally for the amplification of terrestrial television signals and for cable reception. It is usually used directly at the antenna socket. Before purchasing, the suitability of the amplifier should be determined based on the characteristics of the received signal.

How much power does a conventional amplifier have?
The power values vary according to the degree of amplification required. Cable TV amplifiers with a power of 3 to 5 watts are common. They have the advantage that they generate little heat and can therefore be mounted on almost any material without any hesitation. Power is usually supplied via the mains socket. Some models have a remote power supply, which is then implemented via the input and output of the amplifier.
This text is machine translated. About Cable TV Amplifiers What was Cable TV Amplifier? When do ich need a cable TV amplifier? Technical criteria for selecting cable TV amplifiers FAQ – Frequently Asked Questions about Cable TV ...