This text is machine translated.
Useful information on car rodent repellent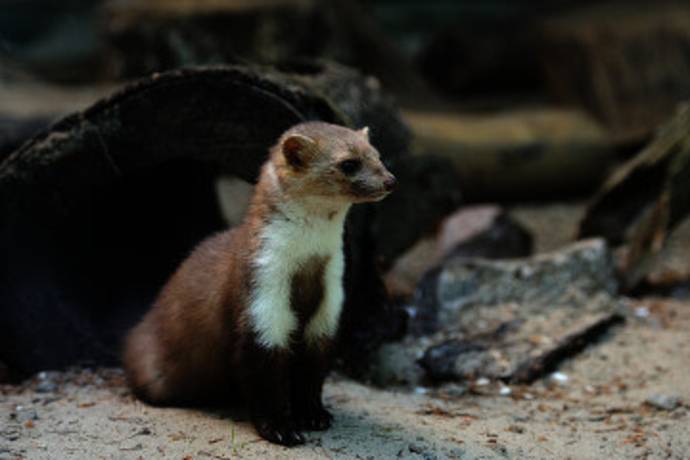 Why do Marten damage cars?

How do ich recognize marten marks on the car?

What are the consequences of marten damage?

Marten defense: What was really helping?

What was the payment of the car insurance?

Conclusion: Marten defense protects against trouble with the car
In the 80er, for the first time, mysterious damage occurred to hoses, insulation materials and other plastic or rubber parts in cars. Research showed that the Marten felt slowly at home in the city and liked to use vehicles and attics as a living room and playground. For the car and house owners concerned, this is a annoying matter because it is not easy to get rid of the small animals.
Why do Marten damage cars?
Vehicles are easily accessible, pleasantly warm and not visible from the outside. For these reasons, they offer a safe place for enemies to sleep and eat. They also serve as a playground, because the engine compartment offers a varied range of tubing and cables. Martens are curious and examine everything with their mouth, whereby the bite marks come about.
Another problem is reinfighting. Throughout the year, especially at the mating season in spring, martens are keen to defend their territory. A car marked by a marten as its territory and parked elsewhere may be in the territory of another marten. Then it happens that he feels threatened. As a result, he reacts aggressively and wants to make clear to the alleged competitor that he is on hostile territory. It distributes its tracks and damages the interior of the engine compartment.
How do ich recognize marten marks on the car?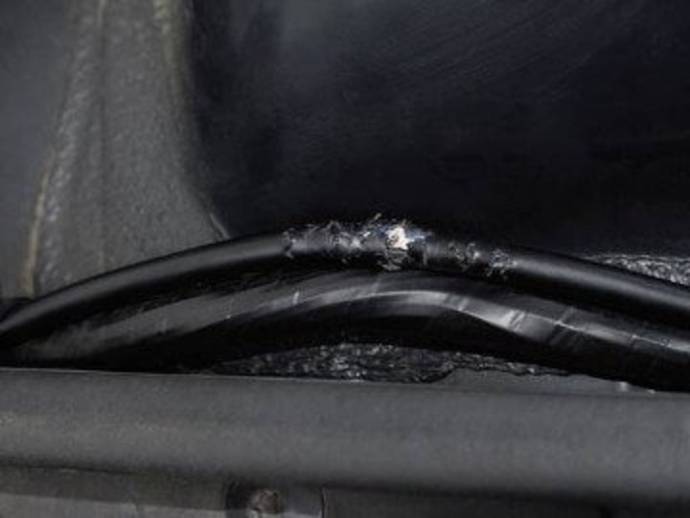 The shy martens are nocturnal. Therefore, you will rarely find an animal on fresh deed. But they leave traces. The most striking are the paw marks on the hood, windshield and roof. In size and shape, they resemble cat marks, with a marten imprint having five toes, while in a cat track four are visible.
In order to discover other traces, a view into the engine compartment is necessary. There, for example, food remains such as egg shells, nut shells or cadaverts of small animals can be found. Animal hair, kot or a strong smell of urine also prove the unwanted visit.
If these signs are found, check cables and hoses. These may have bite marks or be completely cut. In addition, lining and insulation in the engine compartment are popular targets of the marten attacks.
Damage is often caused, according to ADAC
Cooling water and windscreen washer water hoses,
Plastic hoses,
Vehicle & Battery Cables
Power lines and their insulation,
Insulating mats for noise and thermal insulation as well as
Bellows on drive shafts and steering.

The ADAC also emphasizes that there is no evidence of damage to fuel lines, V-belts, brake hoses and tires.
What are the consequences of marten damage?
If a marten has cut the ignition cable, this can be recognized immediately, because the car no longer starts. A blown cooling water hose leads to an unmistakable cooling water puddle. It becomes more tricky to detect cables and hoses with traces of bite. Because the small, pointed teeth of the animals often leave fine holes, which can only be recognized when looked closely.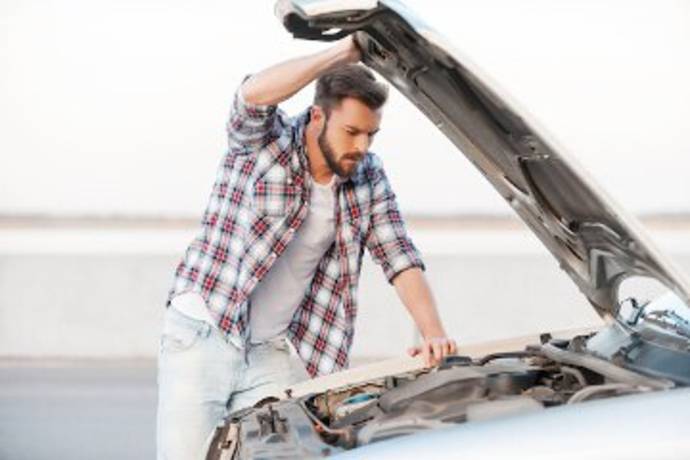 However, these holes can have far-reaching consequences. This ensures that the ignition cables are installed so that the engine is ignited irregularly. This can be recognized by the fact that the engine stutters or suddenly stalls. Consequential damage is often found on the catalytic converter, as the gasoline does not burn completely.
If martens the cooling water hose, cooling water is lost by dripping or in a narrow beam. If this happens undetected for a long time, the motor may overheat due to lack of cooling and cause serious damage. In the worst case, the motor must be completely replaced.
It is also worth visiting a specialist for small bite marks in order to avoid expensive repairs, which result from a rodent damage. Alternatively, the investment in effective rodent protection is recommended.
Marten defense: What was really helping?
A marten protection is recommended all year round. The animals do not sleep in winter and do their miswork at any time of the year.
There are many tips on what house remedies to help marten. No matter whether WC stones, dog hair or moth balls: Reliable protection against martens could not be proven so far.
If a marten has caused a defect in your car, many experts recommend a motor wash to get rid of the smell of the marten. This prevents this smell from attracting other martens. It is best to leave this cleaning to a specialist. The sensitive electronics in and around the motor can easily be damaged by water and cleaning agents. If you want to work yourself, there are suitable precleaner to buy, which also removes the marten fragrance from the engine compartment.
Our practical tip: Hunting law must be observed without fail
Before they reach the ultimate means: Martens are subject to hunting law. Hunting, catching or killing is only permitted in compliance with the regulations. Hunting law generally prohibits the use of firearms in residential areas. And even the hunting of traps requires a corresponding permission.
If one does not comply with the regulations, fines of up to 5,000 euros or prison sentences are possible, depending on the state. The amount of the penalty is also based on the permitted hunting times for martens. These are dependant on the state and the Marso between August and February. In the period of grace, which is also between March and October depending on the state and Marso, the penalties can be considerably more sensitive.
In order to protect your own car, ultrasound, electricity, defense sprays and marten protection tubes help.
Meanwhile, automakers are offering a marten shield to equip cars with. Thereby, openings through which martens enter the engine compartment are closed with a bristle curtain. The rear access is blocked by a perforated plate. Some manufacturers also offer the installation of a marten protection system with power from the factory, which works according to the pasture fence principle.
Ultrasound rodent repellent
Ultrasonic devices continuously emit sounds of about 200 dB(C) via piezo loudspeakers, which are not audible to adults. Martens feel the noise is unpleasant and avoid vehicles equipped with it. The disadvantage: Babies and toddlers also seem to hear these frequencies, which can cause sleep problems or headaches. Then you should remove (leave) the ultrasound unit.
Installation in the car is possible in a short time with conventional tools. Note that the frequencies change regularly so that the marten does not get used to the otherwise constant tone. In addition, the device must be placed in such a way that the sound can spread without obstacles.

Rodent protection through high voltage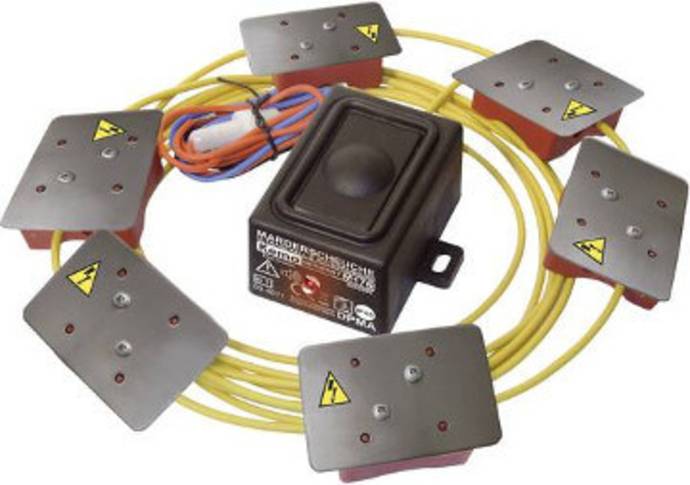 The best effect for car rodent repellent is achieved by electric shock devices. These work according to the pasture fence principle, which also keeps cows out of their pasture area from the outbreak. The martens receive a short, violent electric shock as soon as they touch the contact plates. Serious injuries do not suffer the animals. And even if you touch the contact plates provided, the continuous current of around 10 mA is harmless.
The power supply takes over batteries, a power supply or it can be installed directly in the car electronics.
Please note that the circuit can be closed when purchasing. In addition to the contact plates, you need negative poles (also ground) to trigger the electric shock. In older car models there was still enough metal in the engine compartment, so that this acted as a mass. Today, plastic and textile materials are mainly found there, which are unusable as conductors. Therefore, many electric shock devices for repelling rodents have plates that serve as negative poles. These should be attached as close as possible to the contact plates. This is the only way that the marten touches both plates at the same time, closes the circuit and in this way releases the electric shock. It doesn't matter whether he touches the plate pairs with his feet, the tail or the muzzle. For the device to function correctly, it must be installed properly and firmly. If you are unsure about this, workshops will be happy to help you with the installation.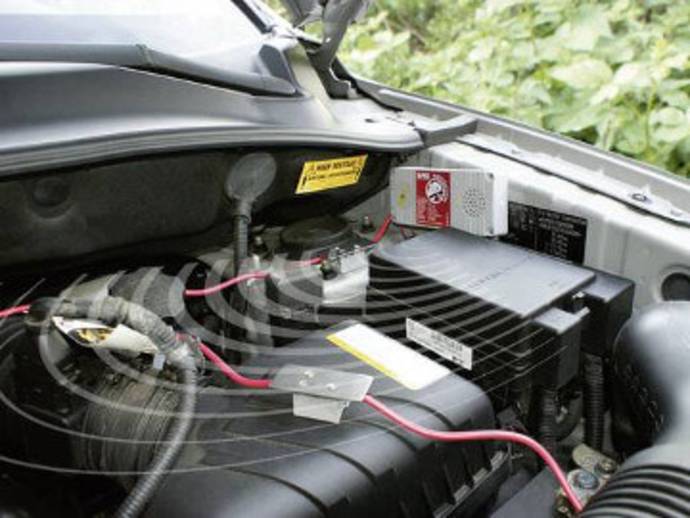 For humans, these electric shocks are absolutely harmless due to their low power consumption in the lower milliampere range, however, people with pacemakers do not touch the contact plates as a precaution. In addition, the power should be switched off when working in the engine compartment. Either it switches off automatically when the bonnet is opened or it can be switched on and off manually using a switch.
Combined rodent repellent from ultrasound, current and light
Some devices combine at least two of these mechanisms for car rodent repellent, such as ultrasound and electricity or electricity and light. The light is also meant to bury the light-shy animals, as it is called chasing away in the jargon. The manufacturers promise an increased effectiveness of this marten protection.
Our practical tip: Waterproof electric shock and ultrasonic devices
Make sure that the device of your choice is waterproof - whether electric shock, ultrasound or a combination. Manufacturers shall note in the technical details the marking IP65. So even engine washing is not a problem.
Mechanical, biological and chemical agents
These include cable and fragrance shrouds on a chemical or biological basis.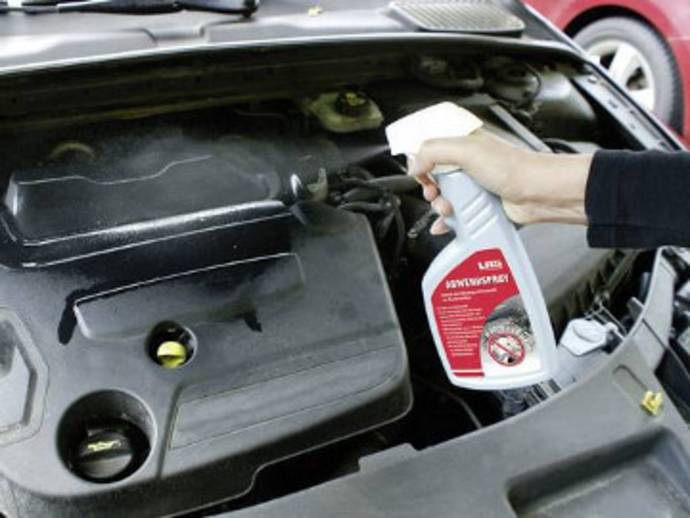 Casings do not chase rodents, but protect cables from their bites. This marten protection can often be found under the name corrugated pipe or marten protection pipe and consists of hard plastic. However, they do not provide protection for all hazardous parts, but are mainly used to protect the ignition cable. Hoses and insulation materials still have no rodent protection. Furthermore, the marten protection tubes must not come into contact with parts that heat up.
Fragrances are available in different designs as spray, card or sticks. These Marten Defense tools are recommended as first aid as soon as you notice any damage to the car that a Marten may have caused. A spray must be applied again and again, as rain or a car wash wash wash off the agent. After a certain time, the aromatic cards or sticks lose their effect, as the fragrance evaporates. Then they are to be replaced as well.

What was the payment of the car insurance?
Did it happen and the marten damaged your car? Then read your car insurance policy in more detail. Insurance companies regulate the taking over of damages by martens differently. As a rule, one of these three options applies:
No marten damages are mentioned in the insurance policy or explicitly excluded. Then the insurance does not take over anything.
The insurance pays for the parts damaged directly by a marten. If he has a cable or hose, only the spare part is paid. But not a possible consequential damage to the engine or on-board electronics.
The insurance policy states that consequential damage is covered. Then insured persons receive the total damage sum. With this variant, insurance premiums are of course much higher. Even damaged motors or on-board electronics parts cause high costs in the worst case.
Conclusion: Marten defense protects against trouble with the car
If you see a marten passing by or discover paw marks on the bonnet, a marten defense on your car is recommended. A quick first measure is fragrances or cable sheathing. In the long term, ultrasonic or electric shock devices are best protected against marten damage, because the devices work without having to worry about it. Only regular checking of the contact plates for electric shock devices is useful, as contamination can impair their function.
This text is machine translated.       Useful information on car rodent repellent Why do Marten damage cars? How do ich recognize marten marks on the car? What are the consequences of marten damage? Marten defe...