This text is machine translated.
About automotive connectors
What was a car connector?

Which car connectors are available from Conrad?

FAQ – Frequently Asked Questions about automotive connectors
What was a car connector?
With car connectors, the electrical cables of the car's on-board network are reliably connected with each other or with consumers in the car. The inserted connections are positive and can be separated again if components need to be replaced. The joining and cutting is possible with or without tools depending on the design of these connectors.
Automotive connectors are designed to withstand the increased demands on mechanical and thermal loads in the car without the connections failing. In addition to the screw-on connections, automotive connectors have mechanical fuse elements that mesh so that the plug-in connection is kept reliable in the vibrations occurring in the car.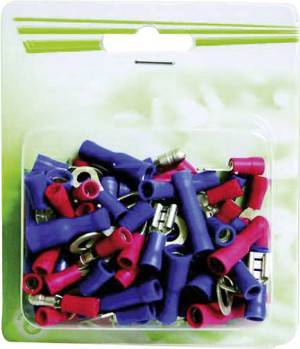 In addition to the actual electrical contacts, automotive connectors are usually surrounded by a plastic housing or covered with robust insulating material. The housings are also available as empty housings, which can be fitted with plug-in contacts according to the specific requirements of the car model. Housings and insulations are designed to withstand wear due to friction on body parts, vibrations and vibrations for a long time. Special connectors have additional mechanical elements for fixing to the car body or to or in insulation materials.
The actual connector is connected to the cable by soldering, crimping or screwing. Very innovative solutions have been established in this area. These include connectors with the so-called insulation displacement technology. This technology allows easy connection without special tools. It is not necessary to strip insulation, solder or screw on the cables to be connected. In addition, these plugs are designed in such a way that they can be connected with each other by simply twisting by 180 degrees.
The possible, connectable cable cross-section as well as the connector material used vary depending on the application area in the car and the resulting required stability.
For most car connectors, data sheets from the manufacturers are available for download in the Conrad online shop. They are particularly relevant with regard to the current carrying capacity and the temperature range at the place of use in vehicles.
Which car connectors are available from Conrad?
Conrad offers a professional range of high-quality automotive connectors that enable you to quickly and reliably implement all the necessary electrical connections in your car. They can be selected in the shop menu according to:
The price (as a price range)
New products and offers, here also with the low-emission manufacturing requirements RoHS
Availability in the Conrad branches.
Of the brand
The plug system: The standard dimensions 2.8/4/4.8/5/6.3 millimeters are offered here.
As accessories, connector sets are available partly with suitable professional tools from Conrad.
FAQ – Frequently Asked Questions about automotive connectors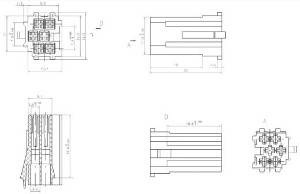 Which safety instructions for car connectors must be observed?
Work on the on-board power supply of vehicles may only be carried out by qualified personnel trained for this purpose. Measures must be taken to protect persons against the effects of high and thus dangerous body currents.
When disconnecting the car battery, vehicle components may be affected which must be activated with codes after the on-board voltage is switched on again (for example, car radios). Make sure that this information is available before starting work.
When testing electrical connections in live vehicles, special protective measures must be taken, which are described in detail in the occupational health and safety directives.
Improper design of electrical connections in vehicles can lead to considerable risks. This applies above all to safety-relevant modules that are supplied from the car's electrical on-board power supply.
The connection and release of plug connections should be voltage-free, because due to the high currents, dangerous electric arcs can occur when disconnecting.
If required, use a suitable tool to avoid damaging the fasteners, housings, insulations and vehicle components.
For certain connectors, the cable material to be used and its design are mandatory.
Always use the same colors when replacing connectors.
Use connectors in the specified rated voltage ranges with the maximum rated current, temperature resistance and processing temperature.
Direct work on cables and contacts must only be carried out when the device is switched off.
Most automotive connectors are not intended for outdoor use.
Avoid contact with oil, chemical substances or corrosion gas of connectors, their housings and cables.
After processing, secure the cables so that there is no tensile force on them. Use the existing mounting options or additional cable ties in the car. Some types of construction can also be connected to each other with plug-in mechanisms. Use the strain reliefs directly at the connectors, if available.
Cut&clamp plugs may only be used once.
The connectors must be connected horizontally or disconnected.
Plug-in devices of mobile flexible electrical supply cables must be protected against accidental contact. Plug-in or disconnect the plug-in connections must not be carried out under load if the plug-in connections are not designed for this purpose.
Automotive connectors that can no longer be used belong to public collection points than electrical scrap. They must not be disposed of with household waste.
How do defective car connectors become noticeable?
Insulation elements can become unusable due to exposure to high temperatures. Determine the causes of the temperature rise and remove them before replacing the car connectors.
Due to corrosion, increased contact resistance can occur on the contacts, which can lead to heating. This can damage the insulation or the housings. The connected components will no longer function reliably. For example, the light yield of illuminants is reduced.
The spring force of the terminal shoe can decrease over time, so that the electrical connections also become unreliable or even separate themselves due to vibrations.
This text is machine translated. About automotive connectors What was a car connector? Which car connectors are available from Conrad? FAQ – Frequently Asked Questions about automotive connectors What was a car connector? ...