This text is machine translated.
Useful information about car lamps
What was a car/truck bulb?

Differences and special features in car/truck light bulbs

Special features of xenon bulbs

What criteria are used to distinguish between car and truck bulbs at Conrad?

FAQ – Frequently Asked Questions about Automotive/Truck Lighting
What was a car/truck bulb?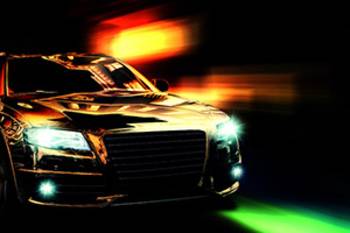 Car/truck light bulbs are part of the statutory safety equipment of vehicles participating in public traffic. They ensure the recognition of the respective vehicle for others and the view of the driver at dusk and darkness or bad visibility due to the weather. Another use is the optical warning of other road users, for example in rescue or emergency vehicles. Illuminants are also used in search or working headlights on specially equipped vehicles. Special designs for hidden light emission are used on military vehicles.
The bulbs are designed as light bulbs with different designs and technologies. In recent years, rapid developments have emerged that have led to completely new types of car/truck lighting. In 2014, for example, the first series-production vehicle with laser light came onto the market. Laser diodes generate a blue laser beam, which is converted into daylight white light by a layer of fluorescent material.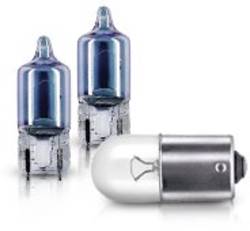 The unit of measurement for the total radiated light of a light source is lumen (lm). The efficiency η (Greek letter ETA) of illuminants is indicated by the luminous efficiency in lumens per watt (lm/W). By comparison, the efficiency of a halogen lamp is about 8 percent. About 92 percent of the energy is lost due to heat radiation. In the case of gas discharge lamps, on the other hand, approximately 28 percent light radiation is achieved via a ballast due to xenon gas filling and high-voltage operation.
The color temperature of the light is measured in Kelvin (K). Color temperatures above 4,000 K are classified as cold (white/bluish) colors, whereas low temperatures (yellowish to reddish) are referred to as warm. A bright white bulb, for example, has a warm white color temperature of about 2,700 K.
Differences and special features in car/truck light bulbs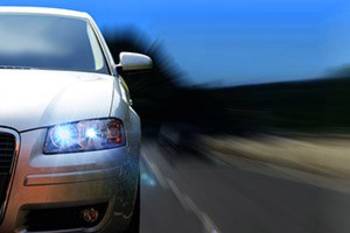 Car xenon lamps are line emitters. The mixture of spectral lines produces the visible color, a little bluer than the light of halogen filament lamps. Newer low-mercury lamps also contain sodium, was used to reduce color temperature and make the light warmer. Halogen incandescent lamps emit a continuous spectrum far into the infrared range and emit a warmer light.
Halogen bulbs sold with the additional designation "Xenon" have to make the light appear bluish, either a color filter vaporized on the piston or the glass bulb itself consists of blue glass to mimic the higher color temperature of the xenon discharge lamps. However, this reduces the light yield slightly.
All our car lamps comply with the statutory requirements.
Special features of xenon bulbs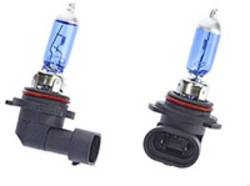 An electronic ballast for on-board networks of 12 and 24 volts is required for operation. The efficiency of these ballasts is about 90 percent.
The ignition of the lamp takes place with a voltage pulse of up to 25 kilo-volts.
This takes about 15 seconds to reach the full luminous flux. There are approval criteria for the light yield to be achieved after certain time units have elapsed.
In continuous operation, approximately 85 volts is used at 400 Hertz square wave. Newer lamps operate at approximately 42 volts.
Plug starters avoid EMC problems by placing the ignition unit as close as possible to the lamp unit.
What criteria are used to distinguish between car and truck bulbs at Conrad?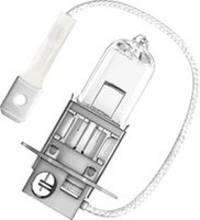 Type
The design describes the generation of light by means of light thread (and its number) or gas discharge and the filling of the glass piston as well as further details. A letter-number combination according to ECE guidelines is used for this purpose.
SERIE
This menu item lists more than 40 brands of bulbs from manufacturers, such as Blue vision Moto, Silverstar or WhiteVision Xenon effect.
Power
The power of a car/truck bulb is prescribed for the respective place of use. At Conrad, the lamp output ranges from 1.2 to 90 watts.
Operating voltage
From 6.8 to 85 volts.
Skirting
The combination of letters for the socket provides information about the design and intended use of the light bulb in the car The first letter stands for the design of the socket, for example B for bayonet connection or S for Sofitel. The number indicates the diameter of the socket (without connectors), and the following lowercase letter indicates the number of connectors.
Category
This is where halogen, LED, signal, Sofitel and xenon bulbs, lamp ranges and a lamp tester are divided.
FAQ – Frequently Asked Questions about Automotive/Truck Lighting
What was to be observed when replacing car/truck bulbs?
The bulbs used in the vehicle are listed in the on-board manual to ensure correct replacement. There you will usually find information on the accessibility of the bulbs, for example behind flaps or covers.
In the case of bulbs used in pairs, the corresponding second lamp should be replaced in addition to the defective lamp.
The glass bulb of a bulb should not be touched with bare fingers. The skin grease is placed on the glass, burns and renders the lamp unusable for a short or long time.
Conventional car lamps do not require any special disposal measures, as do halogen lamps. Discharge lamps must be disposed of at recycling sites, the electronic components as electronic waste.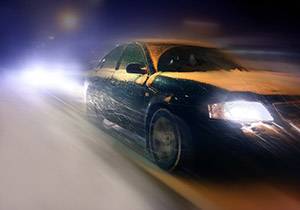 Is it possible to convert from conventional to xenon or LED technology?
The new lighting technologies require different reflectors, bases, ballasts, where applicable, so that replacement is not easily possible. It is recommended that you consult your vehicle manufacturer or dealer.
How long do car/truck light bulbs last?
Depending on the design and materials used, the service life of conventional lamps is 300 to 1,500 hours. Mechanical shocks and vibrations have a negative effect on the service life. The lifetime of LED bulbs is indicated with up to 10,000 operating hours. There are two special values for the lifetime specifications: B3 refers to the time after which 3 percent of the tested lamps have failed. The value TC indicates the time after which 63.2 percent of the lamps have failed.
How can ich detect a defective car/truck bulb?
Filament lamps only have "intact" or "defective" operating states.One source of error is corrosion on the bulb socket or socket, was the result of reduced light yield or flickering. Corrosion can also prevent lamps from coming out of the socket was necessary to replace the complete reflector. A lamp tester (available from Conrad) can be used to test a car/truck bulb before installation. With fluorescent lamps with ballasts, errors can be noticed by flickering and decreasing light output. A safe fault diagnosis can be carried out in a specialist workshop.
This text is machine translated. Useful information about car lamps What was a car/truck bulb? Differences and special features in car/truck light bulbs Special features of xenon bulbs What criteria are used to distinguish betwe...