This text is machine translated.
Useful information about car radios and moniceiver
Reasons for the installation of separate car radios or moniceiver

The difference between car radios and moniceovers

Radio and moniceivern selection criteria – which device fits you?

Practical tip: Carry out updates

FAQ – Frequently Asked Questions
Reasons for the installation of separate car radios or moniceiver

If you browse the price lists before you buy a new car, you can start to cheer up when it comes to the extra costs for audio systems ex works. It does not have to be high-end systems installed in the vehicle. Even simple radios beat properly. An alternative is to order the car without radio. A number of manufacturers then supply a radio pre-equipment, which was usually meant that the recesses for radio and loudspeakers were available and that one could "upgrade" according to one's own ideas.
Also interesting are car radios and moniceiver for used purchased vehicles that are equipped with or without rather aged audio systems. For fixed audio systems, it is virtually impossible to use a separate pre-amplifier access to control your own amplifiers and subsequent speakers. Here, self-retrofitting offers another plus point.
In addition to car speakers , which you will find in our extensive selection, you can choose from a variety of car radios and moniceivers in our online shop.
The difference between car radios and moniceovers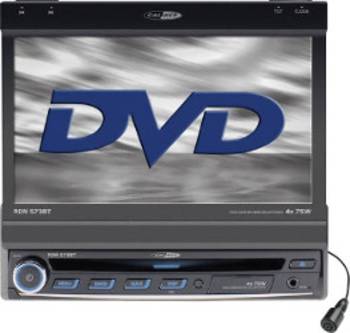 Car radios are radio receivers equipped with the usual terrestrial frequency bands, at least medium and ultra-short wave (FM). Most modern models are equipped with DVD or CD drives , standard interfaces such as USB and Aux-in as well as connections for remote controls. As a safety plus, many car radios also have hands-free systems based on the Bluetooth standard. Some of the DAB car radios are also offered. DAB stands for Digital Audio Broadcasting. Radios with DAB reception offer good sound quality without noise and other interfering noises.
The word moniceiver is composed of the terms "monitor" and "receiver". It refers to a car radio with a screen or also a touch screen display. This enables various additional functions, for example the use of navigation systems . If the moniceiver is equipped with a DVD player, it is possible to watch movies on the screen.
For the installation of a car radio, a standard slot is required in the car. The standardized dimensions are 180 millimeters in width and 50 millimeters in height. The minimum depth for the installation slot is 160 millimeters. For larger car radios and moniceiver, a so-called double DIN slot with an installation height of 100 millimeters is required. These dimensions have been defined in DIN ISO 7736 since 1984.
Radio and moniceivern selection criteria – which device fits you?
The question of which radio system or moniceiver is suitable for you depends on various factors and your demands on the devices.
Do you want to listen to radio or play music from audio sources in your car? The file format of the desired recording plays a role, because not every device can play any format. It is therefore necessary to clarify in advance whether the radio must be capable of MP3 or MP4 playback, for example. At this point it is sometimes important to know which interfaces the car radio or the moniceiver has. In addition to Bluetooth and a USB connection for a USB cable or a USB stick, this can be HDMI, cinch, various SD card slots or jack inputs and outputs as well as NFC (Near Field Communication). An Aux port is useful for connecting MP3 players, iPods and other external audio devices.
The specification of the maximum music power of a car radio or a moniceaver indicates the maximum power of the total four amplifier channels. Note: The music performance is not a standard specification. The standard size is the rated power . If you want to upgrade the sound system in the car, you can connect separate power amplifiers with some models. This is done via pre-amplifier outputs, which provide space for one or more such extensions.
AppRadio features such as Apple CarPlay or Android Auto can make a variety of features possible with your smartphone, such as voice control. Remote controls, hands-free devices via Bluetooth and back-up cameras for moniceiver make driving more comfortable.Even very simple factors can be relevant when selecting the suitable device. For one thing or another, for example, the color of the key illumination may be an important aspect.
Practical tip: Don't forget updates
It is important to keep the software of external devices such as iPods or separate MP3 players up-to-date. This also applies to the operating systems of connectable smartphones. This ensures that the devices work properly and that they can be connected smoothly via Bluetooth or USB.
FAQ – Frequently Asked Questions
What safety instructions must be observed for car radios?

The subsequent installation of a car radio is usually a rather simple "plug and play" procedure. However, you should use suitable tools to open and close the snap-in locks of built-in slots in the car and those of the radios without damage. If you are unsure, contact a specialist.
Built-in locks for watching videos while driving are based on a voluntary commitment by manufacturers. The override of the blocking function is generally not punishable. However, their manipulation could lead to the vehicle equipment being classified as not in accordance with the regulations. According to the road traffic regulations, there is a risk of fines and a point in Flensburg in such a case.
What defects can occur?
Sound and image dropouts are often caused by poor contacts or inadequate attachment of the devices. Some car radios or moniceiver may not play data with copy protection. The operating instructions contain detailed information on which data carriers can be played and information on compatibility with other external media and files. Corrosion can cause increased contact resistance on connection contacts was the result of which faults could occur.
Short circuits on cables that have not been correctly routed and worn out can lead to the destruction of the entire device under certain circumstances.

This text is machine translated.   Useful information about car radios and moniceiver Reasons for the installation of separate car radios or moniceiver The difference between car radios and moniceovers Radio and moniceivern sel...