This text is machine translated.
What ranges are possible with CB radios?

Application areas of CB radio devices

Which CB radios are available?

Notes on handling CB radios
The term "CB radio" or "CB radio" originally came from the USA. The abbreviation CB stands for "Citizen Band", in German for "citizen radio", i.e. a radio application for the "normal citizen" who has no interest in commercial radio services or amateur radio.
The Federal Network Agency defines CB radio as a private, non-commercial radio application that serves to transmit messages (voice and data) between equal users – the "CB radio".
A frequency range is allocated to CB radio within the "general allocation of frequencies for mobile radio applications, DECT, WLAN, CB radio and similar applications" of the Federal Network Agency. This ranges from 26.565 megahertz to 27.405 megahertz and is divided into 80 channels. The channels are separated in 10 kilohertz steps. Some of the allocated channels are reserved:
8 channels for transmitting digital data, including the possibility of connecting several CB radios via an Internet connection
8 channels for voice transmission via unmanned automatic CB radio systems
Other classifications and restrictions are available, among others, for authorities and organizations with security tasks (BOS) such as police, civil protection, fire brigade or THW. Similarly, channels are reserved for forestry or watercraft, as well as for the use of certain transmission techniques (transmission types) and transmission services in CB radio.
What was CB radio?
Devices for CB radio are handhelds, mobile devices or built-in devices for operation in the frequencies approved for CB radio. The voice signal of the user is converted in the radio into the frequency to be transmitted with the approved modulation type, then transmitted via an HF-amplifier via the antenna. Incoming signals are demodulated and output via loudspeakers in the frequency spectrum of human speech. Powerful accumulators or connection options to on-board networks or suitably dimensioned power supplies supply the stations with electrical energy. Some CB radios, especially for car use, automatically detect the power supply voltage.
The available CB radios have different performance parameters, which have a particular effect on the range.
Some models can be extended to amateur radio frequencies.
What ranges are possible with CB radios?

The range depends heavily on the location. Basically, the higher the location, the greater the range. As with all wireless connections, the range depends in detail on parameters that cannot be directly influenced by the user. The transmission power, the antenna used and the so-called radio weather, the meteorological conditions are essential. As approximate (!) Guidelines can be assumed for walkie-talkies with a range of about 5 kilometers, for mobile radios 10 to 15 kilometers and for home stations with a range of up to 50 kilometers.
Application areas of CB radio devices
CB radio is suitable for chatting or exchanging information. In a car, it also fulfills the function of an "emergency call column" when the fuel is exhausted or when another breakdown has occurred. In the event of an accident, a CB radio can be life-saving, because on any channel you will almost always meet someone who can call for help.
In the logistics sector, truck drivers have been using CB radio for a long time to inform themselves about road conditions and traffic jams, but also to warn against speed measurements.
Companies, farmers or machine manufacturers, for example, can use CB radio to keep in touch with company vehicles or colleagues on the premises. Last but not least, CB radios are standard equipment in many watercraft.
At sporting events and other major events, CB radios are used in many ways to ensure a smooth organization.
Which CB radios are available?
In our online shop we offer you different CB radios, which are divided according to the following criteria: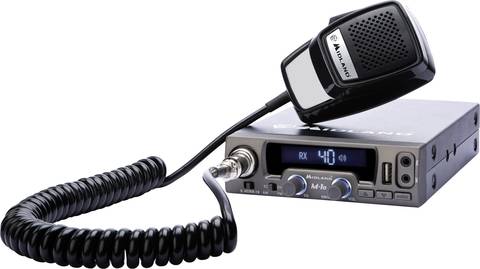 The transmission power ranges from 1 to 12 watts, differentiated according to the modulation types for which the power ranges are permitted.
In the category, a distinction is made between stand-alone/built-in and portable radios.
The special features put particular features in the foreground. These include connections for speakers, headphones and/or microphones, an automatic squelch, the "Roger Beep", with which the release of the talk button (the same as the speaker of a partner) is signaled acoustically. Other possible features are the equipment with S-meter for measuring the strength of the radio signal, scan functions for the frequencies as well as splash-water protection and two-channel monitoring.
The frequency of all devices is limited to the 27 megahertz range.
Practical advice
A number of rules have been established, which are, so to speak, "good sound" among CB radio sets. This includes keeping calls short via CB radio and starting the call only when you are sure that the used channel is free. Also, after each call, wait for a station to answer before you repeat your call. Last but not least, open the squelch to avoid overhearing weaker stations.
Notes on handling CB radios
For transmission types and the use of certain device types (mobile/stationary/unmanned stations), the regulations of the Federal Network Agency must be observed. For example, CB radio generally does not allow round-the-clock radio-like or continuous transmissions, transmissions without message content or those that do not directly serve to establish a radio link or to participate in existing radio traffic, as well as so-called beacon transmissions (with exceptions).
More powerful CB radios are usually designed for intermittent operation. This means that the transmission time is approximately 10 percent of the operating time that is switched on.
When installing the vehicle, the operability of the vehicle must not be restricted. There must also be no risk of injury to persons in the vehicle. Avoid proximity to HVAC outlets. Installation of the devices in the vehicle sky is prohibited by traffic law with few exceptions. In addition, the radio should not be operated while driving. For installation and maintenance of the CB radio devices, you should have the appropriate specialist knowledge, suitable tools and measuring devices.
Take note of the extensive operating instructions with further safety and operating instructions before starting installation and use.
There may be rules on the use of certain antennas in or on motor vehicles.
Some models can be operated on amateur radio frequencies. As a user, you are responsible for obtaining the necessary licenses.
This text is machine translated.      About CB radios What was CB Radio? What was CB radio? What ranges are possible with CB radios? Application areas of CB radio devices Which CB radios are available? ...