This text is machine translated.
Everything in view with cabled surveillance cameras
Cable-bound surveillance cameras are not as flexible as wireless models, but offer more security against digital attacks. They transmit signals reliably and quickly and work largely without interference. Check out our guide to find out what types of wired cameras are available and what to look for when you buy them.
What are wired surveillance cameras?

Designs of cable-bound surveillance cameras

Surveillance cameras with cable for outdoor use

For integration into the network: Wired IP cameras

Buying Criteria for Wired Surveillance Cameras – What's it all about?

Our practical tip: Place outdoor cameras inconspicuously

FAQ – Frequently Asked Questions about Wired Surveillance Cameras
What are wired surveillance cameras?
Surveillance cameras are the heart of any video surveillance system. These are photo or video cameras that are used for permanent or temporary surveillance of certain areas or objects. The purpose of surveillance cameras is to increase security in public spaces, record illicit actions and later use them as evidence, or deter potential burglars.
In the case of cable-bound surveillance cameras, the signals are not transmitted via radio, but via cable to the central station of the video surveillance system. The recorded videos and pictures can be played back or stored in the Live Stream on a monitor, in order to be able to view them at a later time. While the installation of a cable requires more effort, it is worth the effort in terms of the fact that wired cameras are not exposed to radio interference per se. They are permanently recording and are particularly suitable for long-term monitoring. While it is often argued that WLAN cameras achieve a higher range, this is not always the case. The ranges of WLAN cameras are limited. Often, the signals cannot be transferred through more than two solid walls. In addition, the speed of the WLAN connection is sometimes significantly affected. This is relevant if you also want to use the WLAN for streaming and the like.
For transmitting the signals, cable-bound surveillance cameras are often equipped with coaxial cables. You can transfer data more than 100 meters wide. Two-wire transmissions with twisted pair cables allow a range of over one kilometer. Fiber-optic cables (FOC) are even able to transfer information over several kilometers long distances.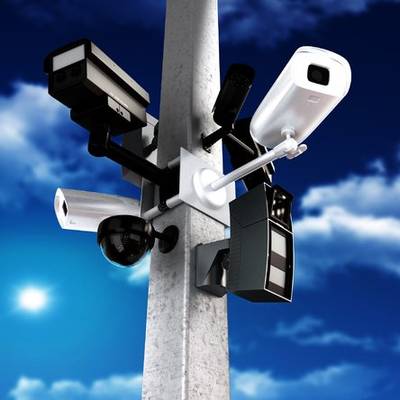 Designs of cable-bound surveillance cameras
Surveillance cameras are available in various designs. They are characterized by individual advantages and disadvantages and are suitable for different application areas.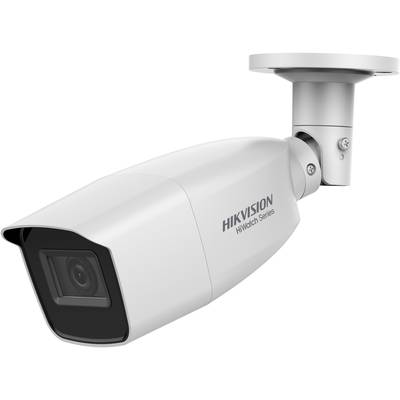 Dome cameras are often designed as wireless WLAN cameras, but are also available with data and power cables. These are surveillance cameras located in a hemispherical housing with a plastic dome. The dome is usually tinted, which has the advantage that the camera's orientation is difficult to see. Due to their design, dome cameras are ideally mounted on the ceiling. Depending on the version, they are suitable for video surveillance in indoor or outdoor areas. Since dome cameras are quite compact, they can be placed in a space-saving way and therefore somewhat inconspicuously. They are often used in public places, in transport and, in principle, in risk areas. The reason for this is that dome cameras are usually better protected against vandalism than other cameras and can also cover a very large viewing area, especially when the camera can be swiveled and tilted behind the dome. This is the case when the cameras are so-called PTZ cameras. Pan Tilt Zoom (PTZ) cameras are equipped with a movable lens that can be swiveled in all directions and thus cover a 360° range. Since the cameras can be re-aligned over and over again, they are more flexible to use than fixed versions. PTZ cameras are usually designed in dome design, but also as bullet cameras (with motorized swivel arm).
Bullet cameras do not bear their name for no reason. The English word bullet is called a bullet in German and is indicative of the characteristic design of the cameras. They are equipped with a bracket that can be used to mount them on the wall or ceiling. Bullet cameras are clearly visible, which has the advantage that they can act as a deterrent to potential burglars. However, there are also mini-cameras that are less likely to catch your eye due to their smaller dimensions.
Box cameras are similar to bullet cameras, but are more box-shaped. In addition, their lens is mounted outside the housing, while the lenses in bullet cameras are protected by the housing. The advantage of Box cameras is that the lens can be replaced at any time. This is not easily possible with bullet cameras, as the lens is installed in the housing and is therefore difficult to access.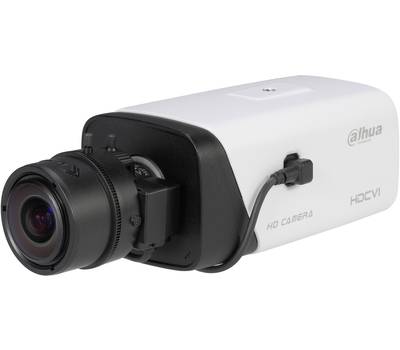 Surveillance cameras with cable for outdoor use
Wired surveillance cameras are available as indoor and outdoor surveillance cameras. When used outdoors, the camera and cable are exposed to external influences such as snow, rain, cold and heat, so make sure that both components are adequately protected. Indoor versions are usually not designed for this purpose. There is a risk that the camera lens will fogged or moisture will penetrate inside and damage the electronics.
Outdoor surveillance cameras should be rated at least with protection class IP65, better still IP66. IP65 indicates that the outdoor camera is dust-proof and protected against strong water jets. Versions of the IP66 degree of protection are even protected against temporary immersion. Surveillance cameras, which are mounted on the outside, often have a housing made of stainless aluminum or steel and are equipped with special seals.
Learn more about IP protection types
A weak point of wired outdoor surveillance cameras is the entry or exit point of the cable, since dust and water can still penetrate here. For this reason, the cable routing should be best done on the inside, for example, inside a socket where it is connected to the feed cable. Cables for outdoor video surveillance systems should also be protected from UV light and overvoltage. In this context, a lightning protection device is recommended.
For integration into the network: Wired IP cameras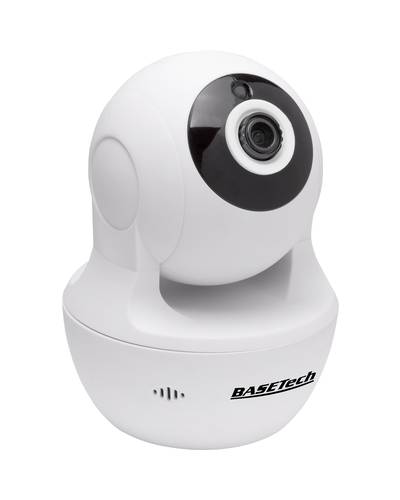 The advantage of IP cameras (also called network cameras) is that they can be integrated into an existing computer network or into the Smart Home. They offer the possibility to view the pictures and videos taken on the PC, Smartphone or tablet and can often be controlled via App . Some IP surveillance cameras also provide an alarm function and send a push message as soon as motion is detected indoors or outdoors. IP cameras are often part of complex alarm systems and systems.
Although IP cameras (IP = Internet Protocol) are often used as WLAN surveillance cameras, they are also available in wired versions. They are connected to the router using an Ethernet or LAN cable. To ensure power supply, PoE IP cameras do not even require an additional power cable. You simply pull the operating current over the network cable (PoE = Power over Ethernet).
To connect an IP camera, connect it (if necessary) to a power source and then via LAN cable to the network router. After entering the IP address, the IP camera is set up; for this purpose, a suitable software from the manufacturer is usually included. The IP camera can then be conveniently configured on the PC. Recorded videos and images can usually be backed up to a microSD card, FTP server, or cloud storage.
Buying Criteria for Wired Surveillance Cameras – What's it all about?
When purchasing a wired surveillance camera, it is important to consider which type of video surveillance system is best suited for your purposes. If you are looking for a digital surveillance camera that can be integrated into the network, you should choose an IP camera. If you prefer a monitoring system with a connection to a digital video recorder (in short: DVR), choose a suitable analogueue camera.
A relevant criterion in the selection of a surveillance camera is its resolution . SD versions (SD = standard definition), for example, recognize simple objects and movements, but no details. HD cameras, on the other hand (HD = High Definition) also recognize subtleties and produce sharp pictures even when zooming. Full HD cameras record very sharp and clear videos and are now standard. You are the right choice if the monitoring area is a little further away. Note that the better the resolution , the larger the video files . Recording in Full HD takes up a lot of storage capacity, which must be taken into account if the data is to be backed up via cloud storage or on the hard disk. It should also be borne in mind that devices with high resolution are usually also more expensive. It is important that the resolution corresponds to the application purpose.
The focal length of the camera lens must also be observed. A short focal length is accompanied by a wide viewing angle. The image area will be larger and the recorded objects will appear smaller. Short focal length cameras are the right choice for monitoring large areas. Conversely, if the image section is to be small, the focal length must be large. As the recorded area becomes narrow, the objects appear larger. Surveillance cameras with varying focal lengths are practical to be able to set the appropriate viewing angle for each application.
Daylight cameras are usually not suitable for video recordings at night. Here you have to use devices that are specially designed for night vision. In order to be able to make good recordings in the dark, night vision cameras must be equipped with infrared LEDs, which illuminate the surveillance area almost invisibly. With small cameras, night vision is usually only possible in a few meters range, as there is simply no space to install sufficient LEDs. Professional night vision cameras are usually equipped with high-quality infrared sensors and an additional infrared filter, which blocks the IR rays as soon as the light conditions get better. In this way, they can also take pictures and videos in natural colors in daylight.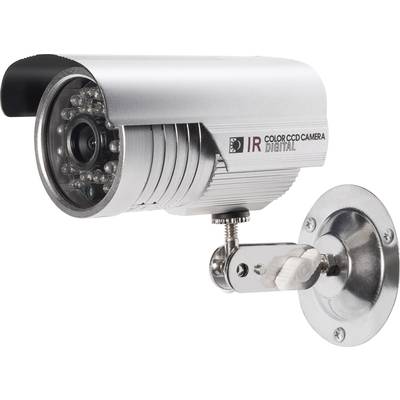 In our online shop you will find a variety of different surveillance cameras from the IP camera with full HD resolution to the analogueue, outdoor-compatible bullet camera, so that a suitable design is found for every need.
Our practical tip: Place outdoor cameras inconspicuously
If you want to place your outdoor camera as hidden as possible, you can hide it under a sloping roof or under an excellent object. However, the viewing area must not be obstructed. If this is not possible, you can apply stickers to the camera or disguise it with a few branches or grasses to make it less noticeable. Alternatively, paint the casing in camouflage colors, as one knows from game cameras. Note: There are strict legal requirements and numerous restrictions on the use of surveillance cameras to ensure that people's privacy and privacy are respected. Before installing a camera, check the applicable laws and regulations.
FAQ – Frequently Asked Questions about Wired Surveillance Cameras
What does CCTV stand for?
CCTV (Closed Circuit Television) is a closed system with fixed surveillance cameras. The term is derived from the closed cable connection between the camera and the screen. CCTV systems are increasingly being replaced by network-based surveillance systems.
What do I have to observe when installing a surveillance camera in the near range?
If the camera is intended to be used for close-up surveillance, it should not be placed too high. Otherwise, faces of people could only be captured if they point their eyes upwards. To determine the ideal height for the installation, first determine the distance between the camera and the area to be monitored (e.g. the garden gate) and add 1.5 m. The result corresponds to the maximum height. The camera should only be mounted higher if it is expected to be subjected to vandalism.
 This text is machine translated. Everything in view with cabled surveillance cameras Cable-bound surveillance cameras are not as flexible as wireless models, but offer more security against digital attacks. They transmit signals reliabl...