This text is machine translated.
Understanding CDs and CD players

Today's features of CD players

What are the different types and CD players?

What should be taken into account when buying and using CDs and CD players?
Understanding CDs and CD players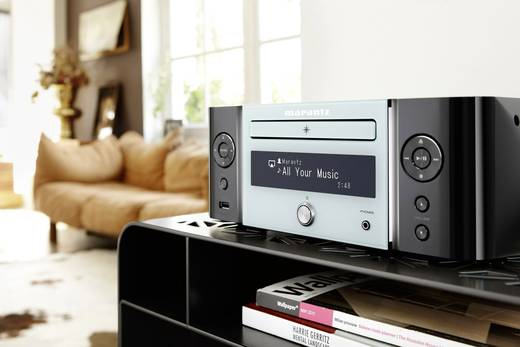 A CD player is a playback device for audio CDs, which are optical, digital data storage devices. By default, an audio CD has a diameter of 12 centimeters, Dick is 1.2 The correct short name for an audio CD is CD-DA (Compact Disc Digital Audio). It originally contained only audio data and no other multimedia content.
A CD contains digital tracks that represent the audio signals as a digitally encrypted sequence OF YES/NO information. A CD player reads this information without contact with a laser diode, decrypts the sequence and converts it back into audible signals using an analogueue/digital converter.
Today's features of CD players
With the advent of portable audio players at the latest, there was a desire to have more and more data volumes and thus more music available on the data carrier. This led to the development of different audio formats or compression methods for the reduction of large music files.
These include:
MP3: The MP3 process is a development of the Fraunhofer Institute for Integrated Circuits. MP3 was the world's first compression method and is now license-free. With its help, audio files can be reduced to up to 15 percent – in case of acoustically barely noticeable losses.
WMA: Windows Media Audio is a compression process from Microsoft and part of the Windows Media platform. It is comparable to MP3 and is also lossy.
AAC: Advanced Audio Coding was developed by the Moving Picture Experts Group (MPEG). It is also a lossy audio data compression method, but achieves better playback quality. The procedure is also used for DAB+ digital radio.
With these compressed audio files, a multiple of data could be stored on a conventional CD. However, the CD players had to be upgraded to play these formats, which was realized within a short time. Modern CD players often carry the logos of the audio formats they can play. Whether you play MP3 CDs or WMA CDs, for example, is always indicated.
When the need arose to produce CDs itself, the industrial burning process found its way into devices that fit into a standard PC slot. These so-called "burners" can write data to CD-R (R for recordable) and CD-RW (RW for rewritable). These features are now available for DVDs and BluRays. DVD and BluRay players are usually backwards compatible with the audio CD.

The integration in home systems includes a USB-A-connection, optical and still analogueue connections in almost all slightly higher-quality CD-players to the standard. The LCD displays on the front of the device usually provide information about the track number, title length, number of tracks, and other available information about content provided on the CD. The playback process can be programd in many players.
If a built-in amplifier is integrated in the CD player, other components can also be connected to it. In this way, a CD player can be designed as a full-fledged HiFi-system. Streaming services can also be used with the device via WLAN connection. Many CD players with amplifiers offer AirPlay, Apple-developed technology for wireless transmission of media content from mobile devices. In addition to the equipment with an FM radio, the DAB+ digital radio is also becoming increasingly popular as an integrated component.
For a long time, there has been the so-called high-end audio sector. The CD drives in this segment are mechanically decoupled, using measured components and special forms of power supply. In this area, a number of years have been spent trying to establish Pure audio CDs. These are Blu-ray discs with an extremely high resolution audio format. Since it is compatible with conventional BluRay players, you do not need a Pure Audio CD player for playing.
What are the different types of CD players?
CD players are available in different versions. A distinction is made, for example: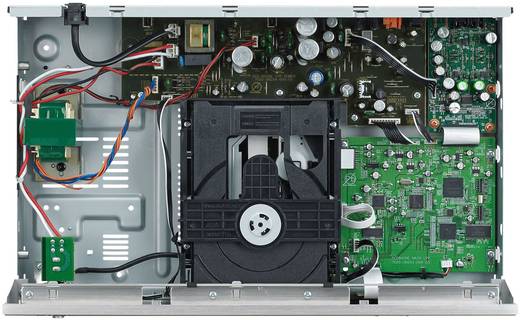 Single CD player:
These are usually very high-quality devices with sophisticated mechanics, which can play back all audio formats. Some models have a recorder function for CD-R/CD-RW, which can also be operated by analogueue signals.
CD changer
These devices can sometimes record up to 100 CDs and play them in different modes. To do this, the CDs are moved to the playback position by means of changing mechanics or the reading laser is moved to the selected CD.
Portable CD player
These are devices with battery or rechargeable battery, which can be used while traveling. They are sometimes also equipped with a USB port. The devices, mostly designed in round tree form, are hardly bigger than the CD itself Portable combi-devices have a powerful radio and occasionally a cassette player on board. The CD players can handle CD-R and CD-RW and there is hardly any representative of this type who can play uncompressed audio formats. Such devices can also be connected to the home system via an AUX-in connection. The portable devices include many children's CD players, which are characterized by a robust design and a simple CD playback via loudspeaker. Some of them also have a karaoke function. Children's CD players are often supplied with child-friendly accessories such as stickers or a suitable accompanying CD.
Combined devices:
Such CD players are equipped with a radio reception, a burning function and/or an amplifier as well as various connections.
Practical advice
There are many instructions for cleaning the laser lens of a CD player. However, this poses a risk to the functioning of the device. Modern laser lenses are made of plastic and must never come into contact with solvents.
What should be taken into account when buying and using CDs and CD players?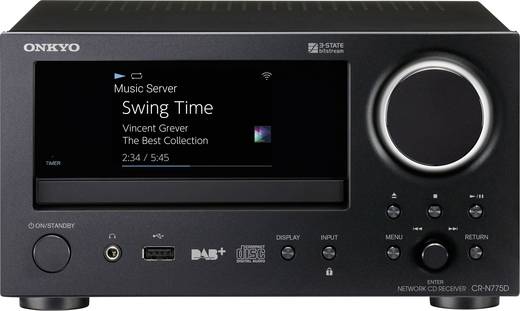 When purchasing, you should take into account the connections available on the CD player and the possibilities of connecting to the WLAN. Consider a device that is backward compatible with the media in your music collection.
Since audio CDs are optical data carriers, they should be kept free of dirt and scratches that interfere with playback. The best protection is careful handling and safe storage.
Impurities can also affect the slide that moves the laser of the CD player. Please note that your warranty claims will usually be void if you open the device yourself early.
If a laser has been mechanically removed from the track, a specialist should carry out the re-adjustment.
Good to know: The shelf life of CDs and related data carriers is between 10 and 30 years. The manufacturers indicate different periods of time.
This text is machine translated. About CD players Understanding CDs and CD players Today's features of CD players What are the different types and CD players? Practical advice What should be taken into account when buying an...