Useful information about CEE power distributors
What are CEE power distributors?

How are CEE distributors structured?

Which CEE power distributors are offered?

FAQ – Frequently Asked Questions about CEE distributors
What are CEE power distributors?
CEE power distributors are equipped with CEE connectors to split an input voltage for several consumers. The abbreviation CEE is a naturalized term for plugs, sockets and couplings, especially for industrial applications, which are described in the international standard IEC 60309. These are red connectors for three-phase AC 400 volt rated voltage and blue connectors with 230 volt rated voltage.
The abbreviation CEE once stood for "Commission Internationale de réglementation en vue de l'approbation de l'équipement électrique". Since 1985, this Commission has been called IECEE and is a standard body of the IEC, the International Electrotechnical Commission.
CEE power distributors are used wherever only a few power sources are available, but many devices need to be operated with these connections. Construction sites are an example of use.
The permissible temperature range for the use of the CEE power distributors is -25 to +40 degrees Celsius.
How are CEE distributors structured?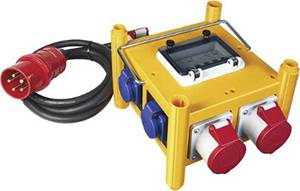 CEE power distributors consist of a housing, which is usually resistant to rough mechanical loads in harsh environments. The IP44 degree of protection is generally assured, which means that these power distributors are protected against solid foreign objects with a diameter greater than/equal to 1 millimeter and access with a wire as well as against all-sided splash water. The power is supplied either via a lead-out cable and CEE plug or a separate CEE extension cable, which is connected to the input coupling of the distributor.
Many distribution boxes are equipped with their own protective switches and fuses to protect the power supply to be supplied.CEE couplings and plugs as well as Schuko sockets are available as outputs. In some versions, it is possible to loop through connections via RJ45 connections.
As a special design you will find so-called energy columns . These power distributors can be used for a fixed installation, for example, on camping sites, boat dock or in public parks . Accordingly, they have a higher degree of protection of IP54 with dust protection and complete touch protection as well as protection against all-sided splash water. Power is supplied via screw terminals on these models. The anodized aluminum housings are extremely weather-resistant and all electrical components are housed in a closed plastic housing.
For some CEE power distributors, signal colors are selected for the housings to ensure their visibility. For storage purposes, there are stackable distributors.
Which CEE power distributors are offered?
In addition to new products and offers, customer reviews and brands (manufacturers), the Conrad business customer shop offers electrotechnical criteria for selecting CEE power distribution boards. These are:
Nominal input current can be selected from 16 to 125 Ampere
Number of earthing contact sockets from 1 to 9 (as outputs)
Number of CEE couplings from 1 to 6 (as outputs)
Category as CEE-suspension distributor, as empty housing, CEE-power distributor and as energy column
Conrad offers a long-term guarantee that can be extended to 48 months for all CEE power distributors.
FAQ – Frequently Asked Questions about CEE distributors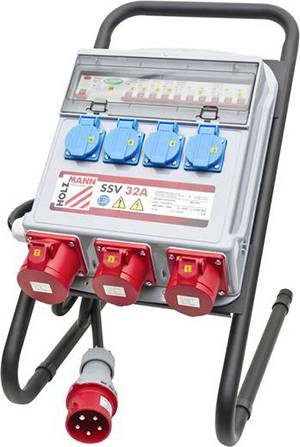 What must be observed when using CEE power distribution units?
The use of the power distribution units may only be carried out by persons with relevant electrical technical knowledge and experience who have become familiar with the operating instructions. This also applies to repairs that may only be carried out with original spare parts in order to maintain the safety and, if necessary, the warranty of the device.
Before using a power distribution unit, check that any protective devices such as residual current switches and fuses are intact.
Plugs and couplings must always be able to be fully inserted into the counterpart.
Arrange and protect used cable connections . Poorly secured cables and connected equipment or tools can be hazardous and cause injury.
Do not make any changes to the device or its components.
Do not use adapter plugs in conjunction with these power distributors .
Do not pull the cables over sharp edges or objects and avoid strong kinks in the cable and the cables of the connected consumers.
Avoid overtravel of the power distributor and connected cables and plugs as well as improper mechanical loads .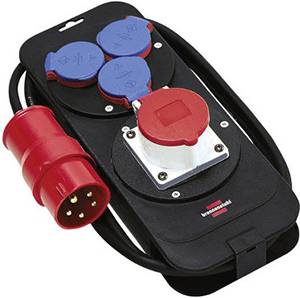 Keep power distribution units away from heat sources and place the unit in a place that meets the CEE power distributor protection class during operation. Make sure that the device is not in water.
When using the power distributor outdoors, only connect electrical consumers that are approved for outdoor use.
Do not use CEE power distribution units in environments where flammable liquids, gases or dust are present, unless specifically designed to do so. Connected power tools generate sparks that can ignite dust or vapors.
Make sure that consumers to be connected are switched off. This applies in particular to electrically operated machines that would otherwise start automatically (for example, a drill).
How do defective CEE power distributors become noticeable?
Cable and/or insulation breakage, especially at device bushings
Corrosion of pins or sockets in connectors and couplers that reduce current flow
Complete failure of the connected distributor and the devices connected behind it
Current fluctuations at the outputs (connections B)
Abnormal heating of the connectors and the connected cables
A shift arc when disconnecting connections under load causes increased wear
Mechanical damage such as cracks or chips on the housing of the CEE distributor or on plugs or couplings
Useful information about CEE power distributors What are CEE power distributors? How are CEE distributors structured? Which CEE power distributors are offered? FAQ – Frequently Asked Questions about CEE distributors Wha...