This text is machine translated.
What was ceramic capacitor?

What types and types of ceramic capacitors are available?

Purchase Criteria for Ceramic Capacitors – What's it all about?
Conclusion: This is how you can find the right ceramic capacitor

FAQ – Frequently Asked Questions about Ceramic Capacitors
What was ceramic capacitor?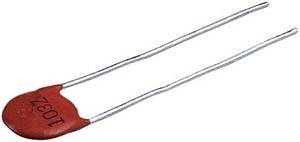 Ceramic capacitors are electrical capacitors in which the dielectric consists of ceramic materials. At the same time, the ceramic dielectric serves as a carrier material for the metallic electrodes. Ceramic capacitors are non-polarized, so they do not have a designated anode and cathode, as is the case with electrolytic or tantalum capacitors. Thus, they are also suitable for operation at alternating voltages and cannot be reversed due to their design. Ceramic capacitors are the most commonly used capacitors in the electronics sector. They are used as coupling capacitors, are used to keep away unwanted DC voltage components and are used in frequency crossovers and oscillator circuits. Other applications include filter circuits and radio interference suppression measures.
What types and types of ceramic capacitors are available?
Ceramic capacitors are now mainly offered in two types , as a ceramic multilayer chip capacitor (MLCC) in a SMD housing or axial or radial lead for conventional THT assembly . Ceramic disk capacitors are radially wired and usually single-layer capacitors designed for higher voltages. Coaxial ceramic feed-through capacitors are a special design. They are intended for flange mounting in electrically conductive shielding housings and lead one of their two electrodes to the outside in insulated form, while the outer electrode is soldered into or screwed to the housing wall.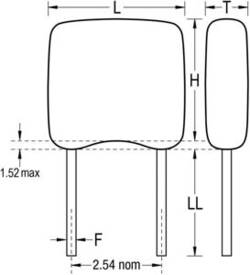 According to their different properties, ceramic capacitors are divided into two application classes:
The capacitance values of class 1 ceramic capacitors are relatively field-strength-independant. Varying operating voltages have little effect on their capacity, and their temperature stability is good. Therefore, they are suitable for circuits that must meet high requirements in terms of frequency stability and where low dielectric losses are desired. The disadvantage is that these types are mainly available with capacity values limited upwards and have a larger construction volume at the same capacity than ceramic capacitors of application class 2.
Class 2 ceramic capacitors have a significantly higher dielectric constant due to the material. This means they have considerably more capacity at the same component size compared to class 1 ceramic capacitors. However, different voltages and, above all, temperature fluctuations have a strong influence on the capacitance values. In addition, they tend to microphone in the event of mechanical stress, such as vibrations or vibrations.
Purchase Criteria for Ceramic Capacitors – What's it all about?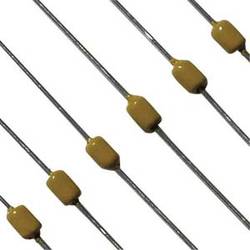 Depending on the application, the advantages and disadvantages of the different types arise with regard to factors such as humidity and long-term stability, dielectric strength, linearity in the event of voltage changes as well as temperature stability. Class 1 ceramic capacitors are well suited for applications where there are high requirements for low dielectric losses and stable capacitance values are required. Used in electrical oscillating circuits, Class 1 ceramic capacitors enable high frequency accuracy in the long term, even in the event of fluctuating environmental conditions. Their low sensitivity to piezoelectric effects avoids problematic interference, which must be avoided in audio circuits, among other things.
When it comes to high capacities in a small size, class 2 ceramic capacitors are the first choice. Although their tolerances are significantly greater than for Class 1 ceramic capacitors, only a minimum capacity is required, for example for smoothing and filtering AC voltage components or in certain filter circuits, this hardly plays a role when the capacity is generously dimensioned.
Conclusion: This is how you can find the right ceramic capacitor
When replacing defective ceramic capacitors, make sure that, in addition to the same capacity and rated voltage, the tolerance specification is identical or better than with the defective original part. Of course, the design also deserves attention: Is the pitch correct for wired types or the design and thus the position and size of the solder pads for SMD ceramic capacitors?
In the case of new developments of circuits and devices, attention should always be paid to the respective values according to the data sheet, in order to achieve a high reliability and functional safety. Use in more demanding ambient conditions also requires compliance with the permissible temperature range. For audio circuits, measuring circuits and other high-quality applications, only Class 1 ceramic capacitors should be used to prevent interference from piezoelectric effects and capacitance fluctuations.
For safety reasons, it must also be ensured that the components bear any necessary test marks and comply with the applicable standard. The ceramic capacitors offered in the Conrad shop meet high quality standards and are characterized by reliability and longevity.
FAQ – Frequently Asked Questions about Ceramic Capacitors
There is no color coding or printing on ceramic multilayer capacitors. How can ich see what type of condensate is involved?
Due to the usually very small designs, these ceramic capacitors are usually not marked, an imprint would not be readable anyway. After removal from the labeled packaging, identification is no longer possible; this must always be taken into account during storage and processing.

What was to be observed when handling and processing ceramic capacitors?
Ceramic capacitors represent electrical charge storage. Depending on the capacity and voltage, charged ceramic capacitors can store considerable amounts of energy for longer periods of time and, if necessary, potentially life-threatening high voltages. For this reason, the general safety rules of electrical engineering must always be observed. However, even relatively low voltages are not always harmless; when electronic circuits are fitted, other components may be damaged. Therefore, charged ceramic capacitors should always be discharged via a suitable resistor before handling. Short circuits must be avoided, as high currents can flow through the low internal resistances of ceramic capacitors and damage can occur.

Can ceramic capacitors be set to a lower rated voltage if the actual operating voltage only exceeds this for a short time?
No, this is not allowed. Even brief exceedances of the nominal voltage can lead to damage or destruction. In any case, the service life is shortened, the reliability suffers and the heating can be impermissible.
This text is machine translated. About ceramic capacitors  What was ceramic capacitor? What types and types of ceramic capacitors are available? Purchase Criteria for Ceramic Capacitors – What's it all about? C...