This text is machine translated.
CI modules for different purposes

Our practical tip: Slot for the CI module

This must be observed when using CI modules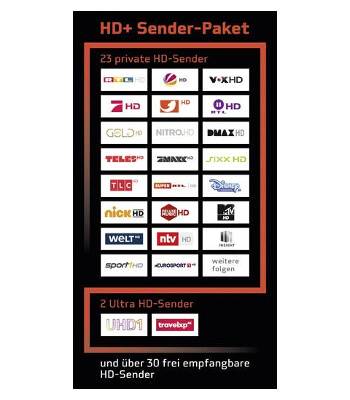 Almost all the major broadcasters of public and private television broadcast their programs in high-resolution quality via satellite or the cable network, i.e. in HD (High Definition) and partly in UHD (Ultra High Definition). (High Definition) und zum Teil in UHD (Ultra High Definition).
The abbreviation CI stands for Common Interface (in German "Common Interface") and describes an interface that comes from computing technology, especially the PCMCIA slot developed for laptops. This interface is used in televisions and satellite receivers to receive high-resolution programs from private TV providers or even pay-as-you-go channels . The signal from these channels is encrypted by the respective provider in such a way that it cannot be received with the "normal" TV set.
A CI module is required for decoding the signals, which is used to match customer-specific payment information and the incoming signal. When the process is confirmed, the reception is decrypted and the chargeable programs can be viewed.
The CI module is either located in a separate receiver such as A SATELLITE receiver , which is connected upstream of the TV, or is integrated into the TV in many models . . It is shaped so that it fits only in one position in the corresponding shaft. Incorrect insertion is not possible, so that a problem-free installation is ensured. The CI module records a so-called smart card, in which the encryption and decryption routines , customer data with payment status and possibly granted times of free reception of the stations are stored.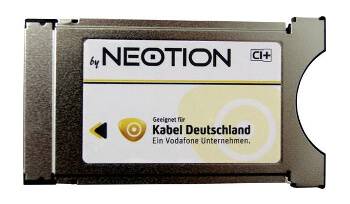 CI+ module releases programs for Kabel Deutschland customers
CI-Plus (CI+) does not refer to any further development of the CI module, but rather to a combination of different TV manufacturers . This network includes the encryption module manufacturers Neotion and SmarDTV. They promise better protection against security vulnerabilities and a greater variety of programs .
The data stream in this variant provides various usage information. The TV provider can thus also restrict or share certain possibilities of use. This includes the options to be able to view programs with time shift or record (record).
It is also possible to set copy and youth protection.
CI modules for different purposes
Before you choose a CI/CI+ module, you should match your TV interests and habits with the suite of programs that each vendor has in their portfolio.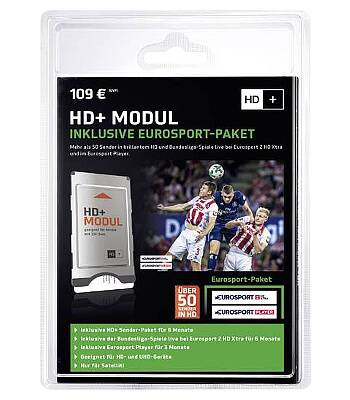 It should also be borne in mind that public service broadcasters broadcast their program free of charge in HD . The private TV channels broadcast their program in standard definition (SD) at no extra cost.
No "advance check" is possible for pay-TV only. Here, however, the offers are structured according to topics, so that you can select specific providers and packages that correspond to your own interests.
CI/CI+ modules or smart cards can be roughly divided into:
HD+ (or HD plus) : a private consortium of a satellite operator that allows the reception of almost all private TV channels in HD for a fee. The module is also known as the HD+ module and contains the HD+ smart card. After the end of a reception period included in the module/card price, you can extend the duration of the card online.
Pay-TV : In this sector cable network and satellite operators offer HD-quality thematic programs, which can be purchased in the form of subscriptions. There are many different subscription and price models. Some offers are tied to the provider.
Combined offers offer HD+ modules or cards, which are combined with additional offers from payment transmitters.
The payment offers are usually initialized when the module and smart card are installed and a paying sender is called for the first time . After that, all you have to do is follow the instructions on the screen.
Our practical tip: Slot for the CI module
If the existing TV does not have a slot for a CI module , a separate receiver with such a slot must be connected upstream of the TV. Newer TV sets or receivers are often equipped in such a way that a simple installation is possible and only the smart card has to be inserted in the suitable slot.
This must be observed when using CI modules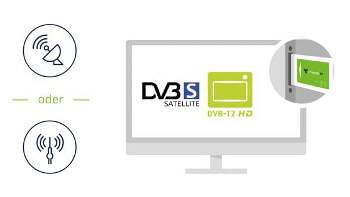 Some vendors require a customer account to take advantage of basic or additional services. An e-mail address is required to create and manage your own account. The providers of the modules and cards indicate that incompatibilities may occur with updates.
Existing remote controls may have a different key assignment than described in the documentation of the CI/CI+ modules. Compare this with each other beforehand.
A recording of television programs with a video recorder or a digital hard disk recorder connected to the video output of a television set with CI+ module only works if there is no copy protection for the transmitter or content. The providers determine which content is copy-protected at which time.
Television programs and recordings thereof are subject to the same copyright restrictions regarding public performance, such as the playback of music.
 This text is machine translated.   About CI modules What are CI modules? CI modules for different purposes Our practical tip: Slot for the CI module This must be observed when using CI modules   W...