This text is machine translated.
Fully automatic coffee machines – excellent coffee enjoyment even at work
A good cup of coffee is not just a tasty hot drink. No, a well-crafted coffee can also serve as a small reward for coffee lovers or a great motivator to meet the challenges ahead. This is true at work as well as at home. That's why every company should have a suitable coffee machine so that all employees can enjoy their favorite coffee if they need it.
When corporate visitors announce themselves, it is advantageous if you can offer your guests a variety of coffee specialities, from espresso to café latte. The professional preparation is then carried out by high-quality automatic espresso machines, which have clever technology and are very easy to use. We'll tell you what the difference is with the coffee machines and what you need to pay attention to when you buy them.
What are the different coffee machines?

What was a fully automated coffee machine?

How does a fully automated coffee machine work?
Coffee variations explained briefly

What was to be considered when purchasing a fully automatic coffee machine?

Frequently asked questions about coffee machines
What are the different coffee machines?
The type of coffee can be made in a variety of ways. Since only very few people have time to manually incubate, sophisticated machines with clever technology have to fulfill this task. A wide variety of technical solutions have established themselves on the market.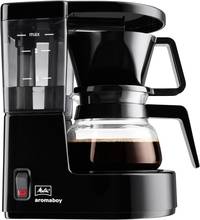 The classic filter coffee machines have been in use for decades. The machines are cheap to buy and the subsequent costs are also low. In addition, these machines can brew several cups of coffee at once during a brewing process.
However, you have to make a compromise on the coffee aroma, because the brewing process takes a long time and thus bitter substances are dissolved from the coffee powder. Moreover, it is not possible to prepare different coffee variations.
Pod/capsule coffee machines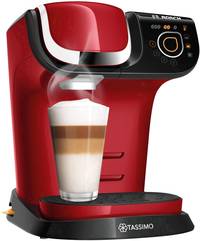 Pad and capsule machines are part of the portion machine types. You are working with pods or capsules containing the coffee powder.
The coffee is not freshly ground on these systems. Pad and capsule machines are relatively inexpensive to purchase. However, when purchasing such a machine, one has to expect relatively high follow-up costs for capsules and pads.

In addition, milk-enriched drinks such as latte macchiato or cappuccino do not taste as one knows from the café. Milk powder is used in capsules or pads instead of fresh milk.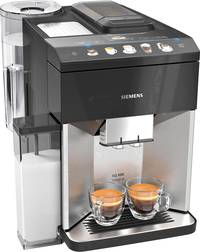 Fully automatic coffee machines are more expensive to buy than other coffee machines, but offer a much better coffee quality.
In addition, it is possible to prepare a wide variety of coffee specialities with or without milk froth. Furthermore, the follow-up costs are low, making them ideal for use in offices and businesses.
What was a fully automated coffee machine?
The term coffee machine consists of the words coffee and fully automatic. This means that the device can automatically prepare a wide range of coffee varieties at the push of a button. In addition to the classic coffee, cappuccino, latte macchiato or espresso are usually available. And for tea drinkers, just hot water is dispensed. High-quality coffee machines can also prepare other coffee specialities such as Ristretto, Doppio, Caffé Crema, Americano, Flat White, Lungo, etc.
In order to ensure a constant quality of coffee, fully automatic coffee machines have special programs for cleaning and descaling. Even the daily manual cleaning is done quickly in a few steps.
Coffee machines have been in existence since the 1960er. They developed out of self-service machines, which are still often found in public facilities such as railway stations, schools or hospitals. The first fully automatic coffee machine with integrated mill was built by Otto Bengtson and marketed by Otto Bengtson KG from 1964. In the 1970er, this fully automated coffee machine was the German best seller.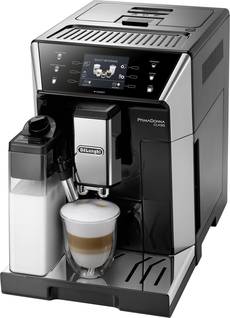 How does a fully automated coffee machine work?
In comparison to the conventional filter machine, hot water is pressed hohem by the coffee powder. Coffee flavors and essential oils can develop better under pressure. For perfect coffee enjoyment you need a contact pressure in the brewing chamber of approx. 9 bar. In order to achieve this pressure, the pumps often have to be able to generate even higher values of e.g. 15 bar.
In addition, the brewing process only takes about half a minute with a fully automatic machine. Thanks to the short brewing time, less bitter substances and tannic acids are released. With a classic filter coffee machine, the brewing process often takes so long that the coffee subsequently tastes very bitter.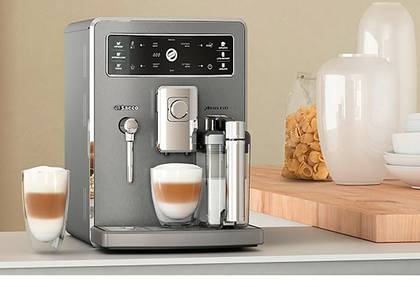 A fully automatic machine consists of the following components:
- coffee grinder
- brew group
- water tank
- pump
- water heater
- integrated milk frother
The grinder will crush the coffee beans and the coffee powder will then be pressed into the brewing chamber of the brewing group. Most of the time, the grinding degree, i.e. how finely the coffee powder is ground, can be adjusted individually.
Now a pump presses the heated brew water against the coffee powder. The finer the coffee powder, the higher the mechanical resistance the powder will resist the hot water.
If the grind is too fine, the brewing process takes too long and the coffee can taste bitter. If the grind is too coarse, the water flows too fast and the coffee does not develop its full aroma.
After the brewing process, the wet coffee powder is mechanically removed from the brewing chamber and transported to a collection container. This container must be emptied and cleaned regularly.
Our practical tip: Coffee beans
When buying your coffee beans, make sure that they are suitable for fully automatic coffee machines. In some countries, additives are added to the beans, which can damage the grinder. In Spain, coffee beans are often added with sugar. During the grinding process, the sugar heats up and glue the grinder together.
In the production of a coffee specialty with milk froth, the frothing system is still used. A so-called steam lance is used for simple devices. This blows out hot water vapor, which is used to foam me in a jug. High-quality coffee machines have an integrated milk frothing unit, which sucks me from a storage container.
The main advantage of the full machine is the better coffee aroma. With the help of the electronics, the amount of powder, the amount of water, the water pressure and the brewing temperature of the coffee can be precisely adjusted in the brewing group. In addition, there is the possibility to take the water hardness into account in some devices and special water filters are also used in some cases. Tolerances in the water quality are thereby eliminated and the coffee always tastes the same delicious.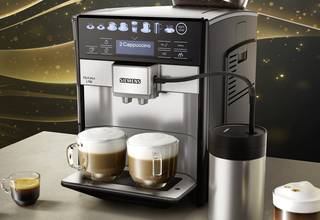 For a better overview, we have summarized the advantages and disadvantages of fully automatic coffee machines in a clear overview:
Advantages and disadvantages of fully automatic coffee machines
| Advantages: | Disadvantages: |
| --- | --- |
| Intense coffee aroma and simple operation through partly one-touch or TFT display | Much more expensive to buy than pad, capsule and filter coffee machines |
| Production of different coffee specialities possible (cappuccino, latte macchiato, espresso, café crema, etc.) | Does not brew whole pots of coffee at once (max. two cups per brewing cycle) |
| Less bitter substances thanks to short brewing time | Cleaning and maintenance more complex |
| Integrated coffee mill for grinding whole beans | Cleaning accessories such as cleaning tablets or descaling agents must be purchased |
| Milk frother for the production of coffee specialities with milk froth | Many devices are relatively loud |
| Low follow-up costs compared to pad or capsule machines are lower Good value on the whole | |
Coffee variations explained briefly
Many coffee varieties are based on classic espresso. However, there are subtle differences in the amount of water, the amount of coffee powder and the contact time of the powder with the water. A good espresso is also called Caffé in Italy and prepared with about 7 g coffee powder and 30 ml water.
Caffé Doppio is basically a double espresso.
Caffé Ristretto is an espresso with half the amount of water.
Caffé Lungo is a long espresso with twice the amount of water.
Caffé Americano is an espresso that has been stretched with hot water.
Caffé Latte is an espresso with hot milk and milk froth.
Flat White is a double espresso with slightly frothed milk.
Cappuccino is an espresso with 1/3 milk, 1/3 milk froth and a little cocoa powder for decoration.
Latte Macchiato is an espresso that is made between 1/3 warm milk and 1/3 milk froth.
Espresso Macchiato is an espresso with a shot of hot frothed milk.
Since high-quality coffee machines control the amount of water and milk as well as the amount of powder and the grinding degree individually, these machines can produce good coffee in a variety of variations.
What was to be considered when purchasing a fully automatic coffee machine?
Fully automatic machines can prepare a large number of different coffee specialities with great aroma. In combination with the low follow-up costs, fully automatic machines are ideal for offices and businesses. However, there are a few important points to consider when choosing the right coffee machine.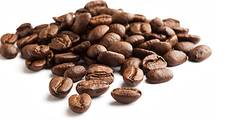 There are fully automatic machines with ceramic grinder and steel grinder. Both grind the coffee beans before each brewing process, so you can enjoy the great coffee aroma of freshly ground beans.
Steel mills are usually a little cheaper to buy. For this purpose, ceramic grinders are quieter, more robust and usually more durable. Ceramic grinders are particularly popular with coffee makers, but the steel mills also provide good service.
For daily cleaning it is a great advantage if the brewing unit is completely removable. This makes it easy to clean the complete brewing unit under the tap.
In addition, a visual inspection, in which deposits of coffee powder are checked at different places, is much easier.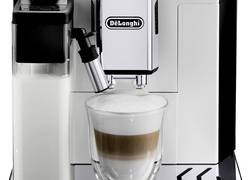 Not every machine or machine has a unit for frothing milk. Passionate espresso drinkers will have no problem with this.
But if you like a cappuccino or a café latte, make sure that the full machine has a milk frothing unit or at least a steam lance.
Height-adjustable coffee spout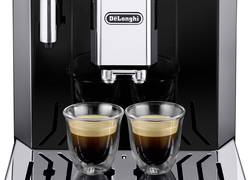 Some fully automatic machines have a height-adjustable coffee spout. This is convenient, because you usually have coffee cups in different sizes at home.
Thanks to a height-adjustable coffee spout, even large cups or glasses fit underneath. It is best to lower the coffee spout to just above the edge of the cup. This prevents unsightly coffee spatter on the machine.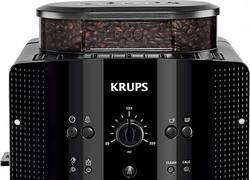 As a rule, fully automatic machines only have one bean container.
Some models stand out by a second container. Here, for example, normal beans can be separated from espresso beans.
Even those who like to drink decaffeinated coffee also benefit from a second container.
Frequently asked questions about coffee machines
How do ich clean a fully automatic coffee machine?
Fully automatic machines require a relatively intensive care despite integrated steam cleaning. Consult the operating instructions for how to rinse the coffee spout and the milk unit. This varies from full machine to full machine. It is best to rinse the milk unit once a day so that the milk residues do not dry up and interfere with the next frothing in the milk. Also remove the brewing unit at least once a month and clean it thoroughly. This is the only way to ensure excellent coffee enjoyment. By maintaining the coffee machine regularly, you benefit not only from better coffee aroma, but also extend the life of the machine.
The coffee machine should also be descaled regularly. The frequency of the descaling program depends on the water hardness of the tap water.

Why is descaling so important for a full coffee machine?
It is very important to descale the coffee machine regularly for various reasons. On the one hand, scale deposits are removed that affect the taste of the coffee. However, scale in the machine also slows down the heating process, was this in turn causing a higher power consumption. In addition, you have only one device warranty for damage that is not caused by yourself. If you have not used the cleaning program and your machine is damaged due to scale deposits, your guarantee will be void to the manufacturer.
How is the grinding degree affected by the fully automatic coffee machine?
You can read how to adjust the grinding level of a fully automatic coffee machine in the operating instructions of the devices. Basically, the optimum grinding degree varies depending on the type of coffee bean. Lighter coffee beans require a finer grind than dark coffee beans. The grinding degree is perfectly adjusted when the coffee runs out in a creamy way and finally produces a nutbrown crema. However, changing the grind does not immediately affect the next cup of coffee. Instead, you must let at least two or three portions of coffee run out before you can observe or taste a change.
This text is machine translated.      Fully automatic coffee machines – excellent coffee enjoyment even at work A good cup of coffee is not just a tasty hot drink. No, a well-crafted coffee can also serve as a small re...