This text is machine translated.
About control cables
A control line is a cable used mainly in the area of machine and plant construction. For example, any electric motors with such a line are connected. You can find out what types of control cables are available and what you should pay attention to when purchasing them in our guide.
Various types of control cables

Our practical tip: The right cable for harsh environments

Purchase criteria for control lines

Color coding according to DIN 47100

FAQ – frequently asked questions about control lines
What was control cable?
Control cables are generally cables used to transmit control signals in mechanical engineering and plant engineering. The name already indicates that this is primarily about unidirectional instructions from a transmitter to a receiver. This distinguishes them from other types of cables, such as data cables that work bi-directionally. A control line can unite several cables in itself. In this case, the individual inner cables are referred to as wires and are all once again insulated from each other by sheathing.
In our online shop you will find a large selection of different control boxes for as good as any application. We explain in the following which differences exist and which essential types exist.
Various types of control cables
There are a huge number of different control lines, each with special properties and suitable for special applications. Below we will introduce you to a selection of common lines:
The flexible cables of type LiYCY are equally suitable for laying in dry and damp rooms, but not for use outdoors. Cables of this type are also available in shielded versions. A shielding made of a metal foil or a copper wire braid provides for a high EMC interference immunity.

Control cables of the type YSLY-JZ can also be used in dry and damp rooms. It is not recommended to lay the device outdoors. The cable is largely resistant to oil and petrol . Make sure that the cable is more suitable for a fixed installation and not for constant movement. Cables according TO LENZE standard are intended for connecting motors and rotary encoders and are specially designed for the wet area of machines.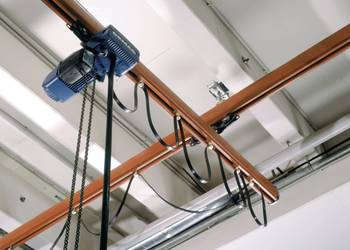 Flat cables such as the OILFLEX LIFT F are intended as control cables for moving machine parts, cable car systems and elevators. The advantage of a flat cable compared to a round cable is the significantly smaller bending radii and the smaller space requirement . Particularly resistant cables such as the OILFLEX HEAT 180 EWKF C , must be used in particularly high or low temperatures as well as in adverse environmental conditions. The abbreviation EWKF C indicates an increased resistance to tearing, tearing and notch. Corresponding connection cables are more resistant to mechanical stress and are significantly longer-lasting than conventional cables. In addition, the cable can° be used in a temperature range of -50- to +180 C. For extreme conditions, the single-wire single-wire single-wire single-°wire cable is designed to cover a range from -195- to +400°C. For a short time, this cable can° withstand temperatures of up to +1565 C and can therefore also be used in steel huts and similar facilities.
In addition to increased resistance to weather, flames, oil, ozone and acids, control lines can have some other important properties. Depending on the application, it may be necessary for a control cable to be UV-resistant or particularly flexible. Some environments require halogen-free cables that do not produce smoke in the event of a fire. In addition, the absence of halogens does not produce hydrochloric acid during combustion, which could possibly damage electronic equipment. If high EMC interference immunity is desired, shielded control cables are available, which are equipped with either a metal braid or a foil screen.
Our practical tip: The right cable for harsh environments
If you are looking for a control cable for particularly rough terrain, we recommend variants with the identification "EWKF". They are characterized by an increased resistance to tearing, tear-on and compression and points with a longer service life compared to conventional silicon lines.
Purchase criteria for control lines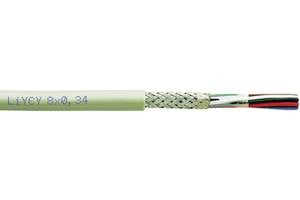 When purchasing a control cable, the number of wires plays an important role first. Cables are available on the market, which offer between 1 and 100 wires. Also note the conductor nominal cross-section² , which can be between 0.05 and 300 mm. With regard to the required cable length, you can choose freely between 1 and 1000 meters. In addition, it is also possible to purchase ready-made cables. These are then ready to install and already delivered with the appropriate plug connector. When making your selection, you should also note the bending radius of the desired cable. If this is ignored during installation, a cable break can occur, which can be difficult to locate after installation. In addition to a variety of control boxes, you can also find the suitable cable accessories for laying, such as connectors, in our online shop.
Color coding according to DIN 47100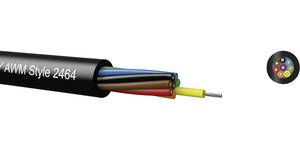 The DIN 47100 standard originally regulated the color coding of the wires in telecommunications cables. The standard was officially withdrawn in 1998, but is still used by many manufacturers. The underlying color code is used to ensure that you do not lose track of multi-wire control wires. According to DIN 47100, the following colors are defined for the first five wires: White (wire 1), brown (wire 2), green (wire 3), yellow (wire 4) and gray (wire 5). If available, the protective earth conductor still has the typical yellow-green color.
FAQ – frequently asked questions about control lines
What was behind the short-label system that identifies the cables?
Control cables with a variety of different properties are available. In order to be able to distinguish the cables clearly from each other, there is a special short-term system. A corresponding coding could look as follows: H05VV5-F. The H in this abbreviation stands for "harmonized" and means that the cable has the same specifications throughout the EU. The number sequence 05 indicates the approved voltage, while VV5 indicates that the insulation of the wires is made of PVC and the sheath is made of oil-resistant PVC. The letter F for "fine wire".
What was bending radius?
This is the allowable radius for the occasional or continuous bending of a cable. When laying a cable, this radius must not be undercut, otherwise irreparable damage to the individual wires may occur. For example, a typical specification for a permissible bending radius would be: 15x outer diameter (occasionally moved); 6x outer diameter (permanently installed).
What was a harmonized cable?
A harmonized line is recognized throughout the EU and also in other countries due to the type standardization. Such cables have the same designation everywhere in the relevant countries. In addition, tests and test conditions are internationally recognized.
This text is machine translated.                About control cables A control line is a cable used mainly in the area of machine and plant construction. For example, any electric motors with such a lin...