This text is machine translated.
About inrush current limiter
How does an inrush current limiter work?

What are inrush current limiters used for?

What was to be considered when purchasing?
How does an inrush current limiter work?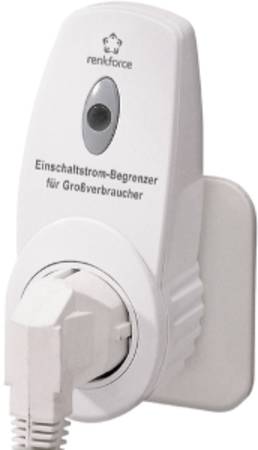 Some electrical consumers require more energy when switched on than during operation. This can cause the miniature circuit breaker – also called a fuse – to be triggered when these devices are switched on. The power connection is cut and the device does not start.
Too high a starting current that triggers the fuse can have several causes. For powerful motors, such as a circular saw, the motor must first move the saw blade. This acceleration process can very quickly overload a common household power line.
Even with smaller power consumers, they can cause a short-term current peak when switched on. For example, light bulbs have a very low internal resistance when the wire is switched on when it is not yet glowing. For a short time, a lot of current flows – similar to a short-circuit. If many light bulbs, particularly bright lamps or halogen spotlights are connected to a power line, a starting current limiter can be worthwhile there.

An inrush current limiter is switched behind the fuse and in front of the affected devices. There are two ways of building this. A type of limiter is connected directly to the socket – so they can be used easily and flexibly and can be taken along from place to place. The other limiters are permanently installed in the power line. They can be easily hidden in the wall, but can only be removed in a cumbersome way.
Starting current limiters are quite simple. In the normal state, a small ohmic resistance (usually between 5 and 30 ohms) is connected in the limiter as long as the current does not flow or only flows in small quantities. If a strong consumer is now connected, this resistor artificially limits the maximum current flow. This keeps the current within the permissible range of the power line and prevents the fuse from tripping. After a short time – usually about half a second – the inrush current limiter uses an internal line relay to separate the resistor from the power line and directly couples the consumer to the power grid – so there is no limit to the current. This regulates the current consumption at the first moment, but the normal operation is not influenced by the starting current limiter.
What are inrush current limiters used for?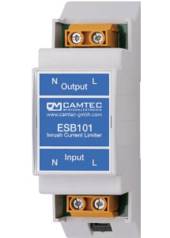 Inrush current limiters are used to avoid the problem loads that can cause the power line fuse to trip. This type of peak load can cause many types of large consumers: Halogen spotlights or circular saws can cause a peak current when switched on.
All problematic devices have one thing in common: Their power consumption is already in normal operation close to the maximum permissible load of the power line. This can easily lead to an overvoltage when switching on, if you need more energy to start up.
For normal sockets, the maximum load is 3,680 watts or 16 amps * 230 volts. If the required current is significantly lower than this value when operating the devices, no starting current limiter is normally required.
What was to be considered when purchasing?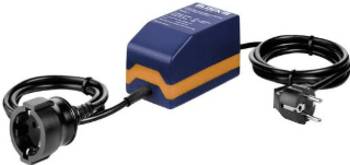 At Conrad, you will find different types of inrush current limiters suitable for different power networks and devices. In order to find the right product for your application, you should pay attention to some specifications.
One is the size of the resistor installed in the device. Depending on its size, the starting current limiter only allows a certain amount of current flow at the first moment – too much resistance could ensure that the connected consumer does not receive enough current to start. Too little resistance could cause the fuse to trip due to excessive current despite the limiter in a particularly problematic load.
Equally important is the maximum connected load, sometimes also called maximum load or nominal current. This value indicates how much power the connected devices can consume on average over time. This value should not be exceeded by the consumers, as otherwise permanent damage to the device or even a fire may occur.
For this purpose, you should also pay attention to the voltage and mains frequency for which the limiter is designed. Most devices are designed to work with the current frequency of 50 heart and 230 volt mains voltage that is common in Europe. Some starting current limiters are available in other variations from Conrad.
Because the devices are designed to limit large consumers supplied by AC, they are not suitable for connecting to DC.
If you are unsure about your purchase or if you have any further questions, our customer service will be happy to provide you with personal advice.
Bottom line
If you have the problem that your electrical devices trigger the fuse when switched on, you can solve this very easily with a starting current limiter from Conrad. They can also be used to prevent complex light shows or similar from failing due to the triggering of a fuse. The limiters can be used universally for different consumers – provided you observe the above specifications – and provide a reliable power supply for your devices.
This text is machine translated. About inrush current limiter How does an inrush current limiter work? What are inrush current limiters used for? What was to be considered when purchasing? Bottom line How does an inrush cu...