This text is machine translated.
About current transformers
Current transformers are used when high currents are to be measured. These are transformed into smaller currents and can be used for measuring purposes or for triggering protective devices. Current transformers are found in current meters, power meters and residual current protection devices in power distribution units, switching devices and control panels. You can find out how current transformers work and what was to be observed when using them here.
What was a current transformer?

What types of construction are there?

Installation and selection of a current transformer

Conclusion: This is how you can find the suitable current transformer
What was a current transformer?
A current transformer is a transformer that transforms high currents into smaller ones. It works according to the same principle as a voltage converter.
It consists of a Kern with magnetizable material like iron. The Kern places the conductor with the high current, or it is wound around the Kern. This winding is called the primary winding. There are secondary windings on the output side. These have much more windings than the input side.
According to the transformer principle, the current transformer now outputs a secondary current in the range of milliamps up to a few amperes as output signal. The low current can now be used to carry out measurements or to supply protective devices. Thus, current transformers can be used for electricity meters or power meters.
Likewise, the reduced current can be routed to a protective relay or control unit, which shuts down a system at too high currents. Since transformers can only convert alternating current or alternating voltage, they are not to be used in the direct current grid. The same applies to voltage transformers.
Current transformers are also referred to as low-voltage current transformers because the permissible voltage is less than 720 volts and this voltage is in the low-voltage range.
What types of construction are there?
Clip-on current transformer
These devices have a window opening through which the conductor to be measured is guided. Since the primary conductor must be interrupted during installation, this type of construction is mainly used for the new installation of electrical systems. It can be mounted on conductors and busbars.

Cable conversion current transformer
Cable conversion current transformers have divisible core halves and are usually used when an interruption of the current path is not possible without much effort. The current transformer is placed around the conductor. This makes it easy to retrofit and the converter can also be removed easily.
Multi-pin current transformers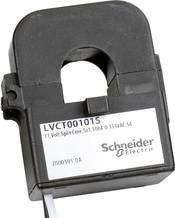 Multipole current transformers (also called multiphase) have additional or extended openings. This allows several conductors to be inserted through one inner toroidal hole (conductor lead-through). These converters sum up the current of the conductors, was advantageous for differential current measurements and safety devices.
Coil current transformer
Coil current transformers have connections on both sides and are used for small currents (less than 20 A).
Installation and selection of a current transformer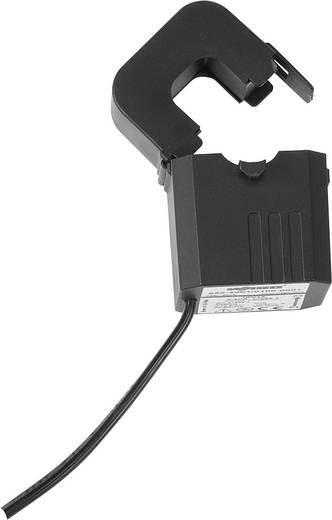 Before installation, the system must be switched off and secured against being switched on again. Since very high and therefore life-threatening currents flow when using current transformers, only qualified electricians are required to carry out the installation.
Current transformers have different connection types on the secondary side. In addition to types with a cable connection and screw connection, there are also current transformers that can be connected using spring-loaded terminals, screw terminals or plug-in terminals. The type of connection that is best suited depends on the application: If measuring instruments or measuring leads need to be connected or disconnected often, spring-loaded and plug-in terminals are suitable. Screw connections are available for fixed connection to safety devices.
Under no circumstances should the secondary circuit of the current transformer be open when current is still flowing at the primary side. In this operating state, high voltages are generated at the secondary terminals through induction. This makes the current transformer a voltage source and therefore poses a risk to persons as well as the functional safety of the device. Therefore, a load must always be applied to the converter – or it must be short-circuited.
Current transformers have one or more window openings (multi-pole current transformers). These are circular, square, often combined and are also referred to as conductor lead-through. Standard sizes range from 18 mm to 50 mm. The size of the window opening depends on the given diameter of the electrical conductor or the dimensions of the busbar. In case of doubt, you will find specific data for connection in the manufacturer's data sheet.
The accuracy class of the current transformer is important for accurate measurements. The class indicates the percentage error. For example, class 0.5 has a maximum error of 0.5 percent. The values refer to 100 to 120 percent of the primary rated current. If the flowing current is significantly lower than the primary current, this leads to a large measurement uncertainty and must therefore be avoided. The rated current is often referred to as the input current on the primary and secondary side as output current or as a ratio. The rated current indicates the alternating current that may be applied permanently and is usually the same as the rated current.
Most current transformers have only one primary coil, which represents the conductor through the converter. The following applies: The more secondary windings, the smaller the secondary current. The exact ratios can be taken from the data sheet, which often also provides value pairs in tables.
The prices for the conventional converters are usually around 100 euros. Special current transformers can cost several hundred Euros. These are then devices that are designed for very high currents (up to 5000 to 6000 A) and high outputs (70 volt amperes – VA).
Bottom line
Which current transformers can be used depends mainly on the respective application scenario: When reinstalling an electrical system, plug-in current transformers are often used. When retrofitting, cable conversion current transformers with separable core halves are used.
Decisive for the design is the primary-side current, electrical properties of the secondary-side connected measuring devices or components as well as accuracy classes. In addition, it should be checked before purchase whether the size of the window opening is sufficient for the ladder or rail.
This text is machine translated. About current transformers Current transformers are used when high currents are to be measured. These are transformed into smaller currents and can be used for measuring purposes or for triggering protective d...