This text is machine translated.
Design and operation of a DC motor

Differences in electric motors

Purchase criteria for DC motors
Like any other electric drive, the DC motor converts electrical energy into mechanical energy. In contrast to rotary or AC motors, DC motors are used mainly in sectors where low power but high controllability are required. Their area of application in industry is, for example, in the field of automation and drive technology. In addition, the motors are often used in household appliances. This is due, among other things, to the fact that they are usually the more favorable alternative to other drives and still have a high degree of efficiency. Stepper motors are a special form of DC motors and are often used here.
Design and function of the DC motors
In simple terms, DC motors consist of three components: The stator, the rotor (also called armature) and the commutator.
The stator forms the stationary, outer part of the construction (1) and consists of either a permanent magnet (permanent-magnet motor) or an electromagnet. Inside there is a free-rotating rotor, also called an armature (2), with a winding, usually a coil of copper wire (3), which generates a magnetic field when the current flows.
This responds to the magnetic field generated by the stator. The rotating movement of the rotor is created by the forces of these interacting magnetic fields, which can be made usable by a shaft for subsequent use.
In order to ensure a constant rotation of the rotor, its magnetic field alignment is constantly reversed by a commutator. Due to the inertia of the turning movement, the rotor moves over the so-called dead center and through the reversal the attracting forces are reversed. This keeps the rotor moving continuously.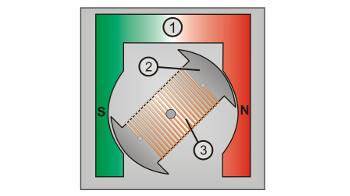 Schematic setup of a two-pole electric motor without commutator.
Expert knowledge: Multi-pole rotors
Depending on the requirements, in addition to the simple two-pole rotors, these can also be used, which are three, four or multi-pole. Their advantage is, among other things, that two-pole rotors are extremely difficult to move out of the dead center when the engine is started. In addition, multi-pole versions at low speed offer a trouble-free and even power.
Differences in electric motors
Depending on the circuit, DC motors can be divided into three categories:
When excitation and armature winding are connected in series, the electric motors are referred to as series-connection or main-circuit motors. Due to their great popularity, reliability and good performance they are installed in a variety of electrical household or tool devices and are also known as universal motors.
If the two windings are connected in parallel, this is referred to as shunt motors. While at the main short-circuit, the speed increases with decreasing load and the engine can "go through", the speed of auxiliary motors varies between idling and full load by only about five to ten percent. Secondary-circuit motors are used, for example, for work in which their load-independant power is advantageous - for example, for conveyor or conveyor belts.
A double-circuit motor, also known as a compound motor, connects both types of drives and has both series-connection and secondary-circuit winding. Depending on the design, the electric motor can then be used.
Purchase criteria for DC motors
In addition to the basic different types of electric drives, the motors also differ in a variety of other aspects. The most important criteria you should consider when choosing and purchasing the devices are shown below.
Operating/performance data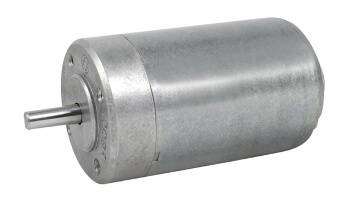 Motor with permanent magnet technology according to protection class IP 40 and IP 53.
In addition to the design, the operating and performance data are the most important factors that should be taken into account when purchasing a DC motor. These include a number of different key figures. Rated current , rated voltage , rated speed and rated torque, but also the operating temperature are the most important information directly related to the performance of the drive.
While current and voltage describe the required supply at full power, speed and torque refer to the potential of this power. The operating temperature indicates the optimum temperature range for the drives. Key figures based on the design are information such as the radial and axial load or the size of the shaft average. These are particularly important for the components to be connected.
Housing/protection class
For the later application environment, it makes sense to make sure that the drives have to be protected against special or adverse environmental influences through their housings. The motors are classified according to the international standard IP (International Protection). There are variants that are protected against dust, liquids or foreign objects. In addition to a stronger resistance of the engine, high degrees of protection also ensure better protection of the operating personnel.
Learn more about IP protection classes
equipment
Finally, make sure that the motors are equipped with special equipment or if they are required. Various additional components can already be integrated in the drive and thus enable special additional functions. One of the possibilities is, for example, the processing of magnetic pulsors with Hall sensors, through which different measurements can be made and which do not need to be retrofitted afterwards.
DC motors are reliable components of different processes - both in industry and in private households. Conrad offers you a wide range of different products, from which you can choose the right solution for your projects.
 This text is machine translated.   About DC motors What is a DC motor? Design and operation of a DC motor Expert knowledge Differences in electric motors Purchase criteria for DC motors Conclusion ...