This text is machine translated.
Compact and powerful: Desktop PCs for all requirements
Despite the increasing use of portable computers such as laptops and tablets, desktop PCs are still standard equipment for many people in the professional and private sector. See our guide to learn about the benefits of modern desktop computers and what was important to consider when you purchased them.
Advantages of desktop computers

Gaming PC or office computer: Which desktop PC is right for me?

Our practical tip: GB, GHz, CPU, OS? PC selection without expertise

Desktop PC buying criteria – what's it all about?

FAQ – frequently asked questions about desktop PCs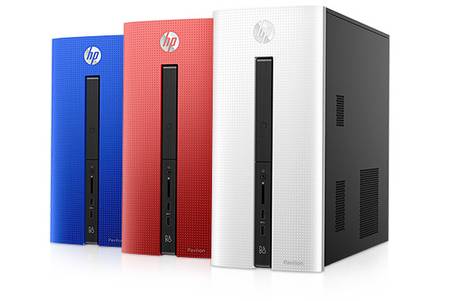 The term "desktop PC" (alternatively "desktop computer" or simply "desktop") has seen a change in meaning over the past decades. Literally, a desktop PC refers to a personal computer (PC) that is on the desk (desktop: "Desktop" or "desktop interface"). In fact, they were originally computers in enclosures that were compact enough to be placed on the table either on a flat or standing surface. This meaning still applies today, but a certain amount of dilution has taken place was in terms of the use of the word. Today, when we talk about a desktop PC, we mean a PC in a chassis that is used at the desk – whether it's on or below it, it's irrelevant. Larger tower PCs are also referred to as desktop PCs. If you have a classic stationary PC in a case, it is a desktop computer.
Advantages of desktop computers
Desktop PCs are widely used as computers for work and leisure. Although there have been voices for a long time that evoke the imminent extinction of the stationary computers, as it is so beautifully said: Dead people live longer. PCs for the desk, whether mini PC or large tower, have some advantages compared to notebooks, so their raison d'etre should not be in danger until further notice.
This includes convenient handling. The set-up with PC, monitors and other peripherals such as keyboard and mouse can be put together freely according to individual preferences. Although it is generally possible to connect additional input devices and monitors to a laptop, the connection options are usually less extensive, and the notebook remains the central implement that has to be placed somewhere between all the other technologies. A desktop PC can be placed hidden under the desk or find an inconspicuous place under or next to the monitor and thus does not disturb.
Desktop PCs are also more durable – in two ways. If a built-in hardware component breaks down, it can be easily replaced or replaced with a little know-how – the notebook is difficult to impossible. In addition, even older desktops can be made fit for new challenges such as sophisticated software by equipping them with better hardware.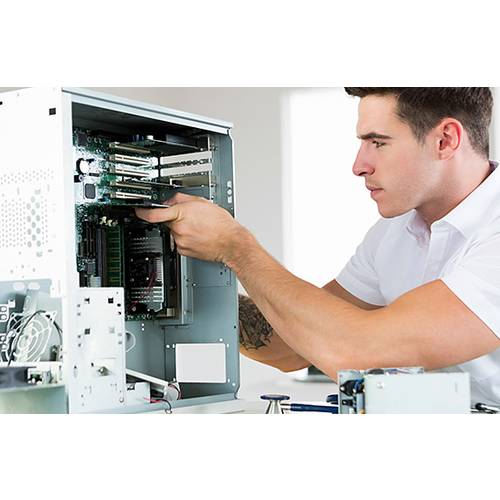 If you know a little about computers and have precise ideas about what was expected of your computer, you can build your PC completely yourself. This is not possible with notebooks either. Alternatively, you can buy a ready-made PC whose specifications match your needs. Many manufacturers provide information in the product description on which applications a desktop PC is suitable for. Thus even laymen can quickly find the computer suitable for them.
For many gamers, the PC is the ultimate in gaming platforms. While there are very powerful gaming laptops, gaming PCs offer more flexibility in terms of equipment. Was it a great way to get the most out of your gaming experience? Retrofitting is easy, so that the device can be used for a long time, in order to be able to play graphically and technically demanding games.
Of course, notebooks also have their advantages over desktops. First and foremost, this concerns the fact that they are easy to carry and use on the move. The type of computer that is right depends largely on individual preferences.
Gaming PC or office computer: Which desktop PC is right for me?
If you would like to buy a new desktop PC, you will find it in our online shop. We offer a wide range of PCs in different designs and performance classes. The question of which PC is right for you cannot be answered at a flat rate, as this depends on what you want to use it for, what equipment you value and how much your budget is. A broad distinction can be made between desktops in office PCs or work computers and multimedia or gaming PCs. The latter are computers equipped with high-performance hardware that enable programs to be used that place high demands on the hardware specifications of the PC. Gaming PCs can be found in a separate category, while desktop computers offer models for everyday office use or private use of low-end applications, such as office programs, e-mails and the Internet. Modern desktops for work are typically capable of playing games and other software, unless they are applications that require too much processor or graphics power.
Our practical tip: GB, GHz, CPU, OS? PC selection without expertise
For pure users, where data such as Intel, GB RAM, Quad-Core, 256 GB SSD, GHz or AMD Ryzen only trigger an unsuspecting shtick, it may be helpful to look at the software-side system requirements of the programs they want to use and to compare these with the specifications in the PC specifications. This gives you a feeling of whether the targeted PC is powerful enough or too weak without actually having to understand what was happening with things like RAM in GB, clock frequency in GHz, CPU and the like.
Desktop PC buying criteria – what's it all about?
Whether gamer PC, small mini for home work or functional PC systems for the office – not everyone has the desire or the necessary knowledge to assemble their own PC with all the hardware components themselves. That doesn't have to be the case, because the PC market has a wide range of ready-to-use computers that can meet all requirements. For example, HP PCs and models from other major manufacturers and brands such as Lenovo, Acer and Dell can be found in our shop. But what exactly should you pay attention to when buying? Let's take a look at the most important selection criteria – apart from the purpose already mentioned –:
Disk space and memory
Even low-cost desktops today offer enough storage space to store a wide range of documents, images, videos and programs. Hard disks are already included in ready-made PCs, whereby a closer look is worthwhile, which types of storage media are installed and how much storage they offer concretely. HDDs (hard drive disks or magnetic hard drives) and SSDs (solid state disks), which are often available in combination, must be distinguished. Having both an HDD and an SSD in the PC is convenient because the advantages of both data memories can be used. SSDs allow fast data writing and reading and are virtually wear-free, while HDDs can provide large amounts of storage and are comparatively inexpensive. If the computer offers a 256 GB SSD and a 500 GB HDD or even a 1 TB HDD, you will not hit your "storage limits" so quickly. Should it come to this point, 500 GB hard disks (HDD) and even variants with several TB are relatively cheap and can be retrofitted.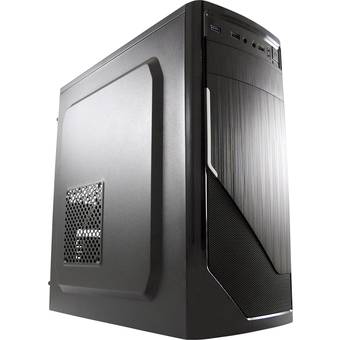 A distinction must be made between random-access memory (RAM) and available memory. In simplified terms, this memory is needed to cache data from current processes and thus make it quickly accessible. If there is not enough RAM, this can cause the entire system to stall – the PC is paralyzed. A computer with 8 GB RAM can handle more processes simultaneously or more demanding applications than a computer with 4 GB RAM. For the normal office requirements, 4 GB RAM is normally sufficient, but if modern, graphic and technically complex games are to be displayed fluently, 8 GB RAM is recommended. If you encounter information GB DDR4-RAM: This refers to a newer generation of RAM that offers higher clock speed, i.e. faster transfer rates than the predecessor DDR3. DDR SDRAM stands for Double Data Rate Synchronous Dynamic Random Access Memory.
Processor - AMD or Intel?
The central processing unit (CPU) plays an important role in determining the performance of the computer. It is the heart of the computer, so to speak. Typically, either an Intel or AMD processor is installed, with both manufacturers offering a wide range of CPUs. On the one hand, you have to take into account the frequency in GHz, which indicates how many calculations per second the processor can perform. On the other hand, it is important to pay attention to the number of cores (cores). If there are several cores (for example, 4 in the case of a quad core, 2 in the case of a dual core), the workload can be "split", i.e. more tasks can be processed simultaneously. The efficiency of this process depends on other factors, but it can generally be said that a high number is beneficial in terms of clock frequency and cores. AMD (for example, with AMD Ryzen CPUs) and Intel (with Intel cores of several generations) dominate the market, especially processors from Intel are installed in a large number of ready-to-use PCs and all-in-one PCs. The brand is of little concern to the average user; the mentioned specifications of the CPUs are important.
Interfaces for internal and external hardware
If you are planning to upgrade your desktop PC yourself in the future, it is worth looking at the integrated mainboard and its options for installing internal components. Otherwise, the connection options on the PC housing are essentially relevant for peripheral devices and network interfaces. Depending on which monitors are to be connected, HDMI, VGA, and/or DVI connections are required, as well as sufficient USB interfaces (USB 2.0 and USB 3.0) should be available – preferably on the front and back of the housing. In addition, jack sockets for headsets and microphones and an interface for LAN must not be missing.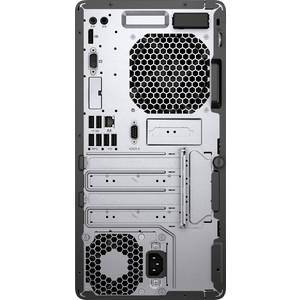 In order to be able to commission the PC immediately when it arrives at your premises, you should ensure that an operating system (OS) is already installed on it or at least enclosed as a data carrier. Windows is by far the most widely used operating system on desktop PCs, although there are also computers with operating systems other than Windows, for example MacOS, if it is a Mac PC from Apple. If you choose the Microsoft OS, it is recommended to use the current version (as of 2019, Windows 10). In our online shop you will also find a selection of PCs without an operating system.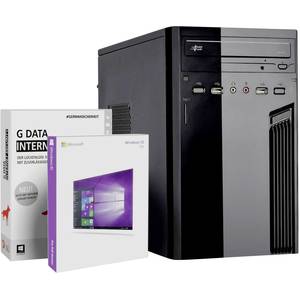 Price
The price range for desktop PCs is very broad and ranges from low three-digit amounts for simple business PCs, on which there is hardly any need to run other than office applications, to high-end computers for gaming. A well-equipped gaming PC can strike with several thousand euros, but is also correspondingly powerful.
In addition, there are a number of other criteria or equipment features that may be relevant to one or the other. For example, this can be equipped with optical drives (CD or DVD drives) or equipped with a separate graphics card. The latter is integrated in many modern computers in the form of a processor graphics card, since nowadays even "simple" applications are more graphically complex than they used to be. If you want to play a new, graphically very demanding game blockbuster, you will need an additional graphics card, for example from NVIDIA or AMD. Gaming PCs usually come with a graphics card that provides sufficient GPU power for gaming.
FAQ – frequently asked questions about desktop PCs
When should you buy a new PC?
If your old computer no longer meets your requirements, there are two possibilities: Either you replace individual components or upgrade further hardware (such as an additional SSD or extra RAM) or you can create a new computer. The latter is recommended if the old PC would require such massive upgrades that the cost of parts and, if necessary, the fee for the skilled person carrying out the installation is higher than the price of a new computer. Since there are already quite good desktops for free time and office for a few hundred euros, it is worth buying again in many cases – especially for users who do not want to deal with technical details.
How do ich use WLAN with my desktop PC?
Unlike laptops, desktops do not have built-in wireless receivers as standard, but can be easily equipped with appropriate adapters. WLAN sticks can be put into operation via USB connection, for example. If a PCI bus is available on the PC, you can alternatively use a WLAN card with antennas, which is installed permanently on the mainboard. This can sometimes achieve higher ranges than with sticks.
What was an All-in-One computer?
This is sometimes referred to as incorrectly finished desktops that are equipped with all the necessary internal hardware and operating system. In fact, true all-in-one solutions are meant, which also include the monitor. Such complete PCs including displays are particularly space-saving and well suited for small workplaces. If you are looking for a very compact computer, it is also worth looking at dedicated mini PCs, which are characterized by very small dimensions.
This text is machine translated.      Compact and powerful: Desktop PCs for all requirements Despite the increasing use of portable computers such as laptops and tablets, desktop PCs are still standard equipment for man...