This text is machine translated.
Knowledge of DIN rail power supplies
What was DIN rail power supply?

What are the characteristics of DIN rail power supplies?

Types of DIN rail power supplies

FAQ - Frequently Asked Questions about DIN rail power supplies

Selected manufacturers and brands
What was DIN rail power supply?
DIN rail power supplies are a subcategory of power supplies. Due to the type of mounting in the installation, they bear their name on a support or mounting rail whose cross-section has the shape of a vertical cut through a hat with a brim. The matching power supplies have a suitably shaped receptacle on the back with which the power supply unit is pushed onto the rail or tilted in. The mounting on the mounting rail is done by a clamping or locking mechanism at the rear side of the power supply, which holds the power supply in force. There are also solutions in which a clamping screw can be operated from the front of the housing in such a way that it presses on the mounting rail on the back of the power supply unit and fixes it in such a way.
According to DIN EN 60715, there are three different sizes for these mounting rails. The most common is the so-called DIN rail with a rail width of 35 millimeters and a depth of 7.5 millimeters. The top hat rail can be made of steel, copper or aluminum, the latter two allowing the use as protective conductors.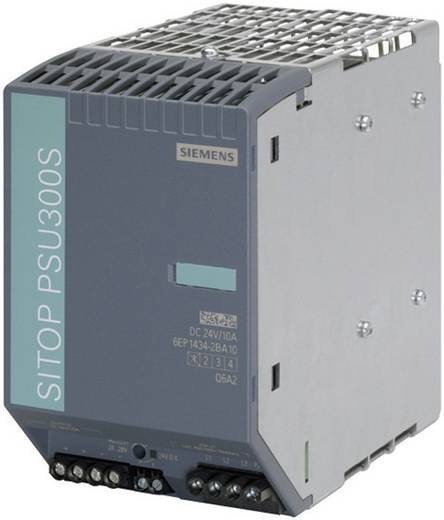 What are the characteristics of DIN rail power supplies?
The power supplies available from Conrad have a high noise immunity, very variable input voltages, high consistency of the output voltages, electronic protection and compensation functions for overload and starting overheating. The designs are designed in such a way that they can be used with minimum space requirements (especially in the installation width). Many power supplies have a so-called boost function, which reliably intercepts short-term overload. The standard also includes no-load and short-circuit resistance, which is ensured by electronic circuits.
Some of the power supplies have comfortably adjustable output voltages. Solutions with classical transformers are now the exception. These are almost exclusively switching power supplies, which realize the voltage conversion with an electronic circuit. The input voltage is converted into a voltage with a higher frequency, as the necessary core cross-sections of transformers drop as the frequency increases. After the transformation, the frequency is adjusted again to the required output value. The electronic solution has the advantage that it balances voltage and frequency fluctuations at the input very reliably. This is accompanied by a comparatively very high degree of efficiency with small spatial designs.
LED status indicators on DIN rail power supplies provide information on operating states on many power supplies, including the message of faults. With emission protection against high-frequency radiation and various variations of touch protection, the DIN rail power supplies ensure compliance with national and international safety requirements.
Accessories such as branch terminals, terminal covers and wall mounts (mounting adapters) are also offered in the Conrad shop.
The manufacturer's data sheets provide comprehensive descriptions of the possible applications and installation instructions, including the approved temperature ranges.
Types of DIN rail power supplies
The DIN rail power supplies at Conrad are staggered according to the electrical parameters:
Input voltages 9 Volt to 840 Volt are equal to or alternating current
Output voltages from 3.3 volts to 48 volts for output currents from 0.3 amps to 40 amps
Available power from 0.65 watts to 1440 watts
Other differentiators include:
DIN rail power supplies without special additional designations always convert alternating current into direct current, for example for the drive of relays or bells in a domestic installation.
Electronic circuit breakers: These include switching power supplies with safety cut-off function, which are suitable for DIN rail mounting.
DC/DC converter modules: Pluggable add-on devices for output of a defined DC voltage that the actual power supply does not supply, for example 5 V for USB connections.
In addition to pure current monitoring of the individual outputs, fuse modules also protect the defined power supply voltage against voltage dips, so that a voltage in the system does not fall below a critical value for the maintenance of the system function.
The number of outputs: 1 to 8.
The type of electrical connection: Spring terminal, screw terminal, plug connection or plug connector

Power supplies must comply with limits for substances hazardous to health and hazardous to the environment as defined in Directive 2011/65/EU of the European Parliament and of the Council of 8 June 2011. The non-official designation is RoHS(2) and is offered at Conrad as a selection criterion in the shop.
FAQ - Frequently Asked Questions about DIN rail power supplies
What safety instructions must be observed when handling DIN rail power supplies?
Installation and maintenance work may only be carried out by a qualified specialist
Before starting any installation or maintenance work, the power supply must be disconnected, secured against accidental re-activation and the effectiveness of the shut-off must be checked
In the operating state, protection against accidental contact is to be effectively secured
Ensure correct voltage and polarities as well as the suitability of the power supply unit/power unit for the intended use
In the event of malfunctions or damage, the power supply unit/power unit must be disconnected from the power supply immediately and secured against further use
Always observe the temperature specifications. When exceeded, power supplies/power supplies react with a power reduction specified in the data sheets
How long does a DIN rail power supply last?
A general statement for all types is not possible. An example of a manufacturer's durability specification: Eight years minimum operating time (70,000 hours) when the specified input voltage range is observed, 50 percent usage/pause ratio, without exceeding the operating temperature of +40 degrees Celsius and standard mounting.
How can ich recognize a defective DIN rail power supply?
The first indication is always the failure or irregularities on the supplied terminal. Excessive heating indicates defects. The named status LEDs often provide detailed information about faults
Selected manufacturers and brands
Bicker Elektronik is a developer and producer of power supplies. Founded in 1994 with headquarters in Donauwörth.
Block Transformer-Elektronik was founded in 1939 as a fabrication of radiotechnical articles. The company is located in Verden.
Mean Well is a 1982-based manufacturer of electronic components and components based in New Taipei, China.
Murr Elektronik develops, produces and sells products in the field of electrical and electronic automation technology. Founded in 1975 with headquarters in Oppenweiler.
Phoenix Contact GmbH & Co. KG is a German company offering components, systems and solutions in the field of electrical engineering, electronics and automation. The headquarters is in Blomberg, Westphalia.
PULSE was founded in 1980 by Bernhard Erdl, a pioneer in the development of switched-mode power supplies in Munich.
TRACO Electronic AG, based in Baar, Switzerland, has been producing power supplies for a wide range of applications for more than 35 years.
WAGO currently employs more than 7,500 people worldwide, about 2,300 of them in the head office in Minden/Westphalia alone. Since 1991, more than 1,000 employees have been developing, producing and testing at the second German development and production site in Sondershausen/Thuringia.
Siemens: Siemens Aktiengesellschaft is the German holding company of a German technology group. Founded as a telegraph building institution by Siemens & Halske in Berlin in 1847.
TDK-Lambda has been offering a wide range of AC-DC power supplies, DC-DC converters and programmable power supplies since 1948.
Weidmüller supplies customers around the world with products and solutions in the field of industrial connectivity including power supply. The company is headquartered in Detmold.
This text is machine translated. Knowledge of DIN rail power supplies What was DIN rail power supply? What are the characteristics of DIN rail power supplies? Types of DIN rail power supplies FAQ - Frequently Asked Questions abo...