This text is machine translated.
How do rotary switches work?

Which rotary switches are available from Conrad?

What are the electrical connections of rotary switches?

Learn more about rotary switches

FAQ – Frequently Asked Questions about Rotary Switches
Rotary switches are used in electrical/electronic equipment to open or close electrical connections. They ensure an electrically conductive connection or separation between a voltage source and an electrical consumer when the switch position is set. . The design of the housings of rotary switches ensures that contact with the live switching contacts is not possible. The special design of these switches is that the switching contacts are actuated by a shaft turning left or right. The following switching operations in one direction are also possible and common. The switching process is normally triggered manually.
How do rotary switches work?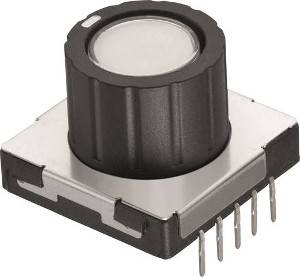 The actuator of the rotary switch – the shaft – has an electrical contact that is either pushed between two open contact elements to close them, or the rotary contact is itself a conductor and is turned on one of the fixed circular contacts. The engaged switch position is held by latching elements . There can be several switching levels with which multi-pole switches can be set up. Mechanical elements, so-called snap-in plates, can limit the number of switching operations per rotation, in order to set the rotary switch exactly to the required requirement profile in the installation. As with other switches, there are latching and momentary switch positions .
Rotary switches have mechanical elements which they secure in the mounting plate after installation to prevent the switch housing from twisting. For this purpose, the corresponding counterpart must be installed in the assembly unit.
A special form of the rotary switches are so-called encoders . Other designations are rotary encoders or rotary encoders. These have a high number of switch contacts , which are divided into a full circuit of 360 degrees. They are used to record rotational speeds, to evaluate angular positions or to gradually regulate voltages (for example, volumes).
Which rotary switches are available from Conrad?
The following criteria can be selected in the menu under the electrical parameters:
Switching current
From 0.001 to 5 amps. The very low currents are usually the mentioned encoders.
Actuation type
Here, a distinction is made between the axis, rotary switch, knob, screwdriver and cable. "Straight metal axis" means that no slots, phases or notches are incorporated. "Flattened" means that there is a straight surface on the axis for flush mounting of a screw (for example, in the rotary knob). A special form is the "cable" switch, in which the switching process is executed in a partial circle.

Contact type
It describes the number of NO/NC/CO contacts in the rotary switch, from one to four.
Protection class
About one third of the rotary switches offered by Conrad have a guaranteed protection class, in particular:
IP40: Protected against solid foreign bodies from 1 millimeter diameter and protected against access with a wire
IP65: Dust-proof, complete touch protection and protection against all-sided splash water
IP68: Like the previous one, but with additional protection against permanent immersion
Please note: The degree of protection that can be achieved may depend on the installation position and position.
Category
Here you will find more detailed selection options, such as thumb wheel, rotary encoder, rotary switch, encoder, LED rotary encoder, step switch, vandal-proof rotary switch and pull switch.
Switching voltage
The switchable voltages of the offered rotary switches are within a range of 5 to 250 volts.
What are the electrical connections of rotary switches?
There are many variants for the electrical connections:
Spade connector for cable lugs
Solder connections , also as solder lugs, for permanent connection to cable ends
Pins and print connections in various angles and grid dimensions for soldering to conductor or mounting plates
Screw connections for connection with cable lugs and clamps.
Open cable ends for soldering , which are led out of the switch housing.
Learn more about rotary switches
The Conrad range offers you a comprehensive selection of high-quality rotary switches with which you are prepared for all switching tasks in the industrial and domestic area. As a professional user, the rotary switches enable you to implement a wide range of switching processes, ensure operational safety and meet your customers' design requirements.
The manufacturers of rotary switches must comply with limit values of substances that are hazardous to health and that are hazardous to the environment, usually referred to as RoHS. This feature is offered as a selection option in the Conrad shop.
FAQ – Frequently Asked Questions about Rotary Switches
What safety instructions must be observed?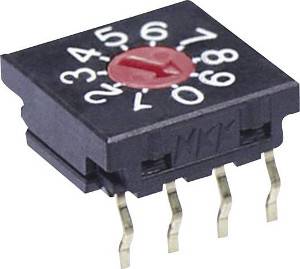 Rotary switches on the low-voltage power supply must only be installed by qualified personnel.
Unauthorized opening and improper repairs to equipment with rotary switches can cause electric shock injury. In addition, the manufacturer's warranty may be void. Take advantage of manufacturer/sales support.
Only attach and loosen the rotary switch with suitable tools to prevent damage. In the event of faults or defects, immediately disconnect the rotary switch from the power supply. Make sure that defective switches are no longer used.
Do not operate rotary switches with tools, but by hand or with the keys supplied.
Use the manufacturer's data sheets as a technically sound source of information before using or replacing rotary switches when planning an electrical system (data sheets can be downloaded from the product in the shop).
Defective switches should be placed in municipal collection points, not in the household waste.
What is the service life of rotary switches?
The number of switching cycles is between 10,000 and 3,000,000 if the application criteria according to data sheets are met. Encoders can reach up to 100 million revolutions . Some models also distinguish between mechanical and electrical life.
How can ich detect defects in rotary switches?
Wear and overloading result in an arc when leaving a switching position. This will result in a contact burn, which may be noticeable by smell. Ultimately, this leads to increasing contact resistance up to their complete failure.
The wear of the turning mechanisms leads to an unreliable (overturning, twisting) of the switching positions. Such switches must be replaced immediately.
In motor vehicles and vibrating machines, the cable and connector mountings and switches may become loose, was the result of the failure of the electrical system behind the switching unit.
This text is machine translated. About rotary switches What was rotary switch? How do rotary switches work? Which rotary switches are available from Conrad? What are the electrical connections of rotary switches? Learn more ...