This text is machine translated.
DVB-C receiver – the digital solution
DVB-C receivers are receivers for digital cable television. DVB-C offers a wide range of TV programs in Germany free of charge and in HD quality. In addition, Pay TV programs can be received by inserting chargeable smart cards with DVB-C receivers.
In addition to TV reception and digital radio stations, some DVB-C receivers also offer other functions such as the integration via Ethernet to the router of the home network, playback of the contents on different devices, program preview, teletext, recording functions and time-shifted television.
Which receiver do you need? DVB-C, DVB-S & DVB-T EXPLAINED BRIEFLY

What DVB-C receivers are available?

Functions – this should be possible for a digital receiver

The most important connections on the DVB-C receiver
Which receiver do you need? – Explained briefly the differences between DVB-C, DVB-S & DVB-T
To receive DVB channels, you need a so-called receiver. The receiver is the receiving device that receives the signals and processes them so that they can be played on one or more playback devices.
DVB in general is the abbreviation for Digital Video Broadcasting. This includes digitally broadcast television and radio programs. When selecting the right receiver, it depends on the type of transmission with which you receive television.
Behind the DVB is the abbreviation for the type of reception with a hyphen:
DVB-C = DVB-Cable, i.e. cable TV via antenna sockets
DVB-S = DVB-Satellite, for reception via satellite dish
DVB-T = DVB-Terrestrial, for terrestrial reception, mostly via small indoor antennas
You therefore need a DVB-C receiver if you want to receive cable TV via an antenna socket.
A cable connection with a cable network provider, usually for a fixed basic fee, is still an indispensable prerequisite.
Tip:
Combination receivers for DVB-C and DVB-T2 combine cable TV and terrestrial reception in one device (DVB-C/DVB-T).
IP servers with DVB-C reception can provide digital cable TV signals via LAN to other devices in the network.
What DVB-C receivers are available?
The same thing was yesterday! DVB receivers are the digital solution for a perfect TV experience.
HD cable receiver (DVB-C receiver in standard version):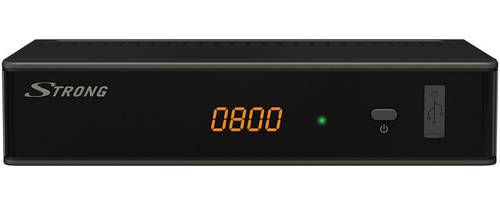 HD cable receivers are simple receivers for digital cable television in high-resolution HD quality. When using a DVB-C receiver, you can receive all the programs that your cable network operator makes available. Since 2019, the standard programs of the public broadcasters ARD & Co, the stations of the ProSieben Sat1 media group and also the programs of the RTL group have been broadcast via DVB-C.
Tip: PAY-TV programs can be received via chargeable smart cards with Common Interface (CI). These are plugged into the DVB-C receiver. If you want to enable such encrypted programs, make sure that your receiver has the appropriate interface for CI or CI+.
DVB-T/T2/C receiver combo
Receiver combo for DVB-T/T2 and DVB-C can receive both cable TV and terrestrial TV signals. Since the cable reception offers a higher quality picture and sound, this is usually preferred.
Tip: The purchase of a DVB-C and DVB-T2 combo device only makes sense if you move soon and do not have cable TV in the new apartment or if you want to use the receiver occasionally in the garden or on camping sites with a terrestrial (room) antenna.
By the way: DVB-T was the first transmission standard for terrestrial television in Germany. It is now considered obsolete. Since 2018, television programs in Germany have only been transmitted via DVB-T2. Only the public and some niche channels can be received free of charge via DVB-T2, most private TV channels are chargeable with DVB-T2 reception.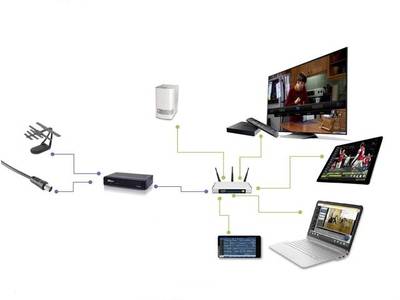 IP receiver
IP receivers can convert TV signals in such a way that you can view the contents via several playback devices such as television, computer, tablets etc. For this purpose, the receiver is connected to the router with an Ethernet cable. The router then shares the content with other devices via LAN and WLAN.
Functions – this should be possible for a digital receiver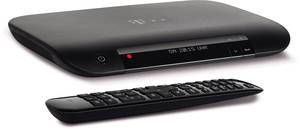 Not only is it important to decode digital TV programs, a good cable receiver should also have the following features:
An electronic program guide (EPG)
Possibilities for recording and later playback of TV contents (Recording)
An integrated smart card reader (for receiving Pay TV programs)
The most important connections on the cable receiver
Connection to the TV
By default, cable receivers have an HDMI and a Scart cable connection for connecting to the TV.
Tip: If possible, you should always prefer to connect using an HDMI cable over an alternative connection using a SCART cable. HDMI offers better picture and sound transmission than SCART. The older type of SCART connector leads to unnecessary loss of HD quality in TV playback.
If your TV does not have an HDMI or SCART connection, which was possible with old devices, the cable receiver must be connected via a so-called HF modulator. The correct connection is made by connecting the antenna cable to the RF output of the receiver (so-called looping of the signal).
Connection to sound systems
Well-equipped cable receiver has a separate audio output (line off), to which a stereo system (AUX input) can be connected for the sound.
Connection to external storage media
Many cable receivers have a USB connection for their recording functions on the front. Storage media such as USB sticks or external hard disks can be connected to these, which save TV recordings for later playback.
Tip: So-called twin tuners can even record two programs at the same time.
Connection to home network via Ethernet
IP receivers have a LAN connection. An Ethernet cable is inserted here and connected to the router at the other end of the cable. Via the intermediate router, you can also store or view program contents on other devices in the network via LAN or WLAN.
Connection to power supply
Of course, a digital cable receiver requires a power supply, i.e. also a power cable. The connection cable for the power supply usually has a power supply unit for generating 12 V operating voltage for the DVB-C receiver.
Questions and answers
Why do ich need digital television?
Analogueue TV programs are now switched off and can no longer be received. There is little reason for them to be suspicious: Compared to analogueue television, digital transmission has developed a lot for the better. While at analogueue times noise, snow or picture spots have clouded some television pleasure, the digital signals of today come in perfect picture quality (HD). Another advantage of digital technology is its wide range of programs. Analogueue TV had a limited number of channels to be received, and digital transmission allows an incredible number of regional, national and international TV channels to be received by making better use of available radio frequencies.
What was DVB-C2?
DVB-C2 is a successor standard for DVB-C with higher transfer rates and better error correction. This standard was developed in 2010. It has not yet been in operation. DVB-C2 is not compatible with DVB-C.
This text is machine translated.   DVB-C receiver – the digital solution DVB-C receivers are receivers for digital cable television. DVB-C offers a wide range of TV programs in Germany free of charge and in HD quality. In addition, Pay T...