This text is machine translated.
What was an electromagnet?

What types and types of electromagnets are available?

Purchase criteria for electromagnets - what is it all about?
FAQ - Frequently asked questions about electromagnets

Conclusion: How to buy the right electrical agent
What was an electromagnet?
Electromagnets are electromechanical components. They take advantage of the fact that each current-flowing conductor generates a magnetic field in its immediate environment. If a wire is wound to a coil, a voltage applied and thus passed through by an electrical current, the magnetic forces in the conductor overlap to a common magnetic field .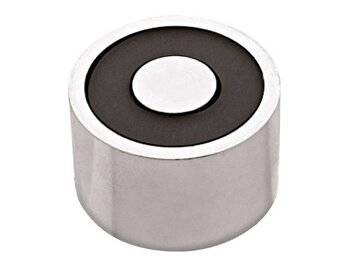 If an iron core made of ferromagnetic materials is added to this current-flowing coil, the magnetic field lines in the Kern bundle together and generate a strong magnetic flux . In contrast to permanent magnets, an electromagnet creates a magnetic field only when there is current flow.
According to the so-called reluctance principle, the magnetic circuit of an electromagnet always strives to reduce its magnetic resistance by reducing the air gap . If a ferromagnetic material is brought into the vicinity of the electromagnet, it is therefore attracted by it. Mechanical work can be done in this way.
As electromagnets can be switched on and off as required, they can be used for a wide range of applications. Some examples of this are the opening of fire doors and the safe closing of the doors in case of a fire by switching off the power, lifting processes during material transport of ferromagnetic materials, non-contact braking processes by induction, magnetic coupling and much more.
What types and types of electromagnets are available?
Under the generic term electromagnets one can classify all types of construction, but in this case we talk about classic electromagnets in their design without moving parts in the form of a diving or folding anchor. These lifting magnets , often called magnetic magnets or pot magnets, do not need an anchor, since the magnetic circle in them is to be deliberately closed by the movement of other ferromagnetic components. In this form they are therefore designed with an open iron core. On their effective side, they tighten ferromagnetic materials when energized and hold them until the current is switched off again.

As a rule, their design is cylindrical or rectangular and the effective side is flat in order to allow as much force as possible through a minimum air gap.
Depending on the size, the electromagnet is usually fastened to or on the respective device or technical equipment via one or more threaded holes on the rear side .
Electromagnets are also available as so-called permanent electromagnets . They contain a permanent magnet that, when the magnet is de-energized, provides the actual magnetic force and thus provides the holding or tightening force. This magnetic force can be neutralized by energized the coil of the electromagnet and an opposing magnetic field of identical strength is built up to the permanent magnet.
Purchase criteria for electromagnets - what is it all about?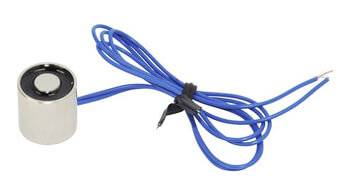 Since the size, weight and price of electromagnets are related to the holding force, it makes little sense to use a very strong magnet if a significantly smaller design can fulfill the task just as well.
Conversely, it must be noted that the holding forces specified in the data sheet always refer to a 10 mm thick iron plate with a smooth surface. Thinner materials, alloyed steels and rough surfaces reduce the holding force, as well as coating or dirt layers.
Permanent electromagnets are particularly suitable for certain safety-relevant applications. For example, they also lock critical areas if there is a power failure. Conversely, permanently powered electromagnets automatically unlock escape doors or close fire doors if a fire fails the power supply.
Practical advice
Use permanent electromagnets for so-called tripping processes , i.e. applications in which the magnetic force is to be switched off only briefly, if possible. They do not require any electrical energy in the "one-state" and are therefore economically advantageous.
FAQ - Frequently asked questions about electromagnets
What was the term "right-hand rule"?
This makes it very easy to determine the direction of the field lines and thus the north and south poles of the magnet: The coil is covered with the hand in such a way that the fingers are bent in the direction of the technical current direction (from plus to minus pole) and extends the thumb sideways. The thumb of the right hand shows the direction of the magnetic field and the magnetic north pole.
Why is the holding force of electromagnets given in N rather than kg?
N (Newton) is the official size in physics for power. In contrast to weight specifications in kilograms (kg), which depend on the gravity field, the unit N is a constant for simple conversion: 10 N corresponds to approximately 1.02 kg on earth or a mass of exactly 1 kg. Conversely: 1 kg weight corresponds to approx. 9.81 N. A lifting magnet with a holding force of 500 N can therefore (on earth) carry a weight of approx. 51 kg.
Conclusion: How to buy the right electromagnets
With the holding force, a safety factor should always be taken into account, the holding force should not be too tight . . Pay attention to the permissible duty cycle according to the data sheet. If a high force is only needed for a short time, a smaller solenoid can also be used in conjunction with an overcurrent. The degree of protection and any required test marks must always comply with the planned application.
This text is machine translated. About electromagnets What was an electromagnet? What types and types of electromagnets are available? Purchase criteria for electromagnets - what is it all about? Practical advice ...