This text is machine translated.
Electrosmog measuring devices: Detect and reduce electrosmog
In many areas of daily life we come into contact with electrosmog or electromagnetic radiation. Electrical household appliances, mobile phone networks and radars are almost omnipresent sources of radiation. Measuring the intensity of radiation is the task of electrosmog measuring devices. You can find out which types are available and what matters when you buy in our guide.
What was electrosmog measuring

Types of electrosmog measuring devices
Practical tip: Carry out several measurements

Purchase criteria for electrosmog measuring devices - what is important?

FAQ - frequently asked questions about electrosmog and electrosmog measuring devices
The term "electrosmog" is a collective term and in everyday language refers to the sum of the loads caused by electromagnetic radiation. Electrosmog must be distinguished from classic smog, because the latter is a pollution of the air caused by emissions. These include, for example, chimney smoke or exhaust gases released by cars and industry. Smog (formed from English smoke and fog fog) occurs particularly in conurbations and is sometimes visible as a layer of vapor with the naked eye, whereas electrosmog is invisible .
In concrete terms, electromagnetic fields are magnetic, electrical and electromagnetic fields in the low-frequency and high-frequency ranges. Characteristic of the low-frequency range is that electrical and magnetic fields are created separately from each other and alternatingly. In the high-frequency range, electrical and magnetic aspects are coupled, which is why electromagnetic fields or waves are usually referred to here.
Electromagnetic fields are not a technical achievement, but occur freely in nature. One example is the earth's natural magnetic field. The human brain also generates electric and magnetic fields and operates at a frequency of 13 to 30 Hz in the state of wax. Electromagnetic fields of this type are very weak and do not yet cause electrosmog. Electrosmog is the sum of the electromagnetic influences that have increased considerably in intensity and volume in recent decades as a result of technological progress. Heat radiation and ionizing radiation are excluded from this.
What was electrosmog measuring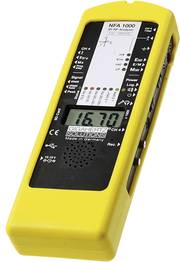 Electrosmog measuring devices are used to detect an electrosmog load. These are radiation detectors that can be used to measure wavelengths in the high-frequency and low-frequency ranges. They are an important component of the measurement technology and serve on the one hand to compare the limit values , on the other hand to detect radiation sources such as telephone stations, mobile radiation, microwave radiation and similar.
Some devices distinguish between different sources such as mobile radio, DECT, WLAN or radar and provide a detailed overview of the specific radiation exposure in the environment. Electrosmog measuring devices are equipped with Geiger counters and other contamination measuring devices for the equipment of biological measuring engineers. They are mainly found in the professional field of measurement technology and require technical expertise in handling and evaluation. However, there are also electrosmog measurement devices for those who are interested in using them, which are easier to use, such as measuring devices for detecting microwave radiation.
Types of electrosmog measuring devices
Depending on the frequency range to be measured, high-frequency electrosmog measuring devices or low-frequency electrosmog measuring devices are used.
Measuring instruments for low-frequency radiation measure electromagnetic radiation in the low-frequency range, including infrasonic and ultrasonic radiation. In the electromagnetic spectrum, the low frequency range is between 3 Hz and 30 kHz . Power lines and household appliances fall into the range of low-frequency radiation.
High frequency radiation meters measure electromagnetic fields in the high frequency range, from a value of 30 kHz. High frequency is found in the field of modern radio technology. Most wireless communication tools, such as radio, mobile, WLAN, and Bluetooth, operate in high-frequency areas.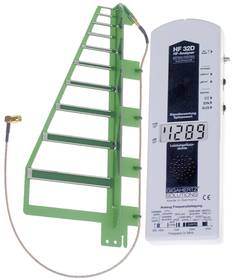 Our practical tip: Carry out several measurements
The signal strength of an electrosmog meter can be influenced by various factors, so it is recommended to perform several measurements at different times of the day and to repeat them regularly to obtain a complete overview. Interference radiation must be taken into account in the same way as the fact that walls and floors can also be charged by electrical devices.
Purchase criteria for electrosmog measuring devices – what is it all about?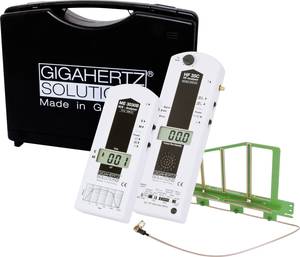 When purchasing an electrosmog measuring device, it is important to first consider in which frequency range the measurement is to be carried out. Depending on the area of application, a measuring device for low frequency or high frequency is recommended. Those who want to measure in both areas can use a combination of case sets. They contain electrosmog measuring devices for both frequency ranges and extensive accessories.
Usability also plays a decisive role, especially for those who are inexperienced in the use of electrosmog measuring devices. Visual indicators and acoustic signals such as color codes and warning tones can clarify the measured values once again and help with the assessment. Additional functions such as the Geiger counter effect are useful for locating areas with increased electrosmog load.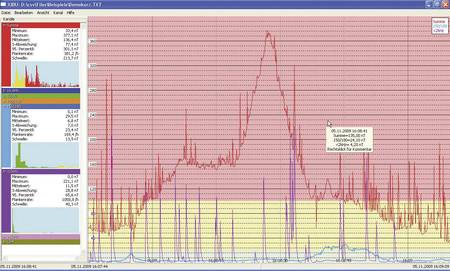 In order to obtain reliable measured values, a high measuring accuracy must be ensured. Measuring devices for household use do not necessarily have to be as sensitive as measuring devices for professional use. It is always necessary to take into account the respective application purpose. However, electrosmog measuring devices should beµ² able to detect at least a radiation density of 10 W/m. This is a building biological guideline for sleeping areas according to the standard of the building biological measuring technique SBM-2015. Electromagnetic waves (= high frequency) with a radiation density of 100 to 500µ W/m are² classified as highly conspicuous. If this value is reached, remediation or measures should be taken to reduce radiation. For magnetic alternating fields (= low frequency), there is a need for action from a flux density of 100 to 500 NT.
Finally, the technical requirements and the type of power supply required by an electrosmog measuring device should be checked in advance and adjusted to the conditions.
Precise measurement is a prerequisite for reliable measurement results, which in turn form the basis for a reliable assessment of the stress situation. Many electrosmog measuring devices make it possible to carry out long-term measurements and to carry out evaluations directly on site with the help of additional software.
FAQs: The most common questions about electrosmog measuring devices
Can electrosmog measuring devices also be operated and read by laymen?
Electrosmog measuring devices are sophisticated measurement technology, which requires some basic knowledge. This applies in particular to the understanding of the units of structural biological reference values such as flux density, radiation density, field strength and the like. Simpler electrosmog measuring devices, such as microwave radiation meters, can usually be easily operated and read by laymen.

What was the difference between electric and magnetic fields?
Electrical fields surround each electrically charged body or energized conductor. If a device is connected to the power line via a socket, an electrical field is created. The device does not have to be switched on for this purpose. Magnetic fields are generated when the current starts to flow and the device is put into operation. So they form every time the electrical power is actually consumed. Since they can penetrate building materials and walls, magnetic fields cannot be shielded as easily as electrical fields. Together, they both become weaker as the distance from the field jumps.
This text is machine translated.   Electrosmog measuring devices: Detect and reduce electrosmog  In many areas of daily life we come into contact with electrosmog or electromagnetic radiation. Electrical household appliances, mobile...