This text is machine translated.
What was fairy lights?

How are light chains structured?

There are these types of fairy lights

Notes for handling light chains

What defects can occur in light chains?
Fairy lights are interconnected illuminants that are used for decoration purposes. They are suitable for the effective lighting of parties of various occasions, for the lighting of houses, trees, bushes or other objects, which are to be especially put into the scene. The illuminants used can be electric lamps, halogen lamps or LEDs. They are attached to each other on the power-supplying conductor at defined intervals and can be attached, wound or knotted – depending on the model. There are hardly any limits to the user's imagination.
Light chains are by far no longer such "power guzzlers" as before with modern light sources such as LEDs. Most models are supplied with low voltage, was a lot easier to use. Some of the products are powered by batteries.
For outdoor use, protection types – usually IP44 – are guaranteed in many models, so that you can let your own light chain shine outdoors even in rain and snow.
Since low voltages are used, low-cost and small electronic modules have been developed with which the various light modes can be realized. Flickering, flickering, lighting and deletion in series, alternating lighting elements – no problem: Just press a button and the desired light program runs. In some light chains, the off and on rhythms are programd for 24 hours. If you have installed fear of cold feet or chains of lights in hard to reach places while operating the Christmas illumination in the outdoor area, you can fall back on a chain of lights with remote control. This alternative is also available for Christmas tree lighting. Some products come with Wi-Fi sockets that allow you to control the fairy lights on your smartphone or tablet.
How are light chains structured?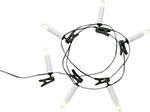 Light chains consist of lamps connected in parallel on one or more cable strands for power supply. Series circuits are rather unusual, because a defective illuminant immediately leads to the failure of the entire light chain.
The power is supplied via a separate power supply, via a set of batteries or is often connected to a source for solar power supply with buffer accumulator in case of light chains for outdoor use.
There are these types of fairy lights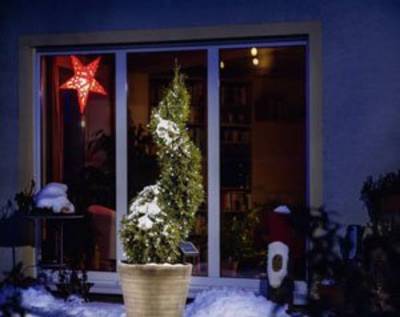 The choice of the suitable light chain can be made according to different criteria. Depending on the application, the light color can play a role. The type of light bulb indicates whether it is a chain of lights with LEDs, halogen or incandescent lamps.
The cable color is interesting for adapting to the usage environment. Either it should fit into the background "invisible" or set a color accent.
When selecting, you may encounter the term "Gray Violet (RLM 75)". This is due to colors for aircraft that were once used by the German Ministry of Air Navigation (RLM) and are still known in today's aircraft model construction.
In the area of power supply, you have the choice between battery, battery or operation via a power supply. There are some solar powered and USB powered fairy lights. Especially for light chains, which are used in the outdoor area, light chains without power supply are often more practical, since the next socket is sometimes far away. When selecting the appropriate model, also observe whether the range of use is limited to indoor areas or whether outdoor use is possible.
The length range shows you which routes you can illuminate. The formula for calculating the circle circumference can also be used to estimate how many revolutions around a circular object can be achieved with a defined light chain length. Note the gradient of the turn so that it is useful to only calculate with the multiplier 3.00.
The formula is U = d xπ and means advertised circumference equal to diameter times 3.14.
Notes for handling light chains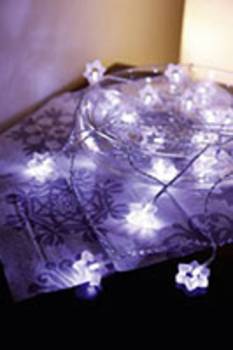 Fairy lights for decorative purposes must not be used as a replacement for room lighting. Many of these products are designed for outdoor use. The basic rules of the electrical installation must be observed.
For solar and battery models, the maximum light duration depends on the charge state of the battery or the state of the batteries as well as the selected operating mode. Depending on the equipment and mode, operating times of only 10 hours but also 30 days can be achieved.
Solar modules should be oriented south as far as possible and should not be shaded. Some products may not be usable when facing north. In winter, the solar module must always be snow-free. Due to the lower solar radiation, you have to expect a lower light duration. Follow the operating instructions.
Immediately switch off a light chain if the connected lines, the generator or the accumulator are damaged in any way.
Practical advice
Do not route the cables of light chains along sharp edges (gutters) or scouring construction materials (plaster or clinker stones). Due to wind, the cables may rub through. In case of cases, use additional insulation material or cable ties from our online shop.
What defects can occur in light chains?
The fairy lights do not turn on in the dark: Check that the main switch is switched on.
Solar-powered light chains can simulate daylight and prevent the activation of light sources, such as street lights.
If your fairy lights do not switch on at night or only briefly, check the battery's correctly poled connection or condition and possibly replace it with a new one.
This text is machine translated. About fairy lights What was fairy lights? How are light chains structured? There are these types of fairy lights Notes for handling light chains Practical advice What defects can occur in ...