This text is machine translated.
How do ferrite cores work?

What types of ferrite cores are available?

What was to be observed when installing and operating ferrite cores?
Ferrites are ceramic ferritmagnetic materials made of iron oxide (Fe2O3) and oxides of other metals. These can achieve high levels of permeability, i.e. magnetic conductivity. The hard-magnetic material is characterized by a high coefficient of coactivity, i.e. the components made from it can be magnetized very strongly and permanently, therefore it is mainly permanent magnets, e.g. for loudspeakers, that are produced from it. Soft magnetic material, on the other hand, shows small values of the coercivity field strength and only comes into saturation when there is hohem magnetic flux. This means that soft-magnetic material can be remagnetized with low losses.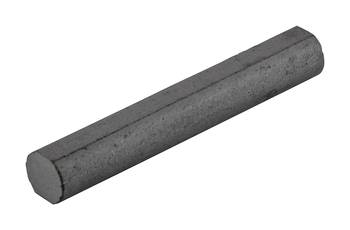 Because they are ceramics that are not electrically conductive, there are no eddy current losses in the electromagnetic alternating field, as one knows from iron cores. The following is about components made of soft magnetic materials. Due to their magnetic and electrical properties, they are suitable for the manufacture of cores for transformers, reactors, coils and EMC interference protection components.
How do ferrite cores work?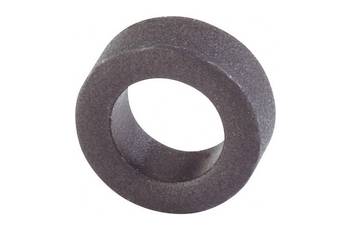 There is a magnetic field around each current-flowing conductor. If there is magnetically active material in its vicinity, e.g. Iron or ferrite, the magnetic field lines from it will concentrate in these objects, because in the material the magnetic conductivity is much greater than that of the surrounding air.
The ferrite can consist of a Kern or Bar around which the conductor is wound, but also a ring Kern through which the conductor is guided. The increased magnetic flux in this way causes the conductor guided around or through a magnetic core to have a significantly higher inductance than if it was surrounded only by air with a lower permeability.
When the conductor of alternating current is passed through, the inductive resistor is added to the ohmic resistance of the conductor, which increases as the frequency increases. This means that high-frequency signals on the conductor are attenuated, while direct current is almost unaffected.
These ferrite components are therefore used, for example, to dampen interference voltages caused by switching operations so that they cannot spread or be radiated by power supply lines from switching power supplies or digital systems.
What types of ferrite cores are available?
The manufacture of ferrite magnetic cores is done with sintering and burning processes just like with other ceramics. The materials are pressed into molds in the form of powders or pastes and then dried and burned. This results in components that are as hard and brittle as other ceramic components. It is therefore not possible to mechanically process or modify these parts after completion. For this reason, there is an extensive range of ferrite cores and designs that are optimally adapted to the respective application.
In this way, rod and ring-shaped versions are produced as ferrite toroidal cores in various dimensions, including double-hole cores , which are wound or carried out by the conductors. These components are usually specified with their AL value. Like a coil, the can be used to calculate the number of windings with which a certain value of the inductance is reached.
The so-called "folding ferrites" are very easy to install. Here, two ferrite half-shells are installed in a plastic housing. These can be easily applied around round or flat cable. They are then folded together and locked with a snap-in connection, sometimes only to open again with a key.
There are also different versions of folding ferrite wires, which are optimally adapted to the respective cable . In the case of folding ferrite, the inductive resistance is specified as technical data at a certain frequency, e.g. 40Ω at 25 MHz. THIS MEANS that below this frequency the resistance is lower, above which it increases. The data sheet usually contains a graphic from which the exact value can be read.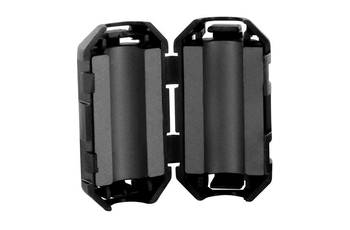 Surface-mountable ferrites are especially small. These SMD components are suitable as data line filters and for supply voltage decoupling in very compact device designs.
A completely different design is the flexible ferrite foil . This makes the magnetic properties of the radiation devices of NFC ("Near Field Communication") or RFID systems ("Radio Frequency Identification") more efficient.
What was to be observed when installing and operating ferrite cores?

Like other ceramic objects, ferrite components react sensitively to mechanical loads . For this reason, ferrites should not be exposed to blows, impacts or sudden bending or torsion loads during winding, assembly or operation which may cause breakage or chipping. When ferrites are embedded in plastics, make sure that they are elastic to avoid tension. Mechanical voltages of the component also influence the AL value of the material and thus the inductance of the overall arrangement
Damage can also be caused by sudden strong cooling (cold spray) or ultrasound for cleaning. Increased temperature, e.g. during soldering, also changes the magnetic properties of ferrites. The permissible values can be found in the data sheets. The commercially available ferrite cores are RoHS compliant.
This text is machine translated.       About ferrite cores What was ferrite How do ferrite cores work? What types of ferrite cores are available? What was to be observed when installing and operating ferrite c...