This text is machine translated.
Fiber-optic cable lexicon - the A-Z of the fiber-optic cable
Today's quality fiber optic systems automatically avoid overradiation and thus also make the use of mixed colors possible. In the guide you will find all useful information from A to Z like Zipcord and thus guarantees the right technology for your perfect lighting system.
Lead
A wire is the fiber optic cable, which forms the Kern of a fiber optic cable with the fiber jacket and primary and secondary sheath and is used to transmit the data. Common glass fiber cables consist of a wire, stabilization elements (strain relief, steel reinforcement, etc.) and a cable sheath.

APC
The Angled Physical Contact, or also the oblique ground, refers to the grinding geometry on the ferrule's mating face. For oblique grinding,° the contact surface of the ferrule convex is ground 8 ribbed to the ferrule axis. Slant connectors are usually used in single mode fibers. The oblique grinding prevents reflections at the end face from entering the fiber again and thus could interfere with the transmission. This is called a high return loss.

Breakout cable
The breakout cable is called a cable type, which consists of individual cables, which are combined with a central center carrier in a cable sheath.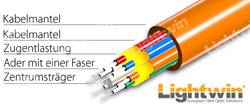 Multicore cable
A bundle-load cable is a type of cable consisting of individual wires, which are grouped together in high-loader tubes. Optionally, this type of cable has a central center carrier and can be filled with gel.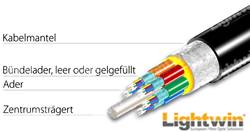 Attenuator
A attenuator is a passive component for the conscious generation of defined attenuation in fiber optics.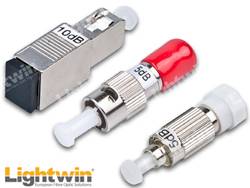 DB or decibel
Decibel or dB is a logarithmic unit for the representation of attenuation in fiber optic technology. This unit is calculated by the ratio of the power of two fiber-optic components.
Duplex
Duplex refers to the use of two channels. Duplex cables are mainly used in access networks and use the two wires for sending and receiving. These cables are usually supplied with finished duplex plugs.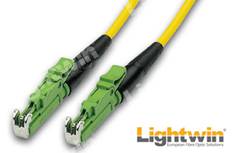 E-2000 plug
The E-2000 plug was developed by leading companies of the fiber optic industry and is equipped with a special, captive dust protection cap. The ferrule has a diameter of 2.5mm and can accept a fiber.
Fiber or fiber
Glass fiber is a fiber-optic cable whose transmitting element consists of a cylindrical, transparent glass core. The material is doped quartz glasses with a low refractive index.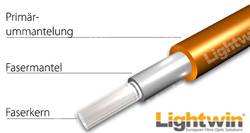 FC plug
The FC plug is a type of fiber optic plug with screw fixing. A twist-protection prevents the front surfaces of the ferrule from turning against each other when closing. This type of plug is an older design and is rarely used nowadays. The FC plug has a ferrule­ diameter of 2.5mm and can accept a fiber.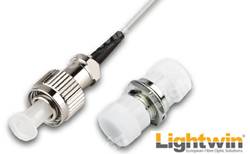 Ferrule
The ferrule is the central component in a light­ shaft­ conductor­ plug, which picks up the fiber and guides it during insertion. It is usually made of ceramic and creates a physical contact between two fiber optic fibers during her insertion process.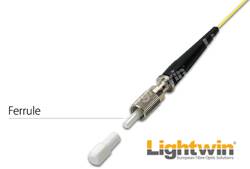 Fusion splice or splice
A fusion splice or short splice is a non-soluble, material-coherent bond between two fibers. It is produced by melting and at the same time joining two fiber ends. A fusion splicing device is used for this purpose, which independantly carries out the splicing and a measurement using an arc and automated mechanics. The splice is protected against environmental influences by a splice protection.
H
He or height unit
He or height unit is a unit of measurement used in 19" housing technology. This is measured in inches or millimeters: 1 HU = 1¾" or 44.45 mm
Lasers
Light Amplification by Stimulated Emission of Radiation A laser consists of an optical amplification medium in which radiation is amplified and an optical resonator which determines the radiation properties of the laser.
LC plug
The Lampert Connector is the most widely used plug type in the fiber optic range. It is mainly used because of its compact design, since it resembles the RJ45 components used in copper technology. The LC connector has a ferrule diameter of 1.25 mm and can accept a fiber.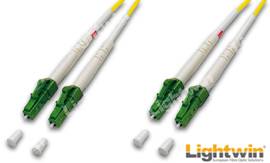 Fibre Optic Cables
Fiber-optic cables are a passive component that forwards light waves in a predetermined direction. Normally, this refers to glass fibers, but other materials can also be used.
LDP
LDP means Lightwin® Duplex Patchcord. It defines the fiber optic patch cable as a product of the Lightwin brand® and as fiber optic cable with two wires in the Zipcord design (both wires are welded together at the outer sheath, i.e. two simplex cables).
Mini-break cable
In the case­ of a mini-cable, one speaks of a cable type consisting of individual wires that are combined with a common strain relief (aramid fibers) in a cable sheath.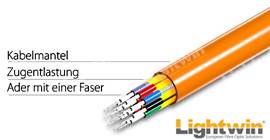 Sleeve
A sleeve in the light­ waves­ conductor­ technique is a component used to connect glass fiber cables in unprotected areas. The primary use is outdoors, as the sleeve protects the spliced connection points from dirt, moisture and mechanical/thermal influences.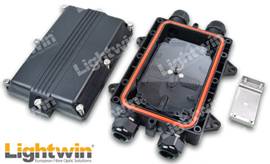 MTRJ plug
English Mechanical Transfer Registered Jack is a specially developed fiber optic plug type with snap­ closure that can hold two fibers in a ferrule. The ferrule and connector type have special geometry!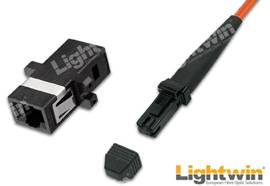 Mode
A mode is a kind of propagation of light in a medium. A distinction is made between singlemode and multimode, whereby here the fiber type must be compatible with the light source.
Multimode
Multimode (ABBREVIATED IN MM) or multimode defines a fiber as sufficiently large to allow multiple modes to propagate in the fiber. The guided light can be distributed in different ways to these individual modes, e.g. light coupling or different light source types.
O
OS1/OM2/OM3/OM4
Fiber optic cables for Gigabit Ethernet, 10 Gigabit Ethernet, and 100 Gigabit Ethernet are classified as fiber optic cables, similar to the class specifications of copper cables.
The ISO/IEC design defines multimode fibers in four OM classes (OM1, OM2, OM3 and OM4) and singlemode fibers in two OS classes (OS1, OS2). Within the classes, a distinction is made between LED and laser diode when feeding in.
The main use of the various fibers in the laying and patch cable range is usually limited to OM2, OM3 and OS1.
PC or convex cut
The physical contact, or convex cut, refers to the grinding geometry on the ferrule's mating face.
For convex sanding, the contact surface of the ferrule is convex and vertically symmetric to the ferrule axis. Convex ground is used as the standard ground for fiber optic connectors.

Pigtail
A pigtail is a cable that is pre-assembled on one side with a plug and the opposite side is unveected.
These cables are used in passive housing technology. In this case, the unveected side is connected to a fiber of the installation cable by means of a fusion splice device and placed in a splice cassette.

SC plug
The SC plug (engl. Suscriber Connector) is a type of fiber optic plug with screw cap. The ferrule has a diameter of 2.5mm. This connector is most commonly used after the LC connector.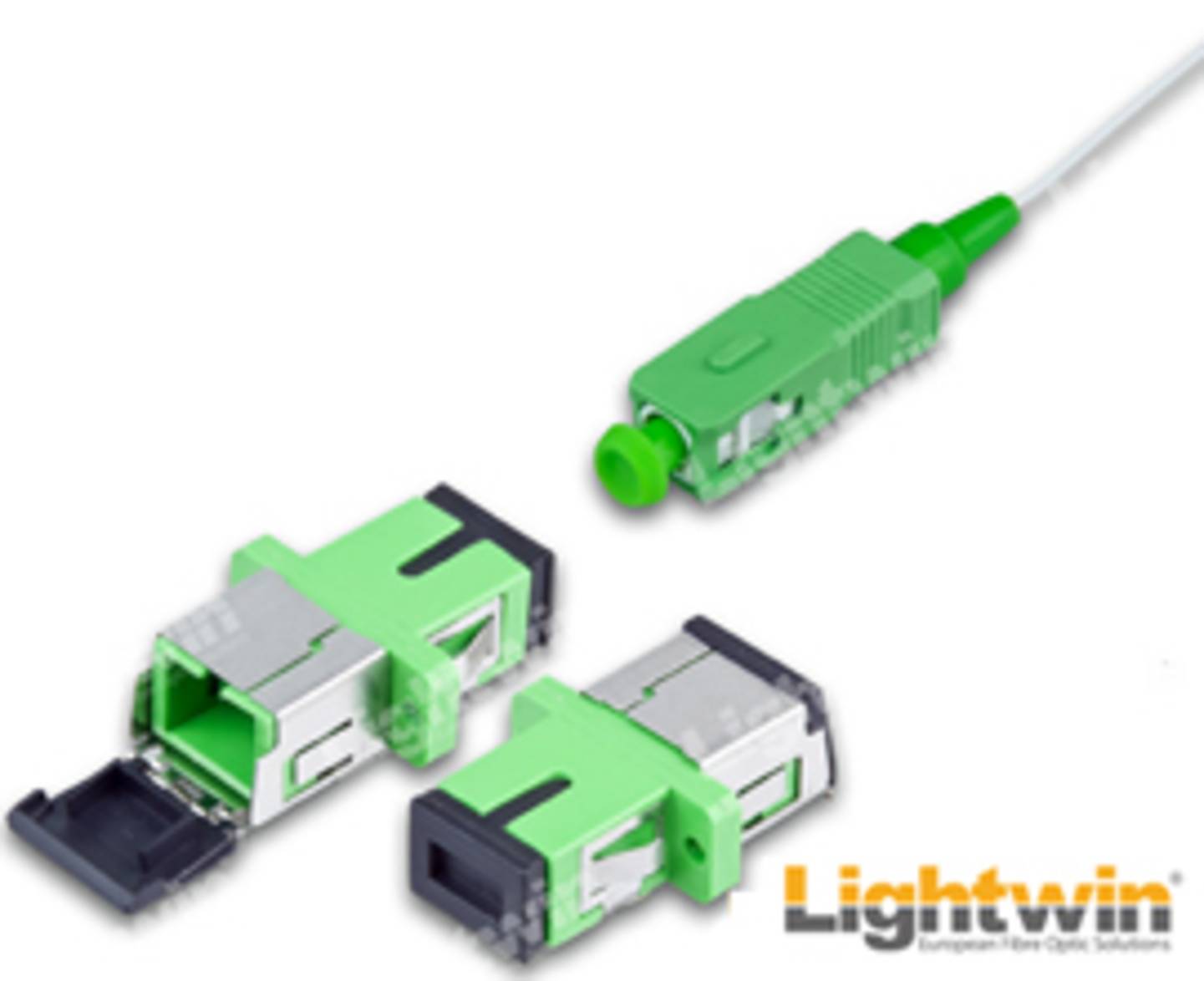 Simplex
Simplex refers to the use of a channel. Simplex cables are used mainly in wide-area networks as single-fiber systems and can be used for transmission in one direction (unidirectional) or in both directions using multiplex (bidirectional) methods. Simplex plugs are attached to both ends of the cable.
Single mode
Singlemode (abbreviated SM) or monomode states that the fiber core of the fiber-optic cable is dimensioned in such a way that the propagation of exactly one mode is possible. The main application area is due to the good dispersion properties in wide-area networks and the transmission of high data rates.
Connector
A plug is a detachable connection at the end of a line. Many types of connectors for fiber optic connections are realized for cleaning purposes with the help of two connectors and a precise guide sleeve (commonly known as a coupling). This is referred to as the pin-sleeve-pin principle.

St plug
The ST plug (straight tip) is a type of fiber optic plug with bayonet lock. The ferrule has a diameter of 2.5mm and can accept a fiber. The ST connector is an advanced form of the FC connector and is also rarely used.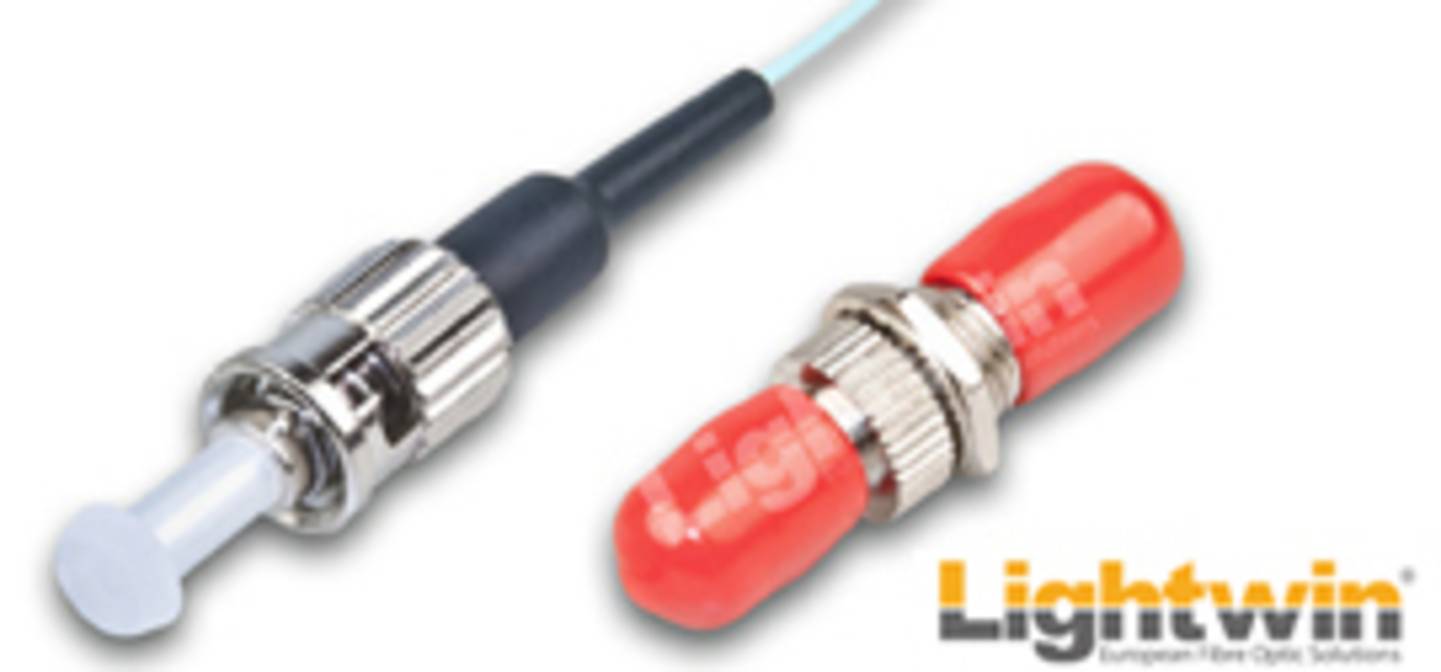 Splice box or fiber-optic distributor terminal
A splice box is a metal or plastic box used to hold light­ waves­ conductors­ couplings, splices­ cassettes, pigtails and strain relief for light­ waves­­­ cables. Spliceboxes are available in different designs, e.g. as 19" distributor load with one or more HE, industrial spliceboxes for DIN rail mounting, wall distribution boxes with different IP degrees of protection etc.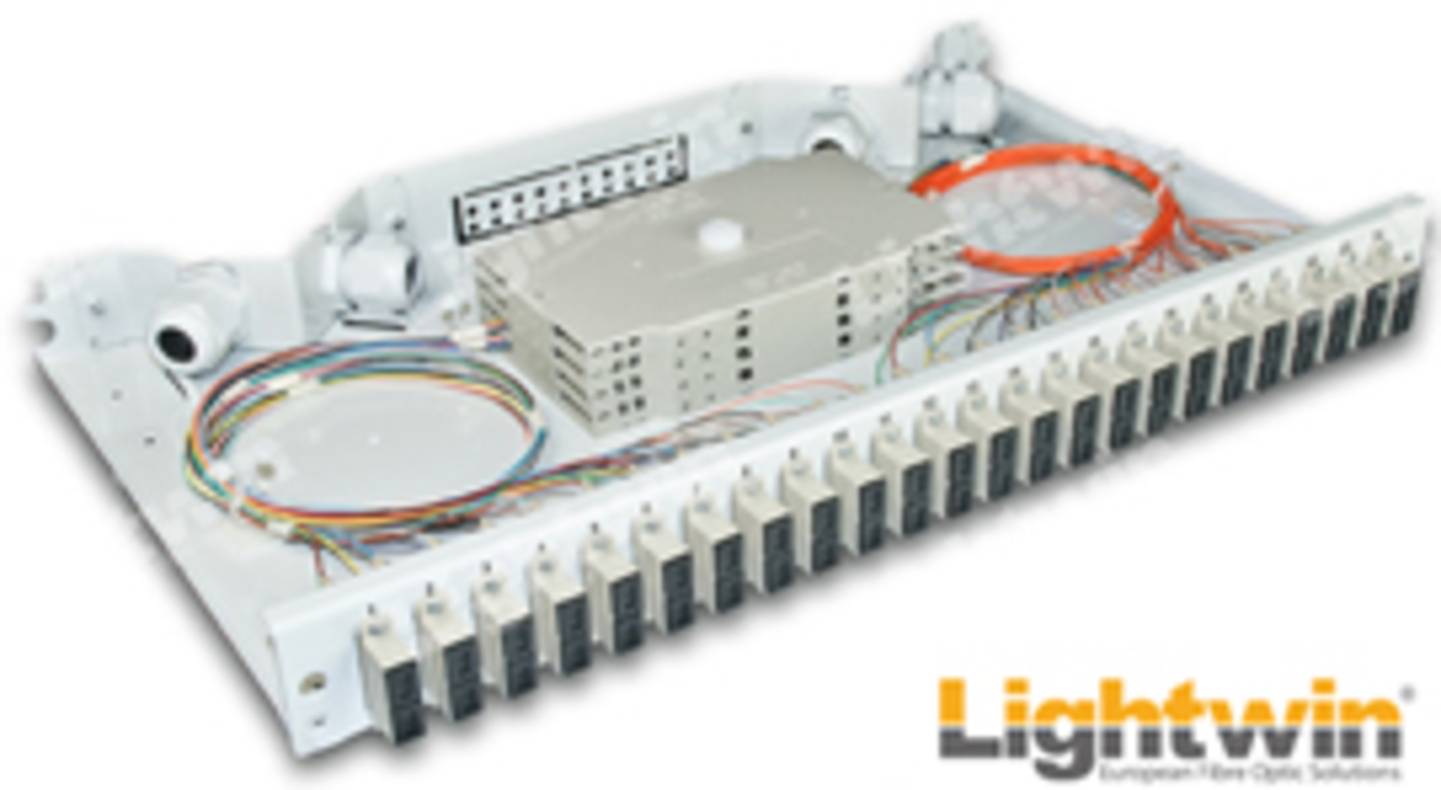 Splice holder
A splice holder is a holder for splice protection in a splice box. There are holders for crimp and shrink splice protection.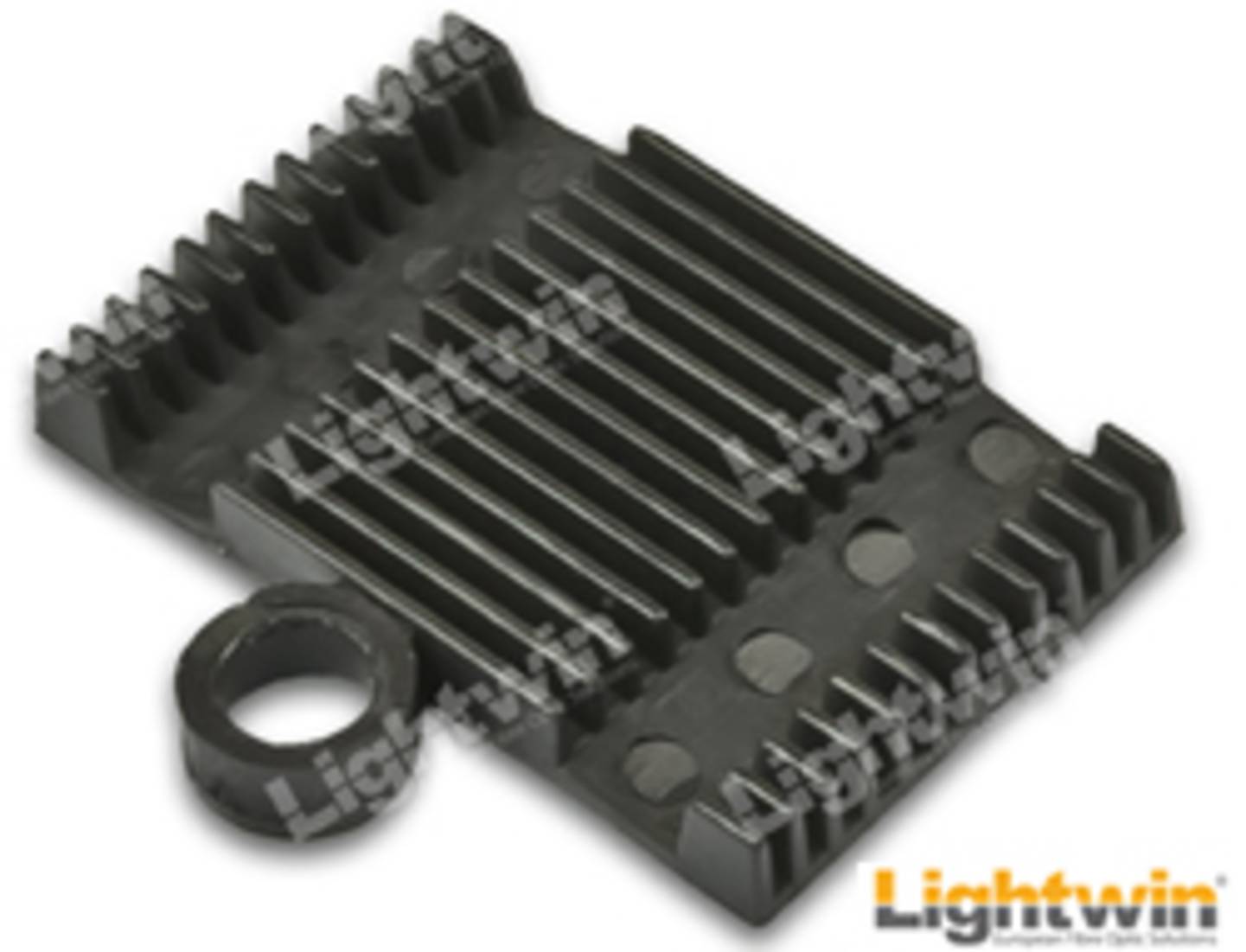 Splice protection
Splice protection is a protective case with metal reinforcement, which is assembled after a fusion splice over the connection point of the fiber optic cables. A splice protector can be either crimped or shrunk.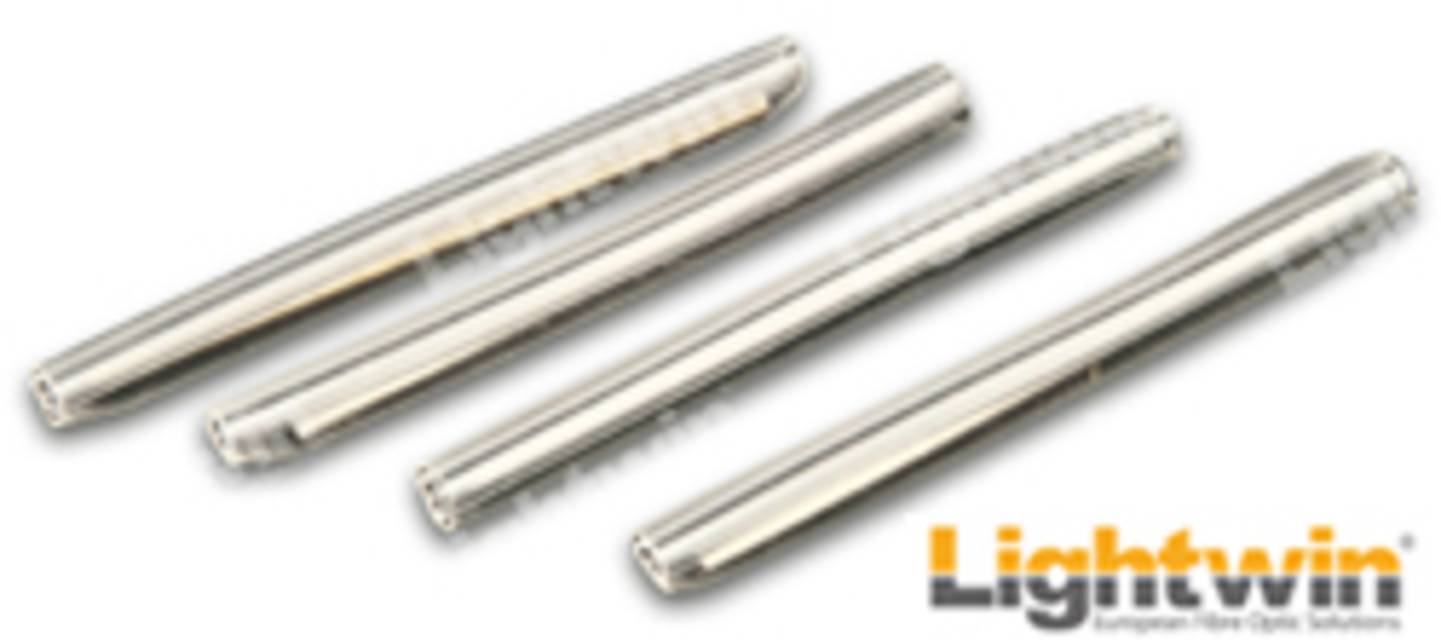 Splice box
A splice box is used in a splice box as a holder for 2 splice holders, as well as the overlengths of the fiber optic pigtails.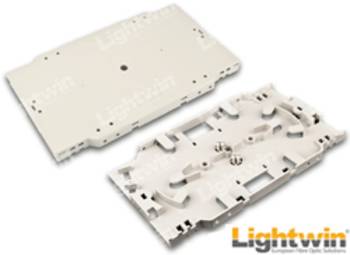 Splicing device or fusion splice device
Using a splicing device, the thin glass fibers can be "welded together" almost without loss. By means of an arc, the ends of the previously prepared fibers are heated and then pushed together so precisely that even the thinnest 9µ m fibers fit exactly together.
There are different types of splicing equipment. There are V-groove, 2-axis or 3-axis splicing devices. V-groove devices are often used in FTTx networks. With these devices it is possible to splice individual fibers or even complete fiber bands.
Older splicing devices often only have an automatic 2-axis alignment. With these devices, you have to set the third axis manually. This is usually very inaccurate. These devices are not recommended, especially in the single mode area.
Newer devices, such as: The Lightwin LFS-8, are fully automatic 3-axis splicing devices. These devices automatically align the fiber on all 3 axes. Therefore, especially in the single mode area, only these devices are recommended.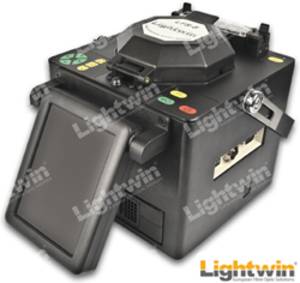 SFP or Mini GBIC
SFP (Small Form Plug) is a transceiver used to connect fiber to a network switch. There are different designs for these transceivers. The SFP, formerly known as Mini GBIC, is one of them. This design is the most common and one finds an empty slot for this transceiver design on almost every new switch. Not every SFP can be used in every switch. Although the design fits, the design in the SFP and a special stored code on the SFP are responsible for whether or not the transceiver works in a switch.
Using an SFP´ in a switch, it is possible to easily connect a switch with copper ports to a fiber optic network. Most SFP´ s have two LC slots. One for sending (TX) and one for receiving (RX). If two switches are´ connected to one fiber cable using SFP s, make sure that the RX side is facing the TX of the other and vice versa.Because of ever increasing transmission speeds, transceivers have been developed at faster speeds. 10Gigabit transceivers are already available at the moment. However, there are different types of 10Gigabit transceivers. XENPAK, X2 OR XFP.

WDM
Wave width division multiplex (multiplex) means that several signals of different wavelengths are combined from different fibers and transmitted simultaneously via a single fiber. The different signals do not influence each other and are separated at the end of the transmission path (demultiplex).
Wavelength
The wavelength describes the distance between two consecutive points of a shaft's oscillation phase. The wavelength is independant of time and location.
Zipcord
Zipcord describes the design of a duplex cable. The cable consists of two parallel Simplex cables, which are connected together by a bridge
This text is machine translated.   Fiber-optic cable lexicon - the A-Z of the fiber-optic cable Today's quality fiber optic systems automatically avoid overradiation and thus also make the use of mixed colors possible. In the guide yo...