Fibre Optic Cables (Prefab)
This text is machine translated.
Useful information about fiber-optic cables (fiber-optic cables), assembled
Fiber optic cable as data transmission medium

Disadvantages of fiber optic cables

The roll-out of fiber optic networks

Fiber optic cable connectors
Fiber optic cable as data transmission medium
Fiber optic cables have become an important data transmission medium in network technology and form the backbone of the Internet among other things. This is because fiber provides a higher bandwidth than copper and does not decrease the signal strength with the length of the cable. The optical medium uses light for data transmission, which can be modulated at a much higher frequency than the electrical signals via the classical copper cable. Fiber optic cables are also less susceptible to interference, was made the preferred medium in high electromagnetic activity environments. In addition to its most common form of application for data transmission in computer networks, fiber-optic cables are used to connect devices in measurement and medical technology. In high-security environments, it is also important that fiber-optic cables cannot be monitored via induction for data espionage, unlike copper cables.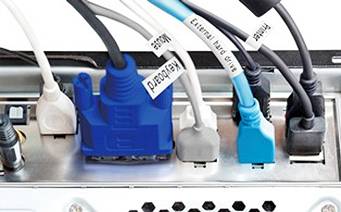 Fiber optic cables are preferred in the following scenarios:
For establishing connections with high bandwidth, for example for video streaming, data mining or for the rapid synchronization of large amounts of data
By bridging large distances, in order to keep the relative loss of speed low.
In environments with high security requirements, such as banks
In environments with high electromagnetic preload or the need for high electromagnetic compatibility (EMC). Such environments exist, for example, in medical technology and space travel.
Disadvantages of fiber optic cables
However, fiber optic cabling also has disadvantages. For example, fiber-optic cables are not very tolerant to mechanical loads. Tensile loads or small bending radii can damage the cable and cause a data connection malfunction. This sensitivity means that you have to be extremely careful when laying fiber optic cables and therefore the installation usually takes longer.
Rule of thumb for bending radius:
Often, the technical data for the fiber-optic cable does not specify the smallest possible bending radius (minimum bend radius). In this case, you can use this rule of thumb:
Smallest bending radius = 10 x outer diameter of the fiber optic cable
As a result, a fiber optic cable with 5 mm external diameter has a minimum bending radius of 5 cm.
When laying behind a skirting board, you should therefore mill a sufficiently deep slot into the wall in the corners so that the minimum bending radius is not undercut. With a multi-function tool, however, this is done in no time at all.
The roll-out of fiber optic networks
The expansion of glass fiber technology continues to progress in Germany. Today, high-speed data transfer rates of up to 100 Mbit/s in upstream and downstream are possible for the end user of an Internet connection.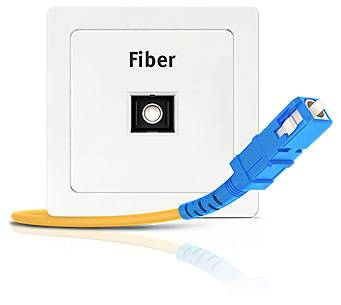 Of course, fiber technology is also becoming more and more interesting for companies. Modern connection techniques allow fiber optic cables to be laid, for example, over existing gas or water pipes. This eliminates the need for extensive civil engineering work to retrofit the building. In this context, we are talking about Fiber to The Basement (FTTB).
Fiber to The Home (FTTH) is mentioned when the fiber optic cabling reaches into the individual homes. In the business sector, the name is Fiber to the Desk (FTTD), which means that it describes the transfer to the network sockets at the workstations. After this, the fiber optic signal is usually converted into an electrical signal by a data-light converter, so that the terminals can be connected again via a common copper patch cable.
For this purpose, particularly thin fiber-optic cables are usually laid inside the building, which consist only of the actual POF fibers. These are not only easier to lay in the masonry, but usually more robust.
Fiber optic cable connectors
When purchasing fiber optic cables, you have the choice between various standards for plug connections. An important quality criterion when selecting the suitable plug is the insertion loss. The lower it is, the better the connection quality. Furthermore, there is an average value for the number of plug-in cycles (consisting of one connection and one removal operation each) that it can withstand.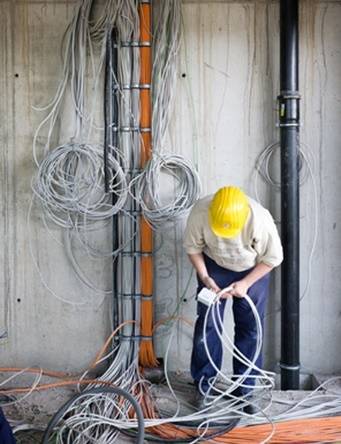 The FC plug is no longer of great importance in the connection of local networks, but is still very popular due to the excellent connection stability in measuring and medical technology as well as in the fiber coupling of lasers. Older fiber optic installation for LAN and WAN can still be implemented with FC connectors.
The ST connector (ST for straight tip) has replaced the older standard of the F-SMA connector and is fixed to the terminal by means of a bayonet lock. In addition, it has a twist protection to protect the cable during insertion. In addition to the SC connector, the ST connector is a valid standard for laying cables. However, for new installations in universal building cabling, you should rather use the SC standard. For older installations with existing ST connectors, you may continue to use ST connectors according to the wiring standard.
The SC connector is the recommended plug standard for laying cables, which was particularly relevant for universal building cabling and thus for FTTH installations.
Because of its compact design, the LC connector is mainly used on active devices, such as switches. However, it does not have anti-twist protection, which makes it less suitable for connection to terminals. For this reason, fiber optic cables that are to connect an active component such as a switch to a terminal are often combined with an LC connector on one end and an ST connector on the other. Laying cables, on the other hand, which are to integrate a switch into the building cabling, are usually implemented with an SC plug for the building-side cabling and an LC plug for cabling the active component at the other end.
The MTRJ plug has the inherent characteristic that it houses several fibers in a single plug. While other fiber optic cables require two connectors for each end of the cable and can therefore always make cabling errors by connecting the sending or receiving end on both sides, this is not possible with the MTRJ connector. However, the cable standard could not be established for most applications, as it has other disadvantages. For example, it does not have a twist protection and therefore only survive 500 mating cycles on average.
This text is machine translated.      Useful information about fiber-optic cables (fiber-optic cables), assembled Fiber optic cable as data transmission medium Disadvantages of fiber optic cables The roll-out of f...