What is a foil capacitor?

What types and types of foil capacitors are available?

Purchase Criteria for Film Capacitors – What's it all about?
Conclusion: How to buy the right foil capacitor

FAQ – Frequently Asked Questions about Film Capacitors
What is a foil capacitor?
Film capacitors are electrical capacitors in which a thin insulating film is the dielectric between the electrodes . In today's versions, plastic films are used almost exclusively in various designs. Film capacitors are non-polarized, so they do not have a designated anode and cathode, as is the case with electrolytic or tantalum capacitors. Thus, they are suitable for operation at alternating voltages and cannot be reversed due to their design. Film capacitors are the second most commonly used passive components in discrete circuits. They are used as coupling capacitors, are used to keep away unwanted DC voltage components and are used in frequency crossovers and oscillator circuits. Other application examples include filter circuits, radio interference suppression measures and operation on AC electric motors as start-up or operating capacitors.
What types and types of foil capacitors are available?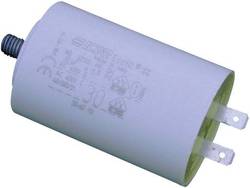 Foil capacitors are mainly offered in two types. Types beginning with the designation " MK " (= metalized plastic) consist of a coil of one side metalized plastic foil . This film also acts as an electrode and dielectric. Foil capacitors with metal coating, on the other hand, consist of two separate foils , whereby a metallized foil represents the electrode and the non-metallized foil acts as a dielectric in the foil coil. These film capacitors carry an "F" in the first place of the film designation, e.g. "FKP". These designations are supplemented by the specification of the material from which the film consists. The most important abbreviations are listed below, but some manufacturers specify their film capacitors with their own abbreviations:
FKP: Polypropylene, film/film
FCT: Polyester, film/foil
FKS: Polystirene, film/film
MKP: Metalized polypropylene foil
MKT: Metallized polyester film
MKS: Metalized polystirene foil
Film capacitors with radial lead or connection wires are usually sealed in round or rectangular plastic cups and sealed against air and moisture. In addition, dip-painted types are used. The previously relatively widespread axial wired designs no longer play a role today . Special motor capacitors have flat plug connections or ready-made connection cables and a mounting thread on plastic or aluminum housing for screwing. The compact housings of SMD film capacitors are made of heat-resistant plastic to withstand the requirements of lead-free SMD soldering. Their design is always rectangular.
Special designs are the so-called "snubber" capacitors, which are often used in IGBT circuits. Due to the high current pulses that occur there, these film capacitors have flat and particularly solid connection lugs that enable a high current carrying capacity.
Purchase Criteria for Film Capacitors – What's it all about?
Film capacitors with MK design are even more compact in their dimensions than types with film/film construction, but due to the significantly lower layer thickness of the electrodes do not achieve their current carrying capacity. They are therefore less suitable for very high pulse currents, but they have the advantage of so-called self-healing: If a deflection occurs due to excessive voltage or defects in the dielectric, then the thin metal layer evaporates at the strike point . This creates an insulating section again, because the dielectric itself is not or only minimally damaged.
Depending on the design and film material, the advantages and disadvantages of the different types arise in terms of factors such as humidity and long-term stability, dielectric strength and temperature stability. The electrical parameters such as loss factor, quality, capacitance tolerance and current carrying capacity also vary accordingly. Especially with new developments of circuits and devices, attention should therefore always be paid to the respective values according to the data sheet, in order to achieve the highest possible reliability and functional safety.
Conclusion: How to buy the right foil capacitor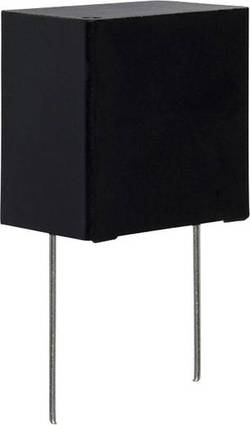 MKP, MKS, or MKT film capacitors are usually sufficient for standard applications. They are relatively inexpensive, moisture and long-term stable as well as self-healing. Thanks to their compact dimensions, they enable a space-saving circuit design.
Applications with high pulse currents require film capacitors that can be loaded and that can withstand these demands. Special types are available for this purpose, which are also referred to as impulse capacitors. These are usually film capacitors with metal film sheets ("F"). They are used, for example, in frequency converters, switched-mode power supplies, high-speed digital circuits and in energy technology. Their space requirement is somewhat higher due to the design, but they can cope with steep, pulse-shaped voltages. Common types can handle edge steepness around 1000 V/µs, their reliability is very high.
When replacing defective foil capacitors, make sure that, in addition to the same capacity and rated voltage, the tolerance specification is not worse than with the defective original part. In addition, the design deserves attention: Is the grid pitch correct? Is the length of the connecting wires sufficient for radial leaded types and does the spare part fit the dimensions? The permissible temperature range must also be observed when used in more demanding environments. Some standard types are only approved for temperatures up to + 70 °C; however, this is not enough for applications in the automotive sector, for example.
For safety reasons, it must also be ensured that the components bear any necessary test marks and comply with the applicable standard. The foil capacitors offered in the Conrad shop fulfill high quality requirements and are characterized by reliability and longevity.
FAQ – Frequently Asked Questions about Film Capacitors
What does the one-sided line marking on the housing of many film capacitors mean?
The marking on the housing indicates the connection that is connected to the outer foil. This is important if the outer surface is to be used as shielding at the same time. In principle, foil capacitors should always be installed in such a way that this connection is grounded, if the circuit design permits.
What must be observed when handling and processing film capacitors?
Foil capacitors are electrical charge storage. Depending on the capacity and voltage, charged film capacitors can store considerable amounts of energy and potentially high voltages over long periods of time. Therefore, the general safety rules of electrical engineering must always be observed here. Charged foil capacitors should always be discharged via a suitable resistor before handling. Short-circuits must be avoided, as very large currents flow through the low internal resistances of foil capacitors and damage can occur.
Can a lower rated voltage be selected for foil capacitors if the actual operating voltage only exceeds this for a short time?
No, this is not allowed. Even sporadic and short-term overvoltages can lead to damage. In any case, the service life is shortened and there may be an impermissible heating.
About Film Capacitors What is a foil capacitor? What types and types of foil capacitors are available? Purchase Criteria for Film Capacitors – What's it all about? Conclusion: How to buy the right foil capacitor ...