This text is machine translated.
About FM Transmitters
FM transmitters are adapters that convert audio content such as MP3 into radio signals. They are often used as an interface extension if older car radios do not support the direct connection of smartphones and other media sources via USB or Bluetooth. The FM transmitter is then used as a translator by converting the audio content into radio signals, which can be played back by the car radio or another radio receiver.
How do FM transmitters work?

This is important when selecting an FM transmitter
How do FM transmitters work?
FM transmitters are converters for audio signals . They help where a media source cannot be connected directly to a radio receiver, because modern interfaces such as USB or Bluetooth are missing on the radio as a playback device. Often these are older car radios that are to be retrofitted. Theoretically, the FM transmitter also works together with other radio receivers such as hi-fi systems.
What was FM transmitter?
FM stands for frequency modulation. The term transmitter comes from Latin and means as much as transmitted or sent over. In English, transmitter means transmitter or converter.
Practical tip:
With an FM transmitter, the playback of MP3 music and other audio files on the car radio is successful, even if the smartphone cannot be connected directly to the on-board computer. Some models even bring Bluetooth reception to older vehicle models.
The operation of the FM converter is easy to explain:
The transmitters act as translators between non-directly compatible devices. To do this, you convert various audio formats into radio signals :
A connected smartphone, tablet or other media storage can be used as the media source. This device is connected to the input of the FM transmitter either via cable or via radio signal.
The FM transmitter converts the incoming audio signals into radio waves. It generates a kind of mini-radio transmitter in its immediate surroundings.
This radio station can be played back from the car radio or another radio receiver.
The radio waves of an FM transmitter range only 4 to 14 meters, in the open the upper range limit is about 30 meters.
The radio signals generated are ultra-short-wave signals, which are also used by professional radio stations as FM frequencies for the transmission of radio broadcasts.
The assigned FM frequencies can cause overlays and interference in the reception quality. Many FM transmitters therefore offer the option of changing the frequency if required to use free frequency bands.
When driving over long distances, several frequency changes are to be expected, as different frequencies are assigned from the outset depending on the region and are not available for the personal radio network of the FM transmitter.
This is important when selecting an FM transmitter
When selecting your FM transmitter, make sure that you have suitable interfaces for connecting the media source, for easy operation of the transmitter and its power supply.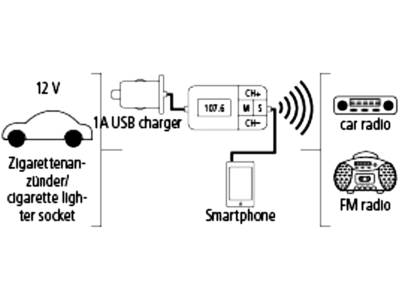 Each FM transmitter generates FM radio waves as output signal, which can be played back with a (car) radio.
To transfer media content to the FM transmitter for playback in the previous step, you need an interface between the media source and the converter.
Wired solutions can be USB ports, jack plugs or AUX ports to connect a smartphone, MP3 player or CD player or other music source to the input of the converter.
An alternative radio transmission can® be realized via Bluetooth.
Some FM transmitters have SD card slots for converting audio files directly from an SD card or micro SD card into a radio signal.
Tip : The USB port allows DAB receivers and DAB+ reception to be used as a media source for the personal mini radio station. The corresponding antennas are available as USB sticks.
Some transmitters support the hands-free function of the smartphone and automatically silence the music when calls are received.
Frequency change options
With most FM transmitters, you can change the frequency as desired if the audio signals are disturbed by superimposed radio waves. The search for a free frequency can be done manually, usually it is done automatically.
Caution: Caution should be exercised when using extremely low-cost devices that only operate at a fixed frequency. If this is already occupied, you have no option to change and have to arrange with the disturbed reception.
The display of an FM transmitter should at least reflect the currently selected frequency. In addition, many of the converters have a variety of other status indicators , such as which media source is currently being played or call alerts when handsfree is supported while driving.
Tip : If the transmitter is often used in the same regions, a frequency memory is worth remembering suitable frequencies. This saves you the time to go through the complete search run again on the next trip.
Since the FM transmitter only provides one radio frequency, all settings must be made via the transmitter and no longer via the car radio, apart from the volume of the playback and the unbalance of the loudspeaker boxes. For this reason, the FM transmitter should also support jumping between different music files as important options besides starting and stopping playback. If possible, by direct button, if you want to operate the device as a driver.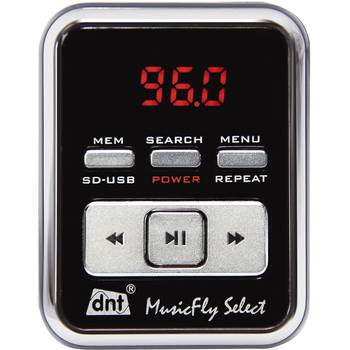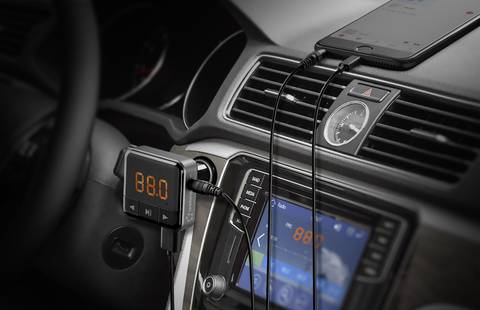 Typically, FM transmitters have a cigarette lighter connector so that you can get your 12 V power supply in the car from the car battery.
If, on the other hand, you want to operate an FM transmitter at home with the usual mains voltage of 230 V, make sure you select the appropriate connections or obtain an adapter for the power supply.
Tip : On advanced models, devices such as smartphones can be plugged into the FM transmitter for charging when it occupies the cigarette socket in the car. For this, either a USB charging socket or a manufacturer-specific connection (Apple) must be integrated at the transmitter as an additional output.
Questions and answers
A dedicated mini radio station. Is this allowed?
The use of FM transmitters has been permitted in Germany since 2006. Since then, every radio wave is allowed to spread as long as it does not disturb the reception of its neighbors. FM transmitters have correspondingly low ranges. If you want to use the FM transmitter abroad, inform yourself beforehand about the admissibility of generating your own radio signals. In Switzerland, for example, only certain frequency ranges of the FM band may be used privately.
This text is machine translated. About FM Transmitters FM transmitters are adapters that convert audio content such as MP3 into radio signals. They are often used as an interface extension if older car radios do not support the direct connection ...