Find the appropriate gas detector to detect hazards in good time
Gas detectors are used to warn of possible dangers from escaping gases. They trigger an alarm as soon as they detect a certain gas and thus offer the user the possibility to take measures in good time for protection. Please find out in our guide which types of gas detectors are available and what to pay attention to when purchasing them.
What types of gas detectors are there?

Our practical tip: Maintain and maintain gas detectors

Buying Criteria for Gas Detectors – What's it all about?

FAQ – frequently asked questions about gas detectors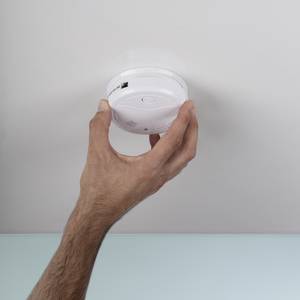 What are gas detectors?
Gas detectors, also known as gas detectors, are among the hazard detectors . They are very similar in their design and their function, but do not warn against smoke but against escaping gas . While the installation of smoke detectors in new and rebuilt buildings as well as existing buildings in most German federal states is legally obligatory, there is no such regulation for gas detectors. The installation of a gas detector, especially in households with gas heating and gas flow heaters, is highly recommended. Gas that escapes unnoticed or uncontrolled from the stove, heating or thermal baths is a major hazard. Natural gas, for example, contains a high proportion of combustible methane gas. Due to its explosiveness, a tiny spark is enough to ignite it. Toxic gases such as carbon monoxide can cause poisoning or suffocation .
Not only households, but also camping areas and caravans with a gas system , which supplies heating, refrigerator, stove or other appliances with gas or provides hot water, should be equipped with a gas detector for safety.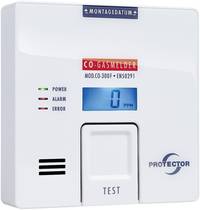 Gas detectors have the task of detecting gas in the surrounding area and of indicating a gas leak by triggering an alarm. Most gas detectors operate according to the hot wire method. They are equipped with a wire inside that starts to glow as soon as power is passed through it. If a flammable gas is in the air and reaches the hot wire at a certain concentration, it ignites and burns.
As a result, the resistance of the wire changes, which ultimately triggers an alarm. Resistance and gas concentration are proportional to each other, as the resistance changes in proportion to the amount of gas.
This makes it possible to determine the content of the gas in the air using the electronics integrated by the customer.
What types of gas detectors are there?
Depending on the type of gas to be collected, different types of gas detectors must be distinguished. These include:
Carbon monoxide detectors are used to detect carbon monoxide, as the name suggests. The gas consists of carbon and oxygen (molecular formula: CO) and is produced wherever carbon-containing substances such as wood, charcoal or natural gas are burned. Carbon monoxide accumulates if, for example, a barbecue or a heating fungus is operated in the garage or in a closed room, burners work incorrectly on gas heaters and thermal baths or chimneys are blocked, so that smoke cannot be properly removed from the fireplace or oven. The treacherous thing about carbon monoxide is that it is completely invisible and odorless. An increased concentration of carbon monoxide in the air is not noticeable with the human sensory organs alone. For this reason, a CO detector should be installed wherever there is an open source of combustion (fireplace, oven) or a gas stove to protect against carbon monoxide poisoning. Since carbon monoxide is lighter than air and rises upwards, it is important to mount the carbon monoxide detector as high as possible or close to the ceiling . Depending on the floor plan, the size of the room and the location of the burning site, different distances and mounting heights are recommended. In order to be able to react in time, modern CO detectors indicate carbon monoxide values that are still below the danger limit, for example on an LC display. Alternatively, they generate a pre-alarm.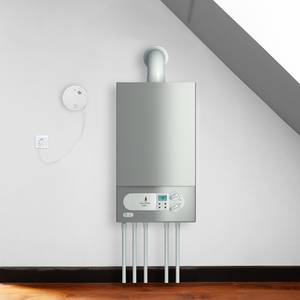 Natural gas detector
Natural gas detectors usually warn against methane and ethane because these two gases are among the main components of natural gas . Methane and ethane are odorless in their natural form, but they are often added to an unpleasant smelling fragrance that many mistakenly think is the typical gas smell. However, the odor alone is not a reliable indicator to detect the release of methane and ethane.
Especially in sleep the sense of smell is severely restricted. In addition, if you are in another room, there is a risk of noticing released natural gas much too late. The use of natural gas detectors is therefore extremely sensible. They are mounted in the same height as carbon monoxide detectors . The reason for this is that natural gas is lighter than air and therefore rises upwards. As a guide value for the installation height, approx. 30 cm below the ceiling is indicated. Households where natural gas is used for cooking or heating should be equipped with a natural gas detector.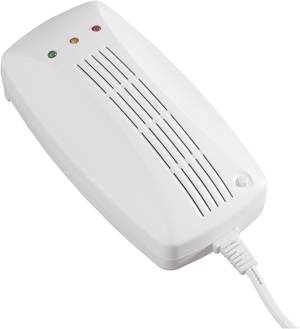 Propane and butane detectors
Propane and butane are used for heating, cooking and cooling. They are used in gas cookers and gas boilers and are used both in camping and in many households. Propane and butane are liquefied gases , which means that they have been liquefied by compression. They are heavier than air and fall down in the event of an exit. For this reason, propane and butane detectors are mounted near the ground . The reference value is 30 cm above the ground.
In principle, each gas detector should be placed away from a side wall or furniture to allow gas to reach the detector from as many sides as possible. In addition, gas detectors should be positioned close but not too close to the gas source to prevent false alarms.
The immediate proximity to windows, doors, ventilation systems and fume hoods should also be avoided. There is a risk that the gas will not escape until very late when mixed with fresh air. Elsewhere, the concentration may already be very high.
Our practical tip: Maintain and maintain gas detectors
CO-Warner and other gas detectors should be checked for functionality once a month. For this purpose, many devices are equipped with a test button, which triggers an alarm when pressed. It is also important to keep the surface of the gas detector clean. The device must be dust-dusting regularly. In addition, no deos or room sprays should be sprayed near the gas detector.
Buying Criteria for Gas Detectors – What's it all about?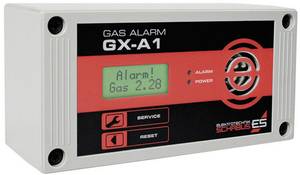 When purchasing a gas detector, it is primarily important that it is suitable for detecting the gas that you want to detect . To detect carbon monoxide, you should use a CO detector while a propane detector is the right choice for detecting propane gas.
Although there are combi detectors which can detect several types of gas (for example carbon monoxide methane propane butane), since liquid gases have a different density than carbon monoxide and natural gas and are therefore distributed differently in the room, at least two combination devices are required, which must be installed near the ground and the ceiling.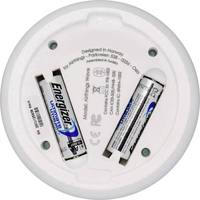 Furthermore, when selecting a CO detector or other gas detector, it must be noted that the alarm is sufficiently loud . The device should be able to generate a volume of at least 80 dB so that the acoustic signal can be heard in the room next to it.
The power supply also plays a role in the purchase of a gas detector. CO-detectors are often battery-operated , allowing them to be flexibly mounted in the room. This is particularly useful for gas detectors that need to be installed at the ceiling or at higher locations where no electrical outlet is available.
Some mains-powered devices also have batteries or rechargeable batteries that can be used as an emergency power source . This ensures that a gas alarm can be triggered even in the event of a power failure.
FAQ – frequently asked questions about gas detectors
Do I have to ask a specialist to install a gas detector?
Not necessarily. Conventional gas detectors are usually easy to install for everyone. Exception: This is a gas detector that automatically switches off the gas supply. A specialist should be consulted here.
Are there any specific testing standards that I can use to guide my purchase of a CO detector?
Yes. If CO detectors are labeled EN 50291, they meet the European requirements for design, operating behavior and possible test procedures. This specifies the period within which the detector must trigger the alarm at a certain carbon monoxide concentration. If the CO detector is intended for use in a caravan or on a boat, you should access a device that corresponds to EN 50291-2 This EU standard contains more detailed regulations and features particularly resistant carbon monoxide detectors.
Find the appropriate gas detector to detect hazards in good time Gas detectors are used to warn of possible dangers from escaping gases. They trigger an alarm as soon as they detect a certain gas and thus offer the user the possibility to tak...