This text is machine translated.
Useful information about gas soldering iron, gas soldering equipment
In this way you can find the right gas soldering device

Application areas of gas soldering iron and gas soldering equipment

FAQ (frequently asked questions)
The biggest difference between soldering with gas and soldering with electricity is the energy supply. While the soldering iron or the soldering station are powered by the mains, gas operated soldering equipment has an internal tank for the butane/propane mixture. However, devices with an external tank are also available.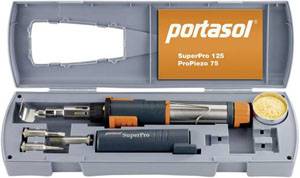 The gas is ignited by a piezo ignitre or lighter. A flame is created. And now the main difference becomes visible: In the non-industrial electronics and electrical sector, traditionally, electrical soldering irons and metal tips are used. Soldering equipment for gas operation can be operated with metal soldering tips as well as with open flame and even only with hot air. That is what makes them so unique.
When soldering with gas, a distinction is made between two types: Gas soldering iron and gas burners or soldering lamps. Gas soldering irons are visually similar to their current-operated "relatives", only the cable is missing. In most cases, there are pressure and slide switches for ignition and temperature adjustment (= air supply control).
Complete gas soldering sets are particularly practical, which contain besides the actual soldering iron various soldering tips as well as solder and a cleaning sponge.
Gas soldering burners and soldering lamps are much larger than gas soldering irons, the smaller representatives are used for example for flambation in the kitchen (e.g. for dessert Crème brûlée). As a rule, this is done with an open flame. On some systems, a hammering copper head can be attached. To ignite the flame, most devices contain a piezo ignitre.
In this way you can find the right gas soldering device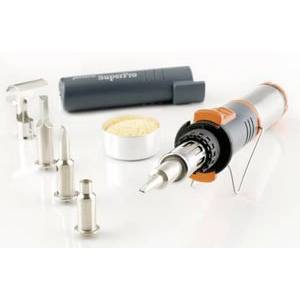 In order to find a suitable device for soldering, you should be able to define the intended purpose. For example, working with gas soldering equipment in the workshop would not make sense if a power connection is available. Electric soldering irons and especially soldering stations are not only more practical to use, but you can also adjust the temperature much more precisely – an important factor in the electronics sector.
Speaking of temperature: When soldering, a distinction must generally be made between soft and hard soldering. The limit is 450˚ C. If the soldering tip or flame is hotter, they are hard-soldered. The latter is mainly used in the installation area for sanitary or heating systems, for example for connecting water or gas lines. For the "material-locking joining of materials" – this is technically correct definition – solders are used both for soft and hard soldering, metallic alloys, usually in the form of solder wire or solder paste.
Good to know: Gas-operated soldering equipment – whether piston or burner – reaches maximum temperatures between 500 and 2000˚ C and is therefore always suitable for brazing.
Like electric soldering irons, gas-operated soldering equipment is not only suitable for the secure connection of metal parts; it can also be used for cutting or melting plastics, for heating heat-shrink tubing or for decorative purposes such as fire name.
Application areas of gas soldering iron and gas soldering equipment
Repair electronic equipment regardless of power supply
In this case, choose a small gas soldering iron, preferably in a set with various soldering tips and solder. The adjustable temperature of the soldering tip is important. It should be between 300 and 400˚ C, depending on the thickness of the wires to be connected. This corresponds approximately to the power of a 30 watt soldering iron.
Soldering copper or steel pipes in the building technology
A distinction must be made here as to whether these are drinking water pipes or gas and oil pipes. Copper lines for drinking water should always be soldered in soft-solder. Brazing is only permitted if the pipe diameter is 32 millimeters or higher. For steel pipes, usually hard-soldered, either with (expensive) silver or with brass solder. Gas burners are usually better suited for soldering pipes, as they produce a larger flame.
Minor repairs in model construction
If the drone or model aircraft lands unsmoothly, electrical and metal connections may be affected. In order to equip itself against all eventualities, a gas soldering iron is suitable, with which soft and hard soldering is possible through specific temperature settings.
FAQ – Frequently Asked Questions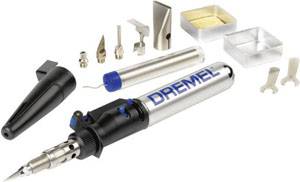 Does solder paste contain flux?
The soldering wire, which is mainly used in the electronics sector, contains flux such as rosin, which prevents the oxidation of the soldering spot and reduces the surface tension of the liquid lot for better flow. Solder paste, on the other hand, is a mixture of solder metal powder and flux, about 90:10, so there is no need to apply extra flux to the solder joint.
What safety instructions must be observed when working with gas soldering equipment?
The gas used in gas soldering irons and burners is easily ignitable and is also under pressure. Therefore, these devices should never be in the hands of children. Heat, sparks and open flames must not be in the vicinity, smoking must generally be avoided in the immediate vicinity.
How does a piezo ignitre work?
The piezo ignitre is based on a spring, which is clamped manually by a button and released in a flash. When you relax, a plunger hits a piezo crystal, which then generates a voltage of several thousand volts. A spark ignites the gas via two metal pins located close together within the gas outlet and connected to the crystal.
Practical advice
Aluminum can be soldered very easily with a gas soldering device, as this metal has a melting temperature of only 580° to 660° C. The fact that this does not work in many cases is due to the invisible oxide layer. This layer only melts at temperatures above 2000° C. For this reason, the oxide layer must be removed before soldering, otherwise the solder cannot be connected to the base material. It is best to remove the oxide layer with a stainless steel brush just before the soldering process. Reason: After just a few minutes a new oxide layer forms on the "bare" aluminum.
This text is machine translated.     Useful information about gas soldering iron, gas soldering equipment What was gas soldering? These types exist In this way you can find the right gas soldering device Applicat...