Geiger Counters & Dosimeters
About Geiger Counters & Dosimeters
How does a Geiger counter with Geiger-Müller counter work?

Difference between a Geiger counter and a Dosimeter

Application areas of Geiger counters and dosimeters

How is the radiation measured with the Geiger counter?
How does a Geiger counter with Geiger-Müller counter work?
The most common type of radioactivity measuring device is the Geiger-Müller meter, or Geiger counter. Different detectors measure different radiation:
Alpha radiation
Beta radiation
Gamma radiation
X-ray radiation (X-radiation)
The operating principle of the tube is that if there is radiation in the detector, an electrical voltage is generated which can be measured:
As soon as an ionizing particle enters the Geiger-Müller counter tube, a chain reaction is created which leads to a gas discharge.
The particle separates the electrons from the atomic nuclei of the inert gas present in the counter (mostly argon or krypton) and these, as well as countless secondary particles, reach the anode.
This creates a voltage in the meter tube and the ionized gas becomes conductive for a short time, the circuit closes and the Geiger counter signals radiation. The many ions on the anode cause an imbalance and shield the cathode at the same time.
The voltage in the meter tube then decreases and finally the circuit is interrupted .
Dead time is now the time period after this gas discharge in which the counter does not measure a signal. The dead time ends as soon as the ion cloud has discharged at the cathode. Depending on the design of the Geiger counter, it is approximately between 0.1 and 0.3 milliseconds.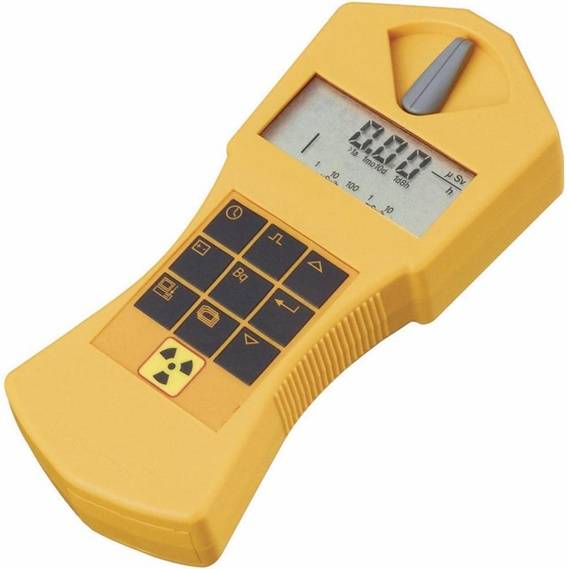 Geiger counter with GM counter for gamma, alpha and beta radiation
Our practical tip: Different designs
Many instruments for radioactivity combine the detection of several types of radioactive radiation . Often the dose rate can be read directly on a display, with some devices it can only be read later with the help of other devices and evaluation software. Geiger counters usually have a warning function: Acoustic, visual or as vibration.
Other types of construction than the Geiger-Müller meter tube measure radioactive radiation according to the same principle. The ionization chamber and the proportional counter tube are also counting tubes. They are also filled with a counting gas to convert the reaction of the ions from the radioactive radiation into measurable electrical effects. Ionization chamber and proportional counter tube operate at lower voltages than the Geiger-Müller counter tube, so there is no constant gas discharge with subsequent dead time.
Difference between a Geiger counter and a Dosimeter
Geiger counters are often designed as simple dose rate meters. Sometimes a dosimeter is directly integrated, since this additional function can be implemented easily from a technical point of view.
Geiger counters (dose rate meters) measure the current radiation dose . On the one hand, they recognize whether there is any radiation at all, and on the other hand, how high the radiation exposure is instantaneous.
Dosimeters sum up the radiation dose over time. This enables the cumulative radiation exposure to be determined by radioactive influences. Dosimeters are used in radiation protection, as they can control the compliance with limit values over longer periods of time. Dosemeters are often designed as mobile personal dosemeters, which are constantly carried on the body by certain occupational groups in use.
Note: In Austria, the terms dosimeter and dose rate meter are used interchangeably in the calibration regulations. Also, colloquially, there is often no precise distinction between devices for determining the current radioactive radiation dose and devices for measuring the dose rate over a longer period of time.
Application areas of Geiger counters and dosimeters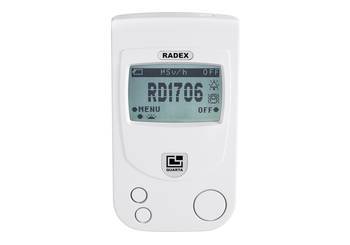 Radiation meter with acoustic and vibration warning against radiation
Radioactivity measuring instruments are used in many areas.The use in radiology and nuclear medicine is well known, but dosemeter also monitors the radiation of tumors in order to give the patient an optimal dose.
Civil protection teams, such as the fire department and the military, are equipped with Geiger counters in order to be able to deal with ABC operations, alsoatomic, biological and chemical hazards according to the measurements. In addition, archaeologists, geologists and art scientists use radiation-activity measuring devices with warning function and further-acting methods for the analysis of these. Also in the mining of radioactive materials, which are detected with the help of Geiger counters.
For private individuals, the purchase of simple Geiger counters and dosimeters is easily possible. Increasingly, regions are being operated which are known to be subject to extraordinary pollution of mitradioactive environmental influences due to nuclear disasters such as Chernobyl or Fukushima, or which are located in the perimeter of its still active nuclear power plant.
How is the radiation measured with the Geiger counter?
How does radioactive radiation occur?
In the neutral state, atoms and molecules have the same number of electrons as protons . However, if more protons or electrons are present, the particle has an electrical charge and is referred to as ion. Because of these causal, unstable particles, atomic radiation is also referred to as ionizing radiation.
Radioactive radiation occurs when a nuclear nucleus breaks down . This can be done in a natural way or through targeted nuclear fission. In the event of a fission, alpha radiation, beta radiation and gamma radiation are released. It would be scientifically correct to speak of a transformation, because new substances are created when the nuclear nucleus is destroyed. These released substances are radioactive , not radiation as such. This is what laypeople and media like to call "nuclear radiation", the ionizing radiation of radioactive substances.
Radiation types and ranges
Ionizing radiation types include alpha, beta, gamma and X-ray radiation . They differ in their composition and range. While alpha and beta radiation consist of charged particles, gamma radiation and X-ray radiation are composed of uncharged photons and quanta.
By the way: Gamma radiation and X-ray radiation do not differ in their composition, but in the way they are produced: Gamma radiation is produced by nuclear reactions , X-ray radiation from a change in the speed of charged particles or high-energy transitions in the electron shell.
In many countries, X-ray radiation is named after its discoverer Wilhelm Conrad Röntgen, but the letter abbreviation X for X-ray radiation is also found internationally, similar to the Greek a, b, ɣ for the other types of radiation.
Ranges of the radiation types:
Alpha radiation (a radiation) has a range of only a few centimeters. It can already be stopped by a sheet of paper. For this reason, Geiger counters must be worn over clothing to detect alpha radiation.
Beta radiation (â radiation) comes a few meters far. It can be shielded by metals such as aluminum.
Gamma radiation (ɣ radiation) and X-ray radiation (X-radiation) have the longest range, whereby the range during production is technically influenced in particular by X-ray radiation. For shielding, a thick lead layer or concrete wall helps. Therefore, lead is incorporated into X-ray protection aprons and the personnel leaves the room during the exposure.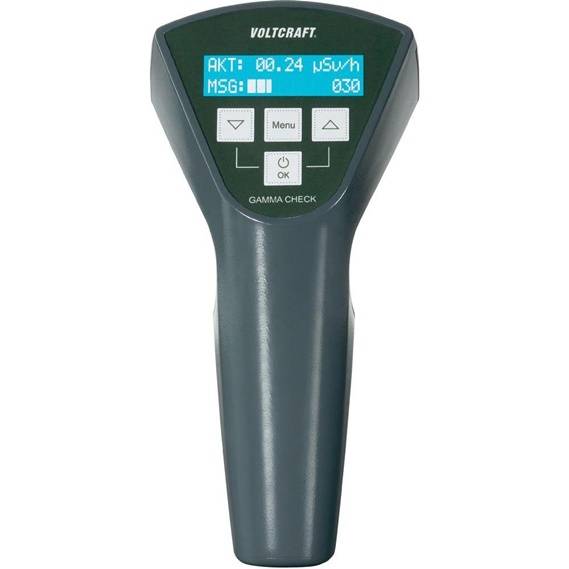 Geiger counter with measurement of dose and pulses as well as a decay indicator
Units in Geiger counter
Becquerel (Bq) is the unit of measurement for radioactivity . 1 Bq is present when 1 atomic nucleus falls apart in one second. The natural radioactivity in our food amounts to an average of 40 becquerels per kilogram. This means that an average of 40 atomic nuclei per second decompose into 1 kilogram of food.
Gray (Gy), on the other hand, indicates how much ionizing radiation is absorbed by a mass. This is an objective value derived from the SI units JOULE and KG. The unit Gray is the measure of the radiation dose absorbed by the tissue. If the total body radiation exceeds six Gy, the chances of survival – even with optimal treatment – are low, at 15 Gy zero.
Sievert (SV) is the weighted unit of measurement for radiation dose . It characterizes the effect of ionizing radiation on humans. This dose takes into account the different effects of the radiation types and the different radiation sensitivity of the organs by a radiation weighting factor. It is therefore the most important factor in the assessment of hazards .
Radiation exposure limits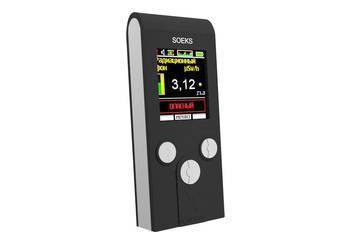 Radiation meter with acoustic and visual warning signal on the display
In Germany, the normal radiation exposure per year is about two to four millisieverts . Most of them, 1.5 millisieverts, are based on X-ray examinations .
In addition to ionizing radiation, which is produced by a targeted nuclear fission, there is always also a natural radiation from space and the earth, where ores, for example, contribute to radiation. These values are harmless to humans.
Even in the case of medium radiation exposure, the health-endangering effect of radioactivity is only secondary, for example by the rise of cancers in the population and changes in the genetic material, which lead to malformations in offspring. Starting at 250 millisievert, the incidence of cancer and gene defects in newborns is very likely.During an existing pregnancy, radiation from 100 millisievert is critical.
At a dose of about 1 sievert, acute radiation disease occurs, which in the mild form is associated with fever, diarrhea and nausea and in the worst case leads to death through multiple organ failure.
About Geiger Counters & Dosimeters How does a Geiger counter with Geiger-Müller counter work? Difference between a Geiger counter and a Dosimeter Application areas of Geiger counters and dosimeters How is the radiation measu...