This text is machine translated.
Useful information about power generators and power units
It's annoying when craftsmen can't work on the construction site just because the power supply has failed. The energy demand would often not be so great. But if the mixer is not running, the hammer does not work or the radiator does not light up, nothing will work anymore. Good if the craftsmen can then use a power unit that is available at any time.
How does a generator work?

What are the advantages of generators?

What was to be taken into account when selecting a generator?

What must be observed when operating a power generator?

The power generator of the future

Frequently asked questions about power generators
A generator or generator is in principle a small-scale electricity plant.
The energy source is a combustion engine that drives a generator. So to speak, a generator is an energy converter that converts the chemical energy of the fuel into electrical energy.
Since the fuel for the generator can be stored and transported easily in canisters, power units can be used extremely flexibly. And as long as fuel is available, electricity is also available.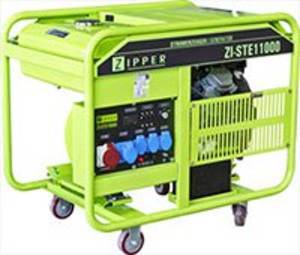 How does a generator work?
A unit or power unit consists of two main components. One of them is the drive motor. Here are different concepts to choose from: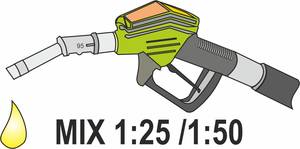 A two-stroke engine is relatively simple and robust. The engine is lubricated with a special two-stroke oil , which is mixed with the fuel at a ratio of 1:25 or 1:50. wird.
Since the oil is also burned in the fuel, the exhaust fumes smell very unpleasant .
In addition, two-stroke engines have a design-related operating noise that many people find rather unpleasant.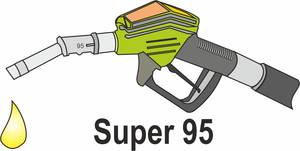 In contrast to two-stroke engines, four-stroke engines are mechanically much more complex . .
In addition to the fuel (super petrol), you also need engine oil which must be checked at regular intervals.
Since no engine oil is burned, the exhaust fumes do not smell so penetrating either. Thanks to the four-stroke principle, the running noise of the engine is also much more pleasant and also quieter .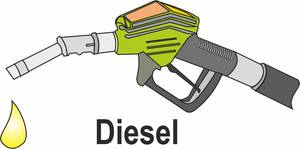 Large generators for construction sites are often equipped with diesel engines.
This reduces the operating material costs and one has the great advantage that the fuel of excavators, wheel loaders and chain hooter can also be used for the power unit.
Operating noise and exhaust gases play a rather minor role on a large construction site .
An overview of the three engine variants:
Two-stroke engine
Four-stroke motor
Diesel engine
Advantages:

➕ simple construction

➕ reliable operation

➕ Quiet operation

➕ less noise

➕ Low operating costs

➕ Long-life and low maintenance

Disadvantages:

➖ Smoke-emitting gases

➖ higher noise

➖ elaborate construction

➖ Additional oil demand

➖ expensive to buy
There are also different operating principles for generators for power generation: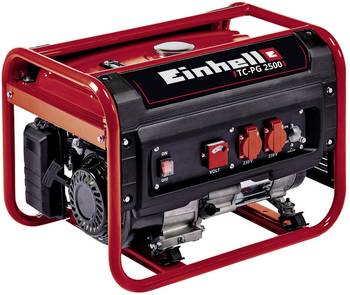 Synchronous generator with automatic voltage control.
Power units are still being built with electrically excited synchronous generators. The output AC voltage is generated directly in the generator. The output frequency of synchronous generators is thus permanently coupled with the generator speed.
The drive motor must therefore operate at a virtually constant speed. By changing the excitation voltage, the synchronous generator can automatically regulate the output voltage within certain limits. This process is called the AVR for Automatic Voltage Regulation.
Nevertheless, the output voltage is not as stable, which can cause problems for sensitive devices such as notebooks, monitors or televisions when using these generators.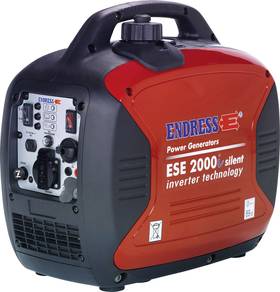 Inverter power generator with compact design and 12 V output.
In the case of an inverter generator, the generator speed is completely decoupled from the frequency of the output voltage. This means that the engine speed does not affect the frequency of the output voltage.
This is achieved by the generator generating a high-frequency alternating voltage with only 12 V. This alternating voltage is rectified and smoothed with the help of capacitors. A high-quality sine wave inverter is then supplied with the 12 V DC voltage.
Thus, an alternating voltage in socket quality is available at the output of the inverter.
Other advantages of the inverter principle:
In some generators the 12 V voltage is also used to charge an internal battery. In addition to the 230 V/AC, 12 V/DC are also available at the same time. In addition, the petrol engine can be started by pressing a button with a 12 V electric starter or E-Start system.
In the partial load range, an inverter generator operates at reduced engine speed. This greatly reduces fuel consumption and operating volume.
The two generator variants in direct comparison:
Synchronous generator
Inverter generator
Advantages:

➕ simple construction

➕ No complex electronics

➕ cost-effective

➕ High quality AC voltage

➕ Partial load operation with reduced engine speed

➕ partially 12 V voltage can be used

Disadvantages:

➖ No stable sine output voltage

➖ No partial load operation with reduced speed

➖ elaborate construction

➖ extensive electronics
What are the advantages of generators?
Power units or generators do not only provide emergency power. They offer a variety of other benefits:
- No downtimes and timely completion of orders even in the event of an unforeseeable power failure.
- Work on remote construction sites independant of the mains supply possible.
- enormous time saving, since the setting up and starting of an aggregate often goes faster than the cumbersome laying of an extension cable.
- important and safety-relevant systems can be operated even further in the event of a power failure.
- reliable and independant power supply for e.g. exhibition and sales stands.
- useful workshop equipment as an emergency power unit.
- the ideal "bad weather insurance" for the caravan solar system or the island solar system of the weekend cottage.
- Wireless mains socket while camping and camping.
- Use of 230 V devices away from the power supply network.
- universally applicable energy source for all outdoor activities.
What was to be taken into account when selecting a generator?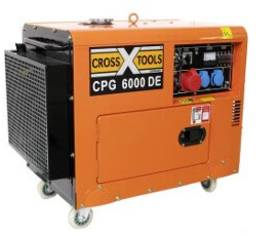 Probably the most important decision criterion when purchasing a power unit or a power generator is the electrical power. This must be higher than the performance of all devices to be operated simultaneously. The continuous power and the switch-on power must be taken into account. Some devices, such as refrigerators, have a power consumption at the moment of switch-on that is several times higher than the continuous power. This short-term power peak must be easily managed by the power generator.
But the output voltage is also decisive. Especially for construction site use, power units are required, which in addition to 230 V AC voltage can also provide a CEE connection with 400 V three-phase current.
Mobile or stationary? In the case of a stationary petrol generator, the weight plays a minor role. If the generator is operated mobile, it should be handy, light and compact. Thus, mobile power units can be used flexibly without great effort.
Another important criterion is the location. On a construction site, the operating noise plays a rather minor role. At a sales stand in the middle of the pedestrian zone, the power generator should perform its task acoustically discreetly. An economical LED lighting and a small unit with inverter technology would surely be the best solution.
The size and weight are also decisive. At the latest when the power unit is to have a fixed position in a vehicle and must be charged and unloaded continuously.
It is also important to take a look at the volume of the tank, the fuel consumption and the operating time per tank filling. This is the only way to ensure that there are no nasty surprises later on in operation.
What must be taken into account when operating a power generator?
Due to the toxic engine exhaust, a power unit must be operated outdoors. Operation in unventilated indoor rooms is absolutely prohibited due to the risk of poisoning.
On the other hand, mobile power generators are not suitable for use in unprotected outdoor areas due to their IP protection class. Therefore, a suitable and weather-proof installation site with a secure stand must be found. The wind direction must also be taken into account, so that the exhaust gases of the combustion engine do not cause the vehicle to be recovered. In addition, the combustion engine must be supplied with fresh air sufficiently.
In addition to weather protection, attention should also be paid to the availability of the generator. Finally, from time to time the fuel tank must be checked and refilled.
However, the laying of the power cable must also be observed. Especially when the current generator is used in an area where pedestrians are to be expected. Special cable bridges can effectively prevent dangerous tripping hazards caused by power cables.
The fuel tank should be fully filled to avoid refueling when the engine is hot. For units with a four-stroke or diesel engine, the oil level must always be checked before starting.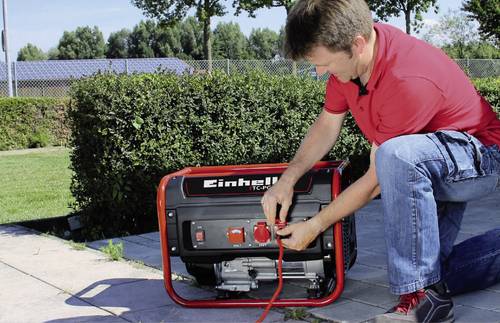 Current generator in practical use.
The power generator of the future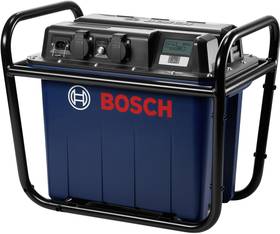 Silent and absolutely emission-free current generator.
Modern lithium iron phosphate technology makes it possible for some manufacturers to take completely new paths. Instead of an internal combustion engine that drives a generator for power generation, modern power generators have large battery packs.
These battery packs supply a sine wave inverter with corresponding power and the current generator is ready. Petrol or diesel from the petrol station is not required. The empty batteries are later simply recharged at the mains.
Since no combustion engine is necessary, neither engine noises nor exhaust flags are generated. This means that these current generators can also be operated without any problem indoors and in vehicles/boats.
Frequently asked questions about power generators and power units
What was better for my weekend home, an island solar system or an electricity generator?
Both Because an island solar system is environmentally friendly and there are no ongoing operating costs. With a current generator, on the other hand, long-lasting bad weather phases can be easily bridged. And if powerful power tools are required for the repair or removal of the weekend house on site, the units provide sufficient electrical energy.
Can an aggregate also be operated in the installation of a weekend house?
During stationary operation, sufficient ventilation must be provided. Thermal problems can occur very quickly due to the hot exhaust gases. In addition, it must be ensured that no carbon monoxide can enter living areas. If installation is absolutely necessary, it should be carried out by a specialist who has the necessary expertise and is familiar with the relevant regulations.
How can ich avoid the disturbing smell of petrol during transport?
A special low-odor fuel can be used instead of the normal but odor-intensive gasoline. Although this alkylate fuel from the DIY store is more expensive than normal superpetrol, the odor load during storage and operation is considerably lower.
What was the difference between the generator and the emergency generator?
In principle none. Depending on the power requirement, many generators can be used as emergency power units in an emergency. Large stationary emergency power units often have integrated voltage monitoring and start automatically in the event of a power failure.
This text is machine translated.    Useful information about power generators and power units It's annoying when craftsmen can't work on the construction site just because the power supply has failed. The energy demand would oft...