This text is machine translated.
How does a halogen lamp work?

What are the criteria for distinguishing halogen lamps at Conrad?

FAQ - Frequently asked questions about halogen lamps
Halogen lamps are artificial light sources that produce brilliant, natural lighting similar to daylight. The halogen light is more white than that of the compact fluorescent lamp or of LEDs. Therefore, they are often used when good lighting is important, for example in goods presentations.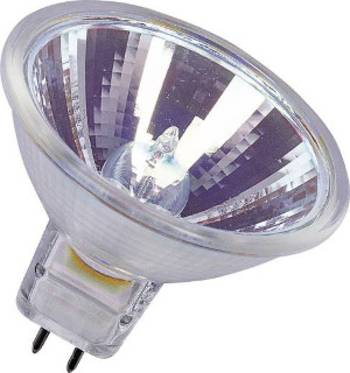 The unit of measurement for the color temperature of the light is Kelvin (K) and is indicated for many illuminants. As a rough orientation, color temperatures above 4,000 K are perceived as cold (white/bluish) and low temperatures (yellowish to reddish) as warm. For example, a light bulb with bright white light has a (warm white) color temperature of about 2,700 K.
Another advantage is the long life of the halogen lamp with up to 3,000 hours, which was up to three times the life of a conventional light bulb. The efficiency of a halogen lamp is about eight percent. So-called eco halogen lamps cut off even better.
Due to legal regulations, the conventional filament lamp has now been replaced almost entirely by more modern light bulbs. There are only a few special applications where the "old" incandescent lamps are permitted. The background is the very poor efficiency of the conventional bulbs, in which a filament is illuminated by means of current flow. The energy used is only converted to light radiation by about five percent, which means that around 95 percent of the energy is "lost" as heat radiation. In addition, a high inrush current flows. The average service life is only about 1,000 hours. In 2009, EC Regulation 244/2009 came into force, which gradually introduced the for conventional incandescent lamps, mainly because of the poor energy balance of conventional light bulbs. The sale of already marketed incandescent bulbs was still allowed. A disadvantage of halogen lamps is their higher price, which pays off in the medium term due to their longer service life.
How does a halogen lamp work?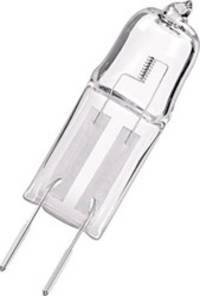 In a halogen lamp, the glass bulb is filled with noble gas and enriched with halogens (iodide or bromide). This binds the tungsten atoms evaporating on the filament and then re-accompanies them. This technology leads to the longer life of the halogen lamp compared to the conventional filament lamp. In addition, there is a better light yield. An infrared coating on the inside of the piston can further double the service life. The coating is translucent, but reflects the heat radiation back to the filament, was designed to reduce the heat radiation to the outside and make the lamp more efficient and durable.
Halogen lamps are available as low-voltage halogen lamps as well as mains voltage halogen lamps (high-voltage halogen lamps). They can be connected to either a 12-volt low voltage or a mains voltage. Some special halogen lamps require a ballast for operation.
There are many different base designs in the area of halogen lamps. As a rule, halogen lamps can be used and replaced without tools.
What are the criteria for distinguishing halogen lamps at Conrad?
The Conrad range offers more than 300 different halogen lamps and thus a professional selection, with which you can solve various lighting and presentation tasks. The halogen lamps can be selected in the menu of our online shop according to:
Price
New products and offers, here also with the low-emission manufacturing requirements RoHS according to the EU directive
Availability in the Conrad branches
Trademarks
Performance in comparison: Specification of the power in a value that corresponds to the conventional illuminant. This gives you a rough comparison option. The power range is from 7 to 2,000 watts.
Light color: Warm white in most cases, with some models with cold white, red and silver color
Category: Distinction between halogen, eco-halogen and ceramic metal-halide discharge lamps
Power: The actual power consumption of the halogen lamp from 5 to 2,000 watts
Sockets: Various designs as letter-number combinations for marking screw, plug or bayonet sockets
Operating voltage: From 6 to 240 volts.
Design: It describes the external appearance in bulb, candle, piston, reflector, rod and drop form. In addition, there are some lamps in special shapes and the designation as a pin base.
FAQ – frequently asked questions about halogen lamps
What was to be observed when replacing halogen lamps?
Work on the mains voltage may only be carried out by trained specialists.
The lamp should only be replaced when it is switched off and disconnected from the power supply.
When replacing defective halogen lamps, the design of the base ensures that the correct bulb is replaced.
Always use halogen lamps with the same power parameters, as the operating network is often electrically protected for certain power ratings.
Loosen and fasten the halogen lamps without any gross mechanical force.
The glass bulb of a bulb should not be touched with bare fingers. The skin grease is placed on the glass, burns and renders the lamp unusable for a short or long time.
If a halogen lamp breaks glass, the affected room should be ventilated for 30 minutes. You should use protective gloves to remove glass splinters (do not use the vacuum cleaner).
Halogen bulbs do not require any special disposal measures.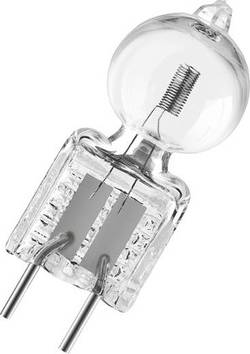 Is it possible to convert from conventional to halogen lamps without further ado?
Since halogen lamps with all base shapes of conventional incandescent lamps are available, they can often simply replace them. Many packages have a power rating that compares the power of the halogen lamp with that of conventional lamps.

How long do halogen lamps last?
The life of halogen lamps normally reaches about 3,000 hours. There are models with service life of between 10,000 and 20,000 operating hours, with data sheets often linked to a percentage failure rate. Another feature is the maximum possible switching frequency, which is in the lower five-digit range.
How can ich detect a defective halogen lamp?
There are only two operating states for filament lamps: Intact or defective.
A possible source of error is corrosion on the base or in the socket of the halogen lamp. This results in reduced light yield and/or flickering. Corrosion can sometimes cause the lamps to no longer come out of the socket, was it possible to replace other electrical components.
In the case of fluorescent lamps with ballasts, errors can be felt through flickering, decreasing light output up to total failure.
This text is machine translated. About halogen lamps What was halogen How does a halogen lamp work? What are the criteria for distinguishing halogen lamps at Conrad? FAQ - Frequently asked questions about halogen lamps Wha...