This text is machine translated.
What are high-power LEDs used for?

Which high-power LEDs are available from Conrad?

FAQ – Frequently Asked Questions about High Power LEDs
The abbreviation LED stands for "light-emitting diode", in German "light-emitting diode". As an electronic component, the LED has the same properties as a conventional diode to allow direct current in a flow direction and block it in the opposite direction. In the case of current flow, however, depending on the material composition, an LED emits light radiation of different spectral composition. The first LEDs were already available in the 1960er. At the turn of the millennium, their development was so far advanced that their large-area use as illuminants became possible. An LED has a significantly higher efficiency than incandescent or halogen lamps in relation to the emitted light, and in modern versions it is up to 85 percent.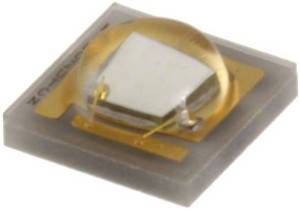 The physical unit for luminous flux as radiated visible light is lumen (lm). "Simple" LEDs produce a luminous flux of 0.001 to 1 lumen. High-power LEDs are light-emitting diodes with higher performance parameters , especially in terms of the radiated luminous flux, which can reach up to 10,000 lumens .
Different colors are possible by a specific combination of different semiconductor materials for the light diode. For the generation of white tones different colored light emitting diodes are combined by means of an additive color mixture. By selective control of the individual elements, all colors of the emitted light can be generated, even with flowing transitions.
Some LED components (in the form of a matrix) can be controlled via programming and now also via app and can thus take up different light modes.
What are high-power LEDs used for?
There are numerous possible uses for powerful high-power LEDs, for example: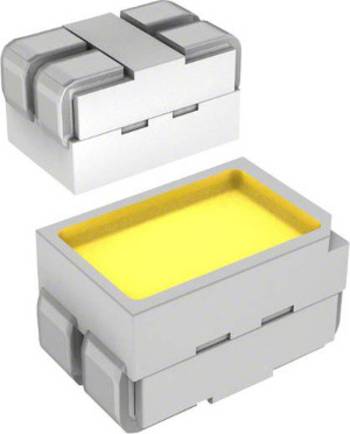 Street and architectural lighting
Panel lighting for workplaces
Spot and background lighting
for business rooms and display cabinets, also as a reliable light source for cooling equipment
Down Light
Ceiling light for radiation downwards for all:
Lighting tasks on cars
Signal lighting
, for example traffic lights and warning signs
torches
LED pixel boards
an arrangement of LEDs as individually shaped displays (running text, picture sequences and different color programs) with programmable control devices.
Which high-power LEDs are available from Conrad?
Conrad offers more than 900 different high-power LEDs from numerous suppliers and brands . They can be selected in the online shop according to:

Price
New products and offers , reduced prices and the low-emission manufacturing requirements RoHS according to the EU directive
Availability in the Conrad branches
Luminous flux: From 5 to 10,500 lumens
Flow voltage (U f ): Voltage dependant on the semiconductor material, was the LED giving the color described
Angle of radiation: 60 to 170 degrees; determined mainly by the design of the LED lens
Flow current (I f ): 25 to 4,800 milliamps
Color: LEDs are available in more than 20 colors, including various shades of white
Category: A distinction is made here between individual LEDs, strips, modules, boards and components as well as LEDs for industrial assembly in SMD technology.
Power: From 0.25 to 150 watts
Special features: For example dimmable high-power LEDs, LEDs on PCBs or multi-color versions
Operating voltage: 2 to 230 V; new LED modules are suitable for direct operation on mains voltage and no longer require separate ballasts
FAQ – Frequently Asked Questions about High Power LEDs
What was to be observed when replacing high-power LEDs?
Work on the mains voltage may only be carried out by trained specialists. The module (with operating device) must be installed taking all relevant electrical and safety standards into account.
Any type of illuminant should only be replaced when the device is switched off and disconnected from the power supply.
Always use high-power LEDs with the same electrical parameters, as the operating network is often designed for certain power ratings.
Loosen and fasten LEDs and all surrounding components without gross mechanical force, for example by screwing or bending too strongly. This also applies to the PCBs used as mounting surfaces. Sharp tools such as tweezers and side cutters are not suitable for this work.
Do not touch the lens when handling high-power LEDs. This can cause damage to the internal electronics.
Do not look directly into the light source and note that other people are also protected from this when installing new equipment. The high light intensity can injure the retina of the eyes.
Observe ESD precautions when installing the LED modules. This abbreviation stands for "electrostatic discharge" (electrostatic discharge) and describes voltage fluctuations due to large potential differences. In addition to the risk of fire in the environment, LEDs can be destroyed.
For low-voltage LEDs, we recommend the use of an electronically stabilized power supply with short-circuit, overload and over-temperature protection.
Observe the manufacturer's heat management instructions. Incorrect heat management can damage, destroy or reduce the service life of the high-quality LED.
Defective high-power LEDs should not be disposed of in the household waste, but rather as electronic waste at municipal collection points.

How long do high-power LEDs last?
LED life is the average time after which the luminous flux has decreased to 70 percent of the initial value. The lifetime of LEDs reaches values by 50,000 hours (corresponds to approx. 5 to 6 years continuous operation). The values in the data sheets are linked to the compliance with the operating and environmental conditions and usually to a percentage failure rate.

How can ich detect a defective high-power LED?
With LEDs, Leuchtkraft decreases significantly toward the end of its service life.
Possible sources of error are defective connections and/or conductor paths due to excessive mechanical stress.
Corrosion on connections can have similar consequences to conventional bulbs: Reduced light yield and/or flickering. Corrosion may cause assembly units to become undetachable, was it necessary to replace additional electrical or mechanical components.
Defective ballasts and power supplies are noticeable through flickering, decreasing light output up to total failure.
What was LED?

LEDs now meet us everywhere: Whether traffic lights, television or lighting in private and business rooms. Due to their long life, their small size as well as the variety of shapes and color spectra, LEDs have become established in a short time as compared to light bulbs, halogen and energy-saving lamps. Behind each LED there is a whole piece of technology, which we explain to you in our guide. Learn more now
This text is machine translated.      About High Power LEDs What was high power What are high-power LEDs used for? Which high-power LEDs are available from Conrad? FAQ – Frequently Asked Questions about High P...