This text is machine translated.
What was industrial relay and how did it work?

What types of industrial relays are there?

Areas of application of industrial relays

What should you look for when using industrial relays?
What was industrial relay and how did it work?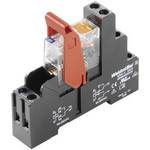 Relays are electrical or electronically controlled remote switches. A control voltage is used to close or open a relay contact, depending on the design, or both with combined contacts at the same time. The controlled contacts switch other circuits. This switched circuit is electrically isolated from the control current.
For industrial use, precautions have been taken on these components with regard to the application environment, durability and additional electrical security. The actual relays are mostly encapsulated, whereby the housings are resistant to environmental influences, partly secure electrical protection types (IPxx) or fulfill fire protection requirements, i.e. are flame-resistant or self-extinguishing.
In addition, there is an additional mounting environment for industrial relays – the relay socket. The base has various electrical connections for the relay control and the load circuit, for example as screw, spring or push-in contact. The connection to the actual relay contacts and the relay control is realized by plug contacts in standardized dimensions into which the relay is plugged. From there, they can be removed and replaced with a simple plug-in if necessary, without having to disconnect the wiring. The support of the relay module is ensured with a safety bracket. The base itself is suitable for mounting on different standard rails of electrical installation.
Additional components must be listed from an electrical point of view: Snubber diodes are installed to prevent damaging voltage peaks after switching inductive loads (relay coils). Further protection is offered by varistors – voltage-controlled resistors that dissipate harmful overvoltages with extremely short response times. The controlled relay contacts have a high material quality and are designed for frequent switching operations at rated voltage and current.
What types of industrial relays are there?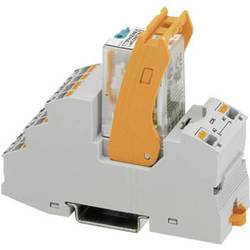 Many relays are designed for a control system with DC and/or AC operation. Some light emitting diodes are installed that indicate the operating status without the need for other test equipment.
Special relays have been developed for use in emergency situations. These are variants which are equipped with a manual emergency switch which can be used to carry out the actual electrical switching process in the event of failure of the control signal or the relay itself.
So-called solid state relays do not have mechanical contacts, but instead switch with electronic components such as transistors or thyristors or with a triac ("triode for alternating current", to German: "Bidirectional thyristor triode"). They work without moving parts, are therefore very durable and can be used for high switching frequencies and under adverse environmental conditions, for example in explosive environments. Galvanic isolation between the control circuit and the load to be switched is achieved by integrated optocouplers.
The available relays usually have several, partly international certifications such as VDE, UL, CSA, RINA, GOST, FI, IMQ, S, Nemko and others.
Areas of application of industrial relays
The application areas of industrial relays are very diverse. The following examples are provided as examples: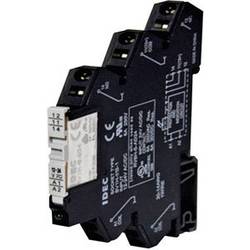 Building management
Control of lifts and safety lighting
Industrial plants
Control of filters, fans, pumps, ventilation flaps, lighting; remote switching and monitoring of consumers, overload protection, control of uninterruptible power supply (UPS), in machine and plant engineering, when setting up memory-programd controls (PLC) or in robot technology
Renewable energies
Power failure and rectifier monitoring, wind wheel safety shutoffs to protect against costly repairs
Home installation
Control of lighting, sockets, heating and ventilation with low voltage at the switch, monitoring solutions for control cabinets with many detailed status displays, control of actuators for blinds or automatic windows
in our online shop we offer industrial relays for many different control voltages and switching power. Individual relay models can be used for direct DIN rail and screw mounting without special socket.
You will find installation instructions in the data sheets available for download.
What should you look for when using industrial relays?
Turn off the power to the relay sockets before starting installation, disassembly, wiring, maintenance, and inspection. This prevents damage to health caused by electric shock and damage to the corresponding system.
Use only installation materials that comply with legal or country-specific safety regulations and ensure that the relays and output components are connected correctly.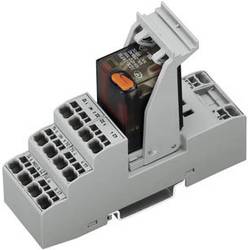 Prevent objects such as insulation residues, tools, metal parts and wire pieces from falling into the relay socket. The penetration of such parts can lead to short-circuits and considerable malfunctions. This may impair the function of safety devices or cause them to be shut down completely.
For outdoor installations, also observe the dangers of lightning strikes and use suitable safety devices to prevent overvoltages at relays.
When wiring, ensure that you adhere to the recommended dimensions for the length of the cable end stripping. Notes are provided in the manufacturer's installation instructions. Twist strands to prevent them from loosening.
The removal and insertion of the relays from and into the sockets as well as the assembly and dismantling of the relay sockets are described in detail in most of the operating instructions.
Repairs, especially from the low-voltage power supply upwards, may only be carried out by a qualified electrician.
Our practical tip: Open the relay correctly
When the relay base release lever is opened, the relay may jump out of its socket. This can damage it or be lost unattainable in control cabinets or installation bays. To prevent this, press the relay slightly against the socket with a finger when opening the lever.
This text is machine translated. About industrial relays What was industrial relay and how did it work? What types of industrial relays are there? Areas of application of industrial relays What should you look for when using ...