This text is machine translated.
Learn about red light lamps, infrared lamps
This is how infrared lamps work

These types of infrared lamps are available

Purchase Criteria: This is what matters when choosing

FAQ - Frequently Asked Questions about Infrared Lamps
This is how infrared lamps work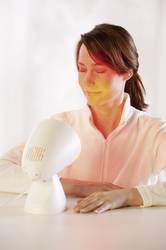 In contrast to normal lamps, infrared lamps generate heat rather than light. But heat is not equal to heat. A radiator, for example, is also warm in winter, but does not necessarily help against rheumatism, because it only warms the ambient air and not the human tissue (unless you lean on it).
A practical example is the sun on icy but clear winter days. Even if the ambient air temperature is below 0 ˚C, sun rays heat the skin. This is due to the infrared portion of solar radiation: The air molecules are not influenced by infrared, but matter like our skin. This is also why you can relax in some outdoor cafés on icy cold days. Thanks to special infrared radiators.
Infrared, by the way, is an invisible part of the electromagnetic spectrum. Whereas visible light has a wavelength of 640 nanometers (red) to 430 nanometers (violet), the infrared radiation of the devices presented here is 780 to about 1000 nanometers. The fact that infrared lamps still light up red is due to the built-in red filter. It is intended to ensure that unavoidable remnants of visible light are attenuated.
These types of infrared lamps are available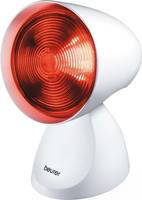 All commercially available infrared lamps are designed for table operation. Simple models in the price segment up to about 35 euros resemble a normal lamp visually and technically, but do not contain a bulb, halogen lamp, fluorescent lamp or LED lamp, but rather a special infrared lamp. In its shape, it resembles the lamps of the incandescent lamp era and often also has their E27 thread, so that it can be easily replaced. The power is 100 to 150 watts. Better versions of these lamps in the "spot design" have a timer. This allows you to quickly and easily set the treatment time, usually for 5, 10 or 15 minutes.
The lamps equipped with halogen illuminators for the infrared range are much stronger in the emission of infrared radiation. Their power is 200 or 300 watts, the halogen tube can usually be replaced here as well. The lamp is not round, but rectangular. The treatment area is correspondingly large, which can be up to 30 x 40 centimeters.
Purchase Criteria: This is what matters when choosing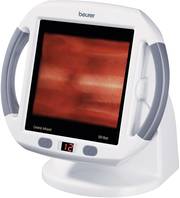 Even low-cost infrared lamps are usually produced by well-known manufacturers, thus ensuring technical safety. The decisive criteria for purchasing are the performance, the radiation area and the ease of use. Most commercially available infrared lamps for medical purposes are designed for close range (= near infrared, NIR), i.e. for direct radiation at a distance of 30 to 80 centimeters depending on the power.
Whether a round incandescent lamp with 100 or 150 watts or a square halogen lamp with 200 or 300 watts is better depends on the application area. If only a small area is to be irradiated – for example the nasal sinuses – a small model is usually sufficient. Powerful models with halogen tubes are very suitable for larger body surfaces and those whose pain point cannot be clearly defined. Typical examples are rheumatism or sciatic complaints.
All infrared lamps have adjustable angles of inclination for ease of use. For some models, these are preset, for others they can be set as required. The lamps can thus be aligned exactly to the surface to be irradiated, regardless of the table height. Some devices also have adjustable electronic timers with automatic switch-off function.
FAQ - Frequently Asked Questions about Infrared Lamps
What do ich need to be aware of when operating an infrared lamp?
As a rule of thumb, radiation must not be perceived as unpleasant. Infrared lamps naturally heat up quite strongly, so there should be no flammable or heat-sensitive material in the vicinity. It should also be noted that the lamp cools down completely after use. Small lamps take about 15 minutes before they can be handled and packaged. Halogen spotlights become particularly hot, so these devices often have overheating protection and a cooler that is still in operation for a few minutes after the lamp is switched off.
Are there any medical reasons that speak against infrared radiation?
Most people find infrared radiation pleasant and helpful, for example in colds, muscle or nerve problems. However, you should consult a doctor before using an infrared lamp if you experience reduced or increased heat. This can be the case, for example, with diabetes as well as with the use of certain medicines. In the case of flammable processes, infrared radiation can even be counter-productive, in which case radiation should only be treated after consultation with a doctor.
Practical tip:
Infrared lamps are often used in the face, for example in snuff, acne or neurodermatitis. Once any part of the face gets hot, you should stop the treatment. The eyes do not notice overheating so quickly, so there is a risk that they will be damaged if the treatment is continued. Therefore, it is important to keep eyes closed during facial treatment. Safety glasses are also recommended for high-performance devices with a high wattage rating.
This text is machine translated. Learn about red light lamps, infrared lamps This is how infrared lamps work These types of infrared lamps are available Purchase Criteria: This is what matters when choosing FAQ - Frequently Aske...