Infrared Thermometer, Pyrometer
About Infrared Thermometers & Pyrometers
What are infrared thermometers?

How infrared thermometers work

Various types of infrared thermometers and pyrometers
IR thermometer purchase criteria - what's it all about?

Our practical tip: Observe adjustment time

FAQ - Frequently Asked Questions about Infrared Thermometers
What are infrared thermometers?
Pyrometers and infrared thermometers often refer to the same in everyday use. While the term pyrometer is used more in industrial and professional craftsmanship, infrared thermometers are more frequently used in private household and workshop applications.
The term pyrometer is a combination of the Greek words pyr "Fire" and métron "Measure, Scale" . The "fire" here seems to be a symbolic example of the extremely high temperatures that the measuring instruments can detect.
Depending on the model, infrared thermometers or pyrometers can measure temperatures between -50 and +5000 °C – and without contact. . In order to determine the surface temperature of objects, they do not have to be directly in contact with them. Instead, they detect the heat or infrared radiation emitted by each object whose temperature is above the absolute zero point of 0 Kelvin (equivalent to -273.15 °C).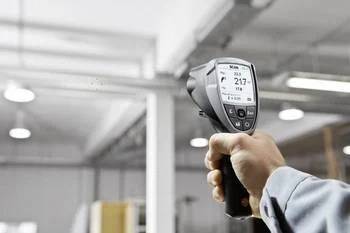 Infrared thermometer for contact-free surface measurement
How infrared thermometers work
Each "warm" object emits an electromagnetic own radiation proportional to its own temperature. Infrared radiation (in short: IR radiation) is a part of it. These are electromagnetic waves that are not visible to the human eye, but whose warming effect can be perceived. Depending on the wavelength, close infrared (closest to visible light), medium infrared and remote infrared (closest to microwave) can be distinguished. The higher the actual temperature of the object to be measured, the higher the IR radiation will be emitted and the shorter the wavelength of the radiation.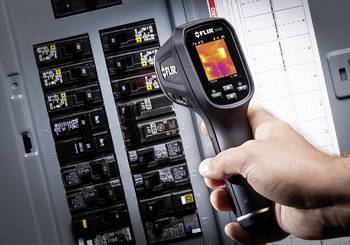 A thermal image IR pyrometer combines the advantages of both technologies
To measure the temperature, infrared thermometers or pyrometers target a specific area of the object, the so-called measuring spot . An input optics or lens is used to bundle the infrared radiation emitted by the object and focus it on the detector element. This represents a sensor that converts and transmits the radiation into a proportional electrical signal. The signal is amplified, further processed and displayed in the respective output size on the display of the temperature measuring device. Infrared thermometers with thermal imagers do not specify the numerical value of the measurement, but instead create a thermal image that makes temperature differences visible on surfaces by using color highlighting.
The accuracy of an infrared temperature measurement depends heavily on the emission level of the object to be examined. It is the measure of the specific heat radiation of a body in relation to the hypothetical black body, which completely absorbs any radiation. The fact that the degree of emission plays such a decisive role has the following reason: There are objects that can be very hot but do not emit any infrared radiation, which is due to their material properties. In order to be able to interpret the intensity of the emitted radiation and to derive the correct temperature from it, the emission level of the respective material or body must be known . Concrete, brick, marble, laminate and tiles have a high emission level, so they emit a lot of heat. They are very suitable for non-contact temperature measurement. Medium emission levels are found in fiberboard, wallpaper, varnish and ceramics. Porcelain, cork and cotton have a low emission level, so hardly any heat is emitted in hot conditions.
Various types of infrared thermometers and pyrometers
Infrared thermometers or pyrometers are available in different designs and are suitable for different applications. In our online shop you will find among other things the following types of infrared temperature measuring devices: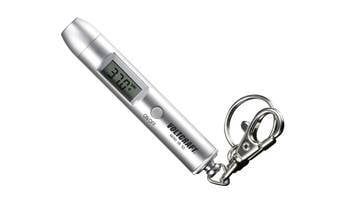 Mini and pocket thermometer
Small, compact and handy infrared thermometers or pyrometers are ideal for everyday use and for household use . Many models are equipped with a digital display and have smaller additional functions, such as an integrated stopwatch or torch.
Some thermometers are also equipped with a key ring, a shirt clip or a belt holder for easy transport and easy access. zu sein. In addition, there are models that are equipped with a penetration sensor and integrated temperature sensor. They are ideal for measurements in the food sector.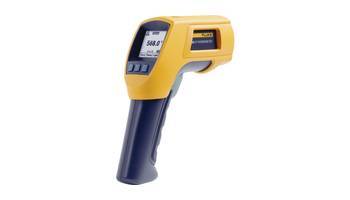 Test pistols
Measuring pistols are larger than pocket thermometers and usually have a number of different functions. There are, for example, laser infrared thermometers equipped with a kind of laser pointer for precise targeting. Some models have an alarm function that immediately indicates when the programd limit values are exceeded.
In addition to the measured value, other information such as minimum, maximum, average or differential value is often shown on the display. Thermometers with slots for SD memory cards or integrated memory offer the option of saving measured values and thus evaluating measurement series.
Compared to IR pyrometers and thermometers in miniature format, test pistols often have a higher optical resolution so that a greater distance from the object to be measured is made possible. Infrared pyrometers in the form of test guns can be used in a variety of ways, for example to measure the temperature of heaters, hot water pipes, motors, ovens, cooking surfaces or refrigerators.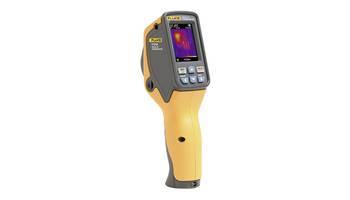 Infrared thermometer with infrared camera
Infrared thermometers with built-in thermal imaging camera offer the advantage of being able to measure the temperature of a larger area. Thermal images show at a glance any temperature differences in the area under investigation.
This is useful, for example, for identifying cold wall-building interiors that are susceptible to mold growth. Thermal leaks at windows and doors and uneven heat distribution in radiators or heating systems can also be found in this way.
IR thermometer purchase criteria - what's it all about?
An infrared thermometer or pyrometer should be adapted to its intended use. This starts with the temperature measurement range. an. A pyrometer, which is primarily used to measure the temperature of facades, windows and doors, does not need to be able to measure a maximum temperature of +2000 °C. Conversely, pyrometers with a very limited measurement range are less suitable for industrial purposes.
The accuracy of the temperature measuring instruments also plays a major role, especially when high-precision measurement results are required. A basic accuracy of, for example, ±1 percent or ±1 degree Celsius indicates that the actual measured value can deviate up or down by 1 percent or 1 degree Celsius. IR thermometers measure the temperature by pointing a spot at the object to be examined. The further away the thermometer is, the larger the measuring spot.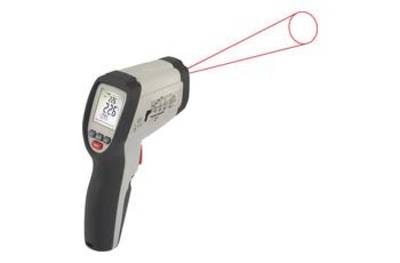 In such cases, a very good optical resolution is important. Infrared thermometers, which are equipped with high-quality lens systems, work very accurately even over larger distances to the object to be measured. In this context, the optical resolution code, the so-called measuring optics, must be taken into account. This is the ratio between distance and size of the measuring spot . For example, a 10:1 measuring optics indicates that the measuring spot has a diameter of 1 cm when it is 10 cm away from the thermometer sensor.
When purchasing infrared thermometers or pyrometers, you must also pay attention to the specified emission level for which the device has been calibrated. Models with an emission level of 0.95 can easily measure materials such as concrete, wood or painted surfaces. However, they are not suitable for measuring the temperature of objects with a lower emission level. With high-quality pyrometers, the emission level can be set individually, but you need to know exactly what material you are dealing with and what degree of emission it has. For this purpose, emission degree tables are available in which many materials are sorted by type and nature and listed with their respective emission level.
Our practical tip: Observe alignment time
Infrared thermometers can be used in different ambient temperatures. If the change to abrupt is made, this sometimes has a negative effect on the measured values . For this reason, a certain adjustment time must be taken into account so that the infrared thermometer can adapt to the respective ambient temperature. In case of major temperature fluctuations, the thermometer should be stored in the new environment for at least five minutes before measuring.
FAQ - Frequently Asked Questions about Infrared Thermometers
My infrared thermometer has a fixed emission level. Can I still measure the temperature of shiny surfaces?
Precise IR temperature measurement is not possible on high-gloss surfaces. However, it is possible to find a remedy by using special infrared stickers. In our online shop we offer IR adhesive tape for bare surfaces, which simulates a standard emission level of 0.95 and thus enables a measurement with IR thermometers or pyrometers, which are calibrated for this emission level.
Can an infrared thermometer "measure" through dust or steam?
No. An infrared thermometer always measures the surface temperature that is first hit. It is therefore important to avoid interference between the measuring instrument and the measuring spot. This includes fog and steam as well as dust and other dirt.
About Infrared Thermometers & Pyrometers What are infrared thermometers? How infrared thermometers work Various types of infrared thermometers and pyrometers IR thermometer purchase criteria - what's it al...