This text is machine translated.
How does an inverter work?

Which inverters are available?

Our practical tip: Safety technology

What should be observed when purchasing, installing and using the product
Inverters are used to convert direct current to alternating current . This is always necessary if only one DC voltage source is available for power supply, but AC voltage consumers are used. From an electro-technical point of view, these are voltage transformers – at the same time, the voltage level is adjusted to the used electrical devices.
A 230-volt alternating voltage is available at the output of an inverter, so that devices can be operated as at the normal low-voltage power supply. The converters from direct current to alternating current are also called inverters.
The AC current supplied by the voltage converter has different qualities that come from the way it is generated. From square to sine wave AC, everything is on offer. A conventional bulb or a kettle, for example, can be easily supplied with square wave voltage at the output of the inverter. This is different for radios, notebooks or devices with switched-mode power supplies. Here, a sinusoidal alternating voltage is required, the quality of which corresponds to the alternating voltage at the domestic socket. This requires a higher technical effort in the inverter and ultimately makes itself noticeable in the price accordingly.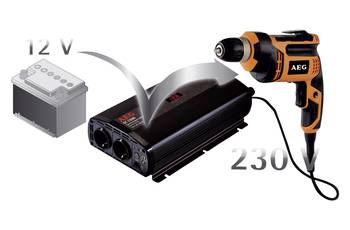 Inverter with modified sine wave for the operation of electrical devices
How does an inverter work?
AC voltage is a voltage that periodically changes its size and direction from a physical point of view. The sinusoidal AC voltage varies between the positive and negative maximum values. This variation always occurs in the same frequency per unit of time – that is our line frequency of 50 Hertz.
If DC voltage is available as a source, this described variation must be generated by a voltage transformer by technical means. For this purpose, the polarity of the DC voltage is periodically changed , conceivable as a rhythmically moving toggle switch. The switching process is realized with electronic components, for example bipolar transistors or MOSFETs . This results in alternating voltage, but it is so to speak "raw", that is, in rectangular form. With downstream filters, a more or less strong approximation to the sine-wave form of the alternating voltage is achieved.
To ensure that a constant voltage of required quality is available at the output of a sine wave inverter, this output is electronically monitored and the forming process is influenced by a measurement and control chain.
Switching power supplies also use these conversion processes: Alternating voltage – rectification – high-frequency switched direct voltage – forming in one (very small) transformer – rectification and delivery of the desired voltage. This enables very small designs and galvanic isolation from the low-voltage power supply.
Which inverters are available?
Inverters are required wherever only DC voltage sources are available but AC voltage devices are to be used. This also applies to feeding from photovoltaic systems into the domestic power supply.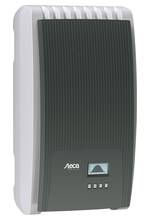 Island inverter for three-phase feed with good cooling concept
Various inverters are available for the different power requirements. Advanced models have their own temperature control , are protected against polarity reversal and short-circuit. As output voltages, 230-volt alternating voltage is available and, with many smaller inverters, 5-volt direct voltage is available at a USB output. All available inverters are ISO certified.
As inverters with high power ratings and protection types, island inverters and grid inverters are used in solar systems. With internal electronics, they provide complete energy management in conjunction with photovoltaics. Data logger and graphic displays ensure high operating safety and ease of use. LAN connections enable control and monitoring via the Internet. Some inverters for operation on solar systems have the required charge controllers on board . . The so-called droop mode enables a very exact control of the energy management depending on the loads to be called.
The partially available "MPP tracking" function (Maximum Power Point Tracking) ensures that the individual solar modules of a plant are used for power supply depending on the radiation strength and the temperature of the plant.
The mechanical design of the DC inputs depends on the application and power. They are partly provided with open cable connections for feeding from solar systems or for permanent installation in camping mobile. Such inverters for caravans or boats partly have a so-called priority circuit with an additional (cold-device) mains connection . This works like this: If external 230 volts are present, for example at the berth, this voltage is primarily fed directly into the on-board power supply. Without the external low voltage, the on-board battery is used with the inverter. In this way, an uninterrupted power supply can also be ensured in other operating environments.
Many devices can be programd to the specific requirements on site. They are equipped with interfaces for this purpose. LEDs or LCDs indicate operating states and display relevant electrical variables.
With screw or DC terminals, the connection to vehicle batteries is made, usually for temporary operation. Inverters in the lower power range can be connected to the on-board DC power supply via cigarette lighter plug. Devices with a wide input voltage range are suitable for modern vehicles with intelligent alternators. As an output, the inverters available in our online shop offer earthing contact, Euro or France sockets, cold-device sockets, open cable ends and USB charging sockets.
Versions with special designs (suitable for a beverage holder, for example), priority circuits, with operation for an uninterruptible power supply or products with fanless operation are available. Remote controls enable the concealed installation or the concealed installation of an inverter. Finally, the number of sockets can be selected.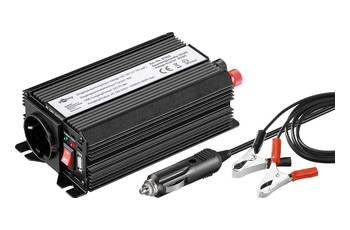 Inverter with DC-clamps and plug for the cigarette lighter
Our practical tip: Safety technology
When using voltage transformers, a fuse and residual current circuit breaker must always be used on the 230 V side. These elements are already integrated in some inverters.
What must be taken into account when purchasing, installing and using inverters?
When installing a photovoltaic system, the inverter used must fit into the plant concept. This primarily concerns the power to be converted and fed in, but also the equipment with technical functions.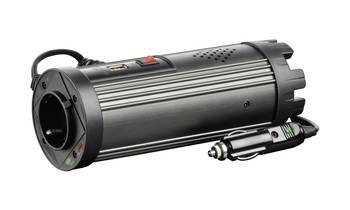 Converter in can form with overheating, overload and short-circuit protection
Equipment in hard-to-reach locations should be remote controlled and low maintenance. For complete solar systems for boats or camping, the hardware is usually pre-configured.
If you want to operate an electrical device on an inverter, you must first check the power consumption in order not to overload the inverters. Add the power data of all devices used to purchase an inverter with sufficient power reserve.
Most inverters switch off in the event of overload and associated high temperatures. Avoid continuous operation at the upper power limit.
Plug, screw and clamp contacts must be clean to avoid increased contact resistance. This particularly does not affect permanent connections, such as a cigarette lighter socket and the corresponding plug in the car
 This text is machine translated.     About inverters What is an inverter? How does an inverter work? Which inverters are available? Our practical tip: Safety technology What should be observed when purc...