IP cameras: Integration into your network
How does an IP camera work?

Our practical tip: Protection of the recordings

What are the IP camera types?

How to select a suitable IP camera

FAQ - frequently asked questions about IP cameras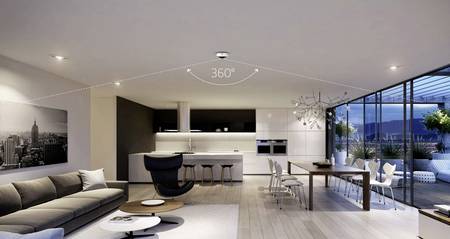 How does an IP camera work?
As with all cameras, it is the main function of IP cameras to record images from a specific coverage area . Network cameras also store their video recordings not only locally in the device, but can also be connected to a network with other devices for storing and sharing the recordings. The transfer works either via cable or WLAN, usually to a central computer or to a cloud system of the camera manufacturer. From there, the videos can be viewed in real time or later.

Real-time video display: The main advantage of IP cameras is this. If you are already watching the live videos during a relevant event, you can inform the police in good time that burglars are making their way on site. In another example, you could tell your family and employees that an outside delivery is currently waiting to be brought inside. Or you could contact your neighbor if you see that your dog or other farm animals are threatening to run away.
Post-processing of videos: This is also possible with simple cameras, however, it was previously necessary to take the video tape from the camera and play it on another device. With IP cameras, external storage locations are available through integration into larger computer peripherals than much larger memory for video recordings. This means that high-quality video is no longer a problem today, and the times when bad camera resolution has prevented culprits from being identified are soon a thing of the past. High definition (HD) and high definition video (HDV) are now standard in surveillance technology.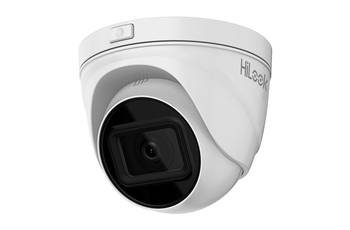 IP camera with recording and storage of the video on memory card
Our practical tip: Protection of the recordings
It is important that video recordings are stored in such a way that they are protected against unauthorized access. Secure your WLAN so that the recordings cannot be hijacked during the radio transmission. If possible, change the manufacturer's default passwords when you first use your WLAN IP camera. For higher security requirements, make multiple copies of local storage if one of the storage is taken away or destroyed by the perpetrators in the event of a break-in.
What types of IP cameas are available?
There are different types of surveillance cameras: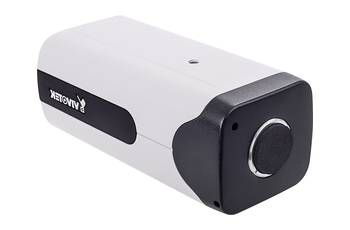 IP box camera for indoor use with a resolution of 2 MP
Box cameras are rectangular box cameras . They are usually designed for indoor use.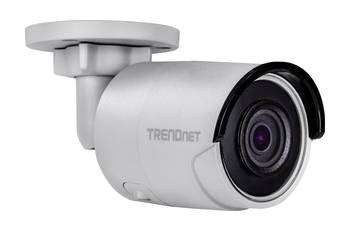 IR pen network camera ideal for year-round surveillance
Bullet cameras are widely used, due to their good price-performance ratio and the integrated protective roof for camera technology, making them well suited for outdoor use.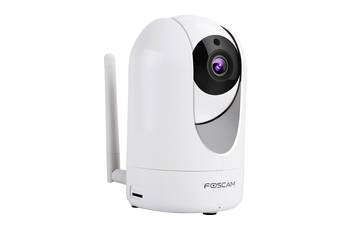 Rotating and swiveling IP camera with precise remote control
Swivel cameras are practical because their head can be swiveled and can thus monitor a larger area . They usually have a round ball head, in which a small camera is inserted.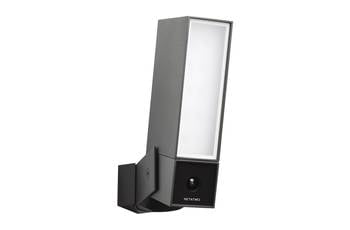 Compact camera with motion detector and bright floodlight
Small compact cameras are not as eye-catching as larger cameras and are often overlooked by burglars and thieves. While other types of cameras rely on deterrence through the visibility of surveillance technology, mini-cameras from burglars and shoplifters should not be detected and inconspicuously document what is happening .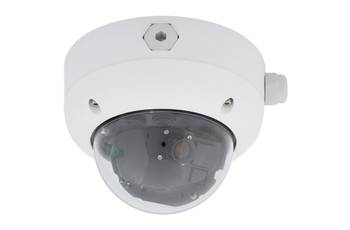 Dome camera with manually adjustable 90° lens
In a dome camera, the camera is embedded in a semi-circular tinted dome attached to the ceiling. Thanks to the tinted camera protection, it is not possible to determine exactly in which direction the camera points . Dome cameras are particularly effective against vandalism and manipulation in indoor areas.
How to select a suitable IP camera
The purpose of the application determines which camera type is the right one for you. For example, not all surveillance cameras are suitable for outdoor use. If you want to cover a large radius with your camera, make sure that it is a swiveling version.
When purchasing a network camera, you should pay particular attention to the location and viewing angle, image quality, transmission type and storage location of the devices.
Location and viewing angle
In our shop you will find recording systems for outdoor and indoor use. Outdoor cameras are wind and water resistant . Indoor cameras generate sharp recordings in closed rooms. Often, outdoor cameras have better image enhancement functions because they are designed to automatically compensate for poor visibility due to weather conditions.
The viewing angle of an IP cam defines the range that it can film. Large viewing angles give a lot of overview. Dome cameras for indoor ceiling mounting in particular often have all-round views of everything that happens among them. A small field of view such as a box or bullet camera is sufficient for monitoring small areas such as entrance doors or corridors.
Pan and zoom functions extend the image range. However, only if someone follows the images in real time and controls the camera, as is often the case with department store detectives. Technical solutions for video analysis with motion detection are the future, nowadays the problem of the too small viewing angle is mostly solved in the private sector by a combination of several cameras.
If you want to combine several cameras into a complex monitoring system, it is best to ensure that the devices are compatible with each other in software technology. sind. If you plan to expand your IP network for video surveillance later on, you can decide on a manufacturer or at least an operating system in the first step, in order to save a lot of time and nerves when setting up additional WLAN surveillance cameras. Surveillance camera sets can also be found with us!

Most video surveillance cameras have a LAN cable . It connects them to the computer network. The server or the transmitting computer should not be located anywhere but near the WLAN camera; the cable for the physical connection must be sufficiently long.
WLAN-enabled surveillance cameras are convenient. They can work over a wireless WLAN connection, which allows you to move the camera to another location without any problem. WLAN-enabled network cameras are usually also app-enabled. This allows you to have remote access to the video image of your surveillance camera with your tablet or smartphone.
The higher the resolution of a surveillance camera, the sharper the recorded image. Especially if the network camera is to be used to identify burglars or thieves safely , it should select a high resolution. It's worth buying an HD camera with at least 1080 pixels. In our online shop you will find network cameras with different resolutions up to 4512 x 1728 pixels.
Night vision is another useful feature. At night or in poor light conditions, when burglars are particularly active, night vision cameras impress with brilliant picture quality. Another variant is to let the surveillance area be illuminated by a motion detector in case of unusual conditions, however, the camera will be detected more quickly.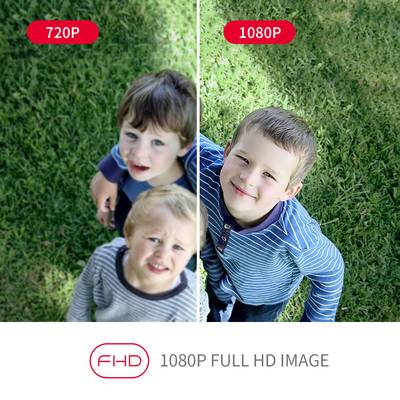 Bullet camera with Full HD resolution for pin-sharp images

In order to record video with your network camera, you need a memory card as a buffer before the recorded data is forwarded to other devices. Depending on the device type, different types of memory cards are used, for example microSD or SD cards.
The larger the storage volume, the more videos can be recorded without changing the memory card, emptying or overwriting old recordings. However, IP cameras are usually stored on an external computer , a connected hard disk, or in a cloud , not locally, but on the network , which means that much more volume is available than in-device camera memory.
The memory card type is no longer a decisive purchasing criterion for IP cameras. The size of the integrated memory card is only decisive if you only want to operate the camera with local memory without a network connection.
Cloud surveillance video storage solutions have advantages and disadvantages. The advantage is also for laymen simple setup and user interface, also the easy remote access via Smartphone apps and tablets with the same operating system. The disadvantage is usually the determination to a vendor, because such devices are deliberately made incompatible with other operating systems. In addition, there are a growing number of surveillance camera operators who prefer to have their data stored on their own server more safely than anywhere on the Internet.
FAQ - frequently asked questions about IP cameras
What can a network camera do compared to a conventional surveillance camera?
The practical thing about a network camera is that you can access it from many different terminals. For example, you can safely go on holiday and still check again and again via the tablet whether everything is in order at home. Many special functions can be used with higher-quality cameras. For example, set up a motion detector and send a push alarm to your smartphone as an email with a picture of the recorded camera image.
What makes a network camera different from a webcam?
The webcam can be referred to as the precursor of the network camera. Webcams require a direct link to the PC to record a video image. Network cameras do not need to be integrated into or on a computer. Here, a connection via LAN cable or a radio network to the server or to the cloud is sufficient. The generated image can be viewed on several computers, if there is a corresponding connection via WLAN or Ethernet. The webcam, on the other hand, can only address the station to which it is currently connected. IP surveillance cameras are therefore a further development of the normal webcam.
What resolution is recommended for video from a surveillance camera?
How high resolution a camera should be depends on the purpose for which you want to use it. If you need the camera for sharp video recordings to identify people, you should definitely use an HD model. High-definition resolution starts at a minimum of 1080 pixels and is no longer a storage problem with external storage media using IP technology.
 IP cameras: Integration into your network How does an IP camera work? Our practical tip: Protection of the recordings What are the IP camera types? How to select a suitable IP camera FAQ - f...