This text is machine translated.
The differences between laptop, notebook, netbook and Ultrabook

What should you pay attention to when buying a laptop?

Well equipped with the suitable notebook accessories

Important data about the different notebooks

Questions about notebooks
The differences between laptop, notebook, netbook and Ultrabook
Many terms, few tangible differences: All device classes are mobile PCs. All are designed to enable mobile working, surfing and entertainment, be more convenient and flexible than desktop PCs.

Today: Laptop is equal to notebook
Today, the terms "laptop" and "laptop" are synonymous with the top category for mobile PCs. The only difference is that the term "laptop" is older – the first mobile PCs were referred to as "lap", derived from English "lap". In contrast, the manufacturer TOSHIBA coined
the term "notebook" for smaller and lighter devices in the 1980er.

Netbooks for surfing only
In the 1990er, "netbooks" were created, which were primarily designed for mobile surfing on the Internet, and therefore with significantly lower dimensions – usually between 10 and 12 inches – and the essence of reduced interiors. Your disadvantage: You do not have an optical drive, a very narrow keyboard and are rather weak in performance . For users who only need to surf comfortably and write sporadic e-mails, netbooks are ideal with their favorable price.

Ultrabooks: Certified device class with extra power
Not every laptop can be called an "Ultrabook": This unique class of devices was adopted by Intel in 2011 and has been under trademark ownership since then. Any other manufacturer who wants to use the term for their devices (including industry giants ASUS, Acer and Lenovo) must meet certain conditions. These include a minimum battery life of 5 hours, fast wake-up from standby mode, and a small, lightweight and compact format with the highest possible performance . For this purpose, Ultrabooks usually have fewer ports, less storage capacity, and less graphics performance than larger notebooks. With costs starting from approx. 700€, Ultrabooks are the best choice for flexible working on the move and relaxed private use for surfing, streaming and less graphics-intensive games.
By the way, a new generation of Ultrabooks was created by the manufacturer ASUS with the Zenbook: This series offers more performance and a sophisticated design with an even smaller weight and dimensions.
Apple's MacBook runs out of competition
Apple launched a new class of MacBook in 2006, which was comparable (both hardware and home OS) to any other series released earlier. In the following years, the portfolio has been expanded to include MacBook Air and MacBook Pro, the former with 11-inch battery life of up to 9 hours, up to GB of memory and Intel HD Graphics 6000 graphics chip weighing only 1080 grams.
Useful accessories for your laptop: View and screen protection
Protect your laptop from unwanted side-to-side views with a privacy screen. Our 3M product finder will guide you to the right protection for your product with just a few clicks.
What should you pay attention to when buying a laptop?
Display size, weight and dimensions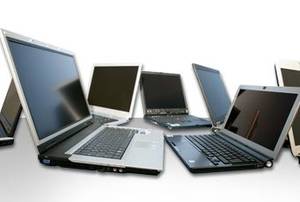 Rule of thumb:
The smaller and lighter, the better to travel.
Limitation:
Performance and a well-operable keyboard require a lot of space. A rich interior is at the expense of weight.
Standard is
10 to 12 inches for netbooks, 13 to 17 inches for notebooks. The weight varies from less than 1,000 to far more than 4,000 grams, depending on the equipment.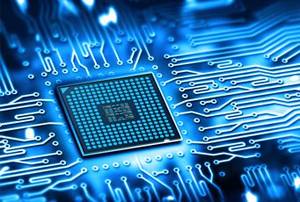 Rule of thumb:
The more RAM (RAM), the more complex tasks can be executed in parallel without any problems. What's more, it's the processor series, usually AMD or Intel Core.
Limitation:
The more memory and the better the processor, the higher the price of the device.
Standard is
4 to 12 GB of memory and Intel Core i3 or i5 processors on good mid-range laptops.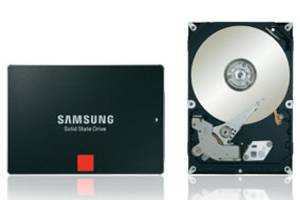 Rule of thumb:
SSD (Solid State Drive), i.e. Flash memory, are fast, small and vibration-resistant, but more expensive than the older, physical HDD-memory (Hard Disc Drive).
Limitation:
High storage capacity costs more - and is not necessary if large data such as pictures, music and videos are in cloud services or with external providers.
Standard is
: SSD with 32 GB for entry-level notebooks, 128 to 512 GB for good and 1 to 2 TB for top-of-the-range devices.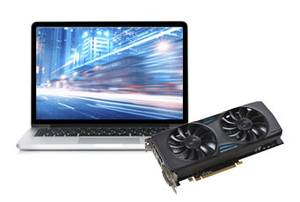 Rule of thumb:
On-board graphics chips provide enough power for most activities and many games. The resolution is decisive for the suitable graphics hardware and should be used for games at min. 1600x900 or 1920x1080 pixels.
Limitation:
A separate graphics card is recommended if a very good graphics performance is required, especially for graphics demanding games.
The standard is
: An on-board graphics chip (often Intel HD) combined with high display resolution.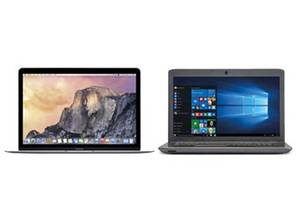 As a rule of thumb
, Windows is established and offers a huge range of compatible software. Mac OS is a bit more limited, but it works with other Apple devices.
Limitation:
Mac OS is Apple's own operating system and is not compatible with third-party software. However, appropriate software can be installed on Mac OS to install a Windows simulation that solves some of these problems.
Well equipped with the suitable notebook accessories
Basic notebook accessories are part of any laptop or notebook: A bag that protects the device and makes it easy to transport, and a power supply that is always included when you buy it (and must be purchased again in the event of a defect, so it may be worthwhile to compare the prices for power supplies in advance).
In addition, you can extend or improve the functions of your new notebook with suitable accessories . New on the market are, for example, eye protection films that prevent curious eyes from the side – especially working in the train or café is thus unbrightened possible. External webcams and headsets make video chatting and e-Sports much more comfortable – these devices can be connected to your notebook via USB or wirelessly via Bluetooth. The same applies to an external mouse, because not every user wants to use the laptop's touchpad permanently.
Important data about the different notebooks
For leisure and occasional work on the move: The good middle-class notebook
Size and weight: 13 to 17 inches, less than 2500 grams
of memory: 4 to 8 GB
processor: AMD or Intel Core i3, i5 or i7
graphics: On-board graphics chip or separate graphics card
Alternatively: A netbook with 10 to 12 inches when surfing is in focus

For frequent work or learning on the move: A powerful Ultrabook
Size and weight: 11 to 15 inches, less than 2000 grams
of battery life: Min. 5 hours
of RAM: 8 to 12 GB
Processor: Intel Core from i5
Graphics: On-Board Graphic chip
Alternatively: Zenbook or MacBook
For gaming: The power pack
Size, weight and battery life: From 15 inches, mostly high weight and low battery life through installed hardware and corresponding performance
Memory: Min. 16, often 32 GB
processor: Mostly Intel Core i7
graphics: Mostly NVIDIA GeForce graphics card
hard disk: 1 to 2 TB space for games
connections: Pay attention to connection options (wired and wireless) for headset, mouse, joystick, Cooling pad etc.
Hardware challenge: Danger of overheating – pay attention to good air circulation and cooling
Tip for demanding gamers: For most games a good gaming laptop is completely sufficient, but the latest high-end games run better on well-equipped desktop PCs.
Questions about notebooks
Can I turn off a laptop/computer when an update is installed?
Unfortunately, the answer to the question is not so easy: "Yes" or "No". In general, you should not simply switch off the computer during the update or force a shutdown. This will also appear on the screen during the update.

Now it can happen that the power fails at this moment or that the battery of the notebook doesn't run out. In this case, Windows is smart enough to detect that the last update was not successfully installed. After restarting the computer, the incomplete updates will be installed.

Unfortunately, it doesn't always work! If the computer does not start after an update has been canceled, an attempt must be made to open the Windows boot menu. To do this, briefly after switching on, when the so-called "BIOS Post" is displayed, the "F8" key must be pressed. Now you can try to start the computer in "safe mode" or with the "last working version". The required repair work must then be carried out on the operating system or the updates must be triggered again.

Important!
If a BIOS update is performed via a manufacturer tool, the power supply must never break. In this case, the mainboard will be irreparably damaged and must be replaced.

Is upgrading or upgrading a laptop useful?
Until some time ago, it was not a big issue to install memory extensions or a second hard disk in a laptop. Corresponding slots or slots were available on the laptops. But now it is no longer so easy. In some cases, the portable computers need to be dismantled quite a bit to expand. This was done by breaking the warranty seal, which would lead to the loss of the manufacturer's warranty. It is better to choose a notebook at the beginning, which also provides sufficient reserves for the future.

Why is the battery of my laptop always empty so quickly?
The reason many notebook batteries lose performance is because users do not treat the batteries properly. Modern lithium batteries should always be charged between 70% and 90%. Connecting the battery to the charger for days is just as harmful to the battery as discharging too deeply.
On the other hand, many laptops have an unnecessary power consumption, which can be significantly reduced with just a few clicks. This significantly increases the battery life. These include:
Reduce screen brightness unnecessarily.
Close unused programs and applications.
Disable self-starting background programs if possible.
Disable unused features such as Wi-Fi, Bluetooth, or modems.
Remove any unnecessary DVDs or Blue Rays from the drive.
In the Control Panel, set the power saving options optimally.
This text is machine translated.     About Laptops The differences between laptop, notebook, netbook and Ultrabook What should you pay attention to when buying a laptop? Well equipped with the suitable notebook acce...