This text is machine translated.
Useful information about laser measuring devices and ultrasonic distance meters
What is a distance meter?

What types of distance meters are there?

Buying Criteria for Distance Meters – What do you need to pay attention to when you buy them?

Application example 1: Determine wall and ceiling surfaces for painting

Application example 2: Measuring in the photo

FAQ – Frequently Asked Questions about Distance Meters

Conclusion: How to buy the right distance meter
What is a distance meter?
A distance or distance measuring device is used to measure distances quickly, easily and precisely. This eliminates the need for complicated handling with a meter bar or a tape measure – which is becoming increasingly faulty at longer distances. A simple aiming of the surface (or alternatively target plate) and a push of a button are enough to determine the exact distance to the object to be measured in a very short time. A major advantage of distance meters is that even objects and distances that are difficult to access can be measured without additional tools, for example in high ceilings, in rooms that are moved by furniture or across ditches and other obstacles. Better equipped laser distance meters also allow indirect measurements by means of an in-built inclinometer by means of triangulation. For example, the height of a wall or tree can be determined, even if direct measurement is not possible.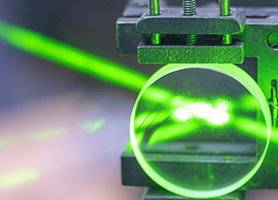 What types of distance meters are there?
Today's measurement methods of compact, hand-held distance meters are based on either laser radiation or ultrasound waves, whereby the ultrasonic measurement method is becoming less and less important due to the advent of low-cost laser distance meters. While laser distance meters use a modulated, closely focused and visible laser beam for measurement, ultrasonic distance meters emit high-frequency tone pulses. The distance to the object is calculated from the time difference between the pulse emission and the reception of the signal reflection in both measuring methods
The advantages and disadvantages of both measurement methods:
Very inexpensive devices available
Sufficient accuracy indoors and with smooth, larger surfaces
Limited range and accuracy, hardly suitable for outdoor use
Small objects cannot be reliably targeted and measured
Susceptible to interference in wind, temperature fluctuations and inclined objects
Sound-absorbing surfaces reduce the range or prevent measurements altogether
Inexpensive entry-level devices available
Ranges up to 200 m and measurement accuracy of +/- 1 mm possible
Can be used independantly of wind and temperature influences
Even small measuring objects can be precisely targeted and measured
Reflective surfaces may interfere with measurement
Fog, snow or rain and direct sunlight can reduce the range
Buying Criteria for Distance Meters – What do you need to pay attention to when you buy them?
Not only the maximum measuring range plays a role, but also whether the distance meter is to be used only indoors or outdoors. The manufacturer's specifications for the maximum measuring range generally refer to the ideal case, in particular a well-reflecting measuring object in indoor areas without direct sunlight or interfering influence through artificial light. It is therefore advisable to plan for a convenient buffer when purchasing, so that the expected distances can actually be measured – even in less than ideal conditions.
During the day, the laser point is usually not visible to the naked eye at a relatively short distance, even without direct sunlight, or is only displayed with low contrast. The measurement can be correspondingly difficult. Therefore, only laser distance meters with optical viewfinder are suitable for outdoor use and in the construction sector. In today's generation of devices, the is usually integrated digitally in a TFT color display. The laser point is displayed in a crosshair clearly visible, a direct and cumbersome view into a target optics is thereby omitted. For larger measurement distances, many devices offer a zoom function, which makes precise targeting much easier.
For interior design, in the construction sector and in landscaping, laser distance meters with integrated inclination sensor are recommended. The additional angle information obtained with this allows a variety of extended measuring functions. This includes, for example:

Tilt measurements
Altitude tracking
Measurement of inclined objects
Height profile measurements
Indirect measurement of obstacles
Measure in the photo

Distance measuring devices with memory and transmission function for measured values (and photos) can save you a lot of time in case of frequent and complex measuring tasks and make the cumbersome recording of measured values and object designations unnecessary. Clearly labeled photos with measured values prepared using the app or PC software facilitate a secure assignment and help to avoid errors.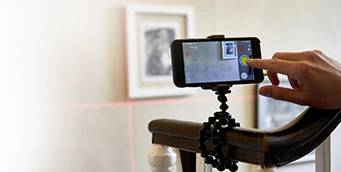 Application example 1: Determine wall and ceiling surfaces for painting
To determine and add each area to be covered with a meter stick or measuring tape is not only cumbersome, but also time-consuming. With a distance meter, these tasks are completed in the shortest possible time. When purchasing, make sure that the device has a wall surface function, also called "painting function". Depending on the design, equipped distance meters automatically add all wall surfaces and even allow the ceiling area to be included. The display shows the total square meter count directly after the measurements have been completed. Both the stock for the preparation of the offer and the determination of the required color quantity are done in this way in a matter of seconds.
Application example 2: Measuring in the photo
You are standing in front of an object that is not currently accessible, but still need to determine its dimensions? Here too, there is a solution, namely the measurement in the image. A single measurement – perpendicular to the object – is sufficient. The contours of the object are then marked with movable arrows in the photograph taken and the measured values for height, width and area are shown directly in the display. For round objects, its diameter can also be determined.
FAQ – Frequently Asked Questions about Distance Meters
Is there a minimum measuring distance?
Yes. In ultrasonic distance measuring devices, this is usually in the range of 50 cm or more. Depending on the model, laser distance meters can be used for considerably smaller distances from 5 cm.
What is the accuracy ordered? Isn't a meter stick or tape measure more accurate?
High-quality laser distance meters offer a measurement accuracy of up to +/- 1 mm, even over larger distances and over obstacles and uneven ground. In addition, measurement errors are no longer necessary, as they can easily occur when working with measuring tapes and other mechanical measuring instruments.
On highly reflective surfaces, the measurement does not work with laser distance measuring devices. What can I do?
Simply stick a piece of masking tape onto the object to be measured, or use a special target board.
The laser point is only poorly visible. Can you influence that somehow?
A special laser sight glasses, which mainly pass red light, improve the visibility of the laser spot. In any case, a laser distance meter with integrated viewfinder is recommended for outdoor use.
Conclusion: How to buy the right distance meter
Very simple tasks can be fulfilled by an ultrasonic distance meter. For example, for the thickness of painting or wallpapering tasks indoors, no millimeter-precise measurements are necessary. The large walls and ceilings reflect the ultrasonic signal reliably – there is no risk of missing the target measuring point. Similarly, a window-building operation, which normally only measures window and door positions, does not require a high-end distance meter with a variety of functions. Here a simple, but compact and thus easy to follow laser distance meter is sufficient.
For more demanding measuring tasks in the construction sector and comfort-oriented users, well-equipped laser distance meters, on the other hand, have many advantages. The ability to store measurement data and, in some cases, images of the measured objects and to transfer and edit them on a smartphone, tablet or PC can mean enormous time savings and work simplification for large projects. Similarly, equipped distance meters allow measurements that would otherwise only be possible with additional tools and a high amount of time. In such cases, the higher purchase price for high-quality, multi-functional distance meters pays off after a short time.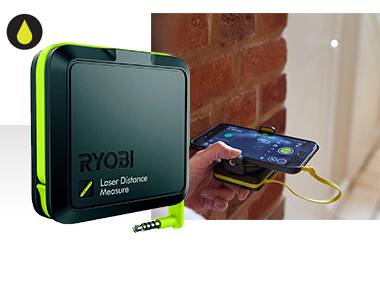 This text is machine translated.     Useful information about laser measuring devices and ultrasonic distance meters What is a distance meter? What types of distance meters are there? Buying Criteria for ...