This text is machine translated.
How does an LED controller work?

What are LED controls used for?

What to look for when you buy
Over the last decades, light emitting diodes, short LEDs, have increasingly displaced light bulbs from the market. Although LEDs are a little more expensive, light emitting diodes offer a longer life and better energy efficiency than light bulbs. Today, solutions with LEDs are available even for classic sockets designed for light bulbs. LEDs can not only be used as conventional lamps. Whether colored for atmospheric lighting, classic like conventional light bulbs or with pulsating effect for the party cellar - with a suitable LED control you can use your lamps in many different ways.
With an LED control, you can adjust the brightness and color of your light emitting diodes as desired depending on the type of controller and the nature of the LEDs. More complex devices can be controlled easily with the remote control or with the Smartphone. In this way, you can set the appropriate lighting mood in your rooms at any time and set specific accents. You can also program automated sequences with the appropriate LED control.
How does an LED controller work?

LED controls take over various functions for controlling the lighting. Simpler controllers can be used as LED dimmers. More complex devices can also regulate the color temperature or adjust the color for RGB LEDs or adjust the speed for pulsating light. With conventional bulbs, the brightness can be changed simply by adjusting the voltage. This is not possible with light emitting diodes, as they behave like conventional diodes at low voltage and only light up at a certain voltage. In order to achieve a DIMM effect, the principle of pulse width modulation (PWM) is used. With this, the LEDs are switched on and off several hundred times per second.
The longer the phases in which the LED is switched off, the darker it appears. Flickering is so fast that the human eye cannot perceive it. Thus, the light just seems darker to us. For RGB LEDs, you can vary the color with the appropriate LED controller. The controller controls the red, green and blue individual LEDs separately. By making the basic colors light up differently, you can map the entire color spectrum. As with mixing colors, the LEDs light up in the color you want through the correct adjustment. In addition, LED controls for RGB diodes offer additional functions such as setting color gradients. You can also pulse the light at different speeds. Please refer to the article description to find out which functions your LED control performs exactly.
The respective settings for the LED can be made on the controller in different ways depending on the complexity of the device. While simpler controls are operated manually on the component itself, more expensive controllers often have wireless or IR remote controls that allow easy remote switching between modes. More complex LED controls can be controlled via W-LAN or Bluetooth easily from the mobile phone via app. Modern LED controllers have many different functions, with which several LED bulbs and LED strips can be networked together and controlled easily by remote control.
What are LED controls used for?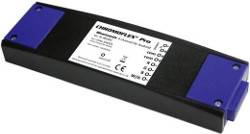 There are no limits to your creativity when using LED controllers. Devices that can perform complex functions such as controlling RGB LEDs can also be used for LEDs that are dimmable, for example. Some devices can also be programd, so that you always have the right lighting conditions automatically at the time you specify. With the remote control or smartphone, the LEDs can still be adjusted to your wishes at any time.For example, the LEDs can be dimmed during a presentation, so that the presentation can be optimally seen by all parties involved.
Or you can program your lighting to a switch-off time so that you don't have to be careful in your rooms to switch off the light in the evening. With color gradients or pulsating light you can create atmospheric effects or a suitable optical background for dance music. With the right color temperature and brightness, you can create the right mood for each room. While the lounge has a more warm, subdued light, the work room provides colder, brighter light to create the optimum conditions for productive use.
What to look for when you buy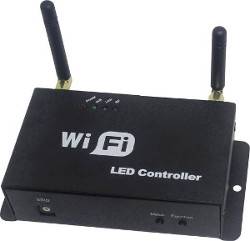 Depending on which LEDs you want to use and for what purpose you want to use the LEDs, other control units are available. For example, if you only need white LEDs, you do not need to spend money unnecessarily on a complex RGB LED control unit. Detailed information and information on the technical data of the controllers can be found in the product descriptions and the data sheet of the respective devices. Depending on the type of LEDs connected and the application area, different controllers are suitable for you. So check which features are useful for your application and then decide.
Simple controllers can dim white LEDs controlled by button or controller for little money. If you want to use RGB LEDs, you need a more complex controller. These control each color channel individually. With more expensive dimmers you can fall back on pleasant comfort functions. For example, you can program that the color of the LEDs changes depending on the time of day. Or you can use the corresponding software to control the LEDs with your smartphone.
Some manufacturers offer waterproof housings that protect the LED control from rain. This means that the lighting can also be used outdoors and you have the option of setting colored accents in the garden or entrance area of your building, for example. In addition, you should pay attention to some of the key figures that you will find in the product datasheet. The maximum output power of the LED controls is often limited. If the LEDs connected to the controller consume more power, the controller can permanently damage it. In this case, you should use another device.
The operating voltage is also important. The LED controls require an upstream power supply. This must supply the appropriate DC voltage for the controller to function. If you are unsure about your purchase or have any further questions, our customer service will be happy to provide you with personal advice.
Bottom line
LED controls can be used anywhere inside and outside your building to create the mood of light in your house individually and according to the time of day or specific events. This way, subtle color accents can be set with RGB LEDs.
With an adjustable white tone, you can create the optimum color temperature for your needs at any time of the day. Depending on your wishes, the LEDs can be controlled at any time with a radio remote control or smartphone or programd according to the time of day.
What was LED?
LEDs now meet us everywhere: Whether traffic lights, television or lighting in private and business rooms. Due to their long life, their small size as well as the variety of shapes and color spectra, LEDs have become established in a short time as compared to light bulbs, halogen and energy-saving lamps. Behind each LED there is a whole piece of technology, which we explain to you in our guide.
This text is machine translated. About LED controls How does an LED controller work? What are LED controls used for? What to look for when you buy Bottom line Over the last decades, light emitting diodes, short LEDs, have ...