This text is machine translated.
Knowledge of LED indicator lights
LED technology has long since arrived in the field of signaling: The small light emitting diodes inform us about the status of different machines, from small devices to large industrial plants. Please read our guide to learn how LED indicator lights work and what was to be observed when purchasing.
Signal lights – function and application

LED Indicator buying criteria – what is it all about?

Practical tip: Pay attention to series resistance!

FAQ – Frequently asked questions about LED indicator lamps
Signal lights – function and application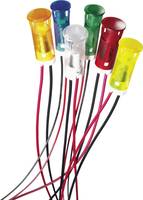 Signal lights are used to visually display the operating status of a machine or plant. Blink or continuous light can be used to visually display the status of machines. Especially in the work area with high noise emission, the lights fulfill an important signal function . However, they are not only used in industrial plants or control panels: They also play an important role in private households, for example in the hobby sector. Signal lamps are used in model construction, for example in large model railway systems.
A high-quality lamp with signal function produces a clearly recognizable, very bright light and does not dazzle. Depending on the application, your signal must be clearly visible not only at a small distance but also at a large distance.
The design of LED lights
The classical incandescent lamps are increasingly replaced by LEDs in the signal range. There is a lot of technology in a LED light bulb in the smallest of spaces. The core element of each LED is a semiconductor crystal consisting of a negatively doped layer with electron surplus and a positively doped layer with solder surplus. The semiconductor crystal – also known as the LED chip – is mounted on a reflector tub that increases the light yield. The LED chip attached to the cathode is connected to the anode by means of a razor-thin bond wire. As soon as current flows in the flow direction, the electrons are recombined with the holes . This process releases light flashes (photons) that are amplified in the reflector tub – the LED starts to light up . The color produced is influenced by the doping and the processed semiconductor materials. The sensitive components inside are protected from external influences by the plastic capsule.
Switching to LED is worthwhile wherever signal lamps are used. They have a wide range of signal colors and do not become hot as conventional light bulbs, which are not suitable for any application due to this property. Shocks and vibrations cannot be caused by many LED signal lamps, the same applies to splash water, depending on the degree of protection. Among the biggest advantages, however, are both a long life and a very low power consumption of the bulbs.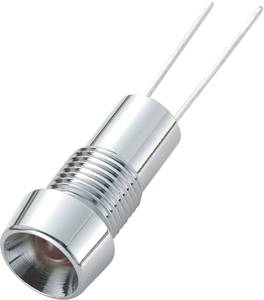 Buy LED-powered signal lights – take care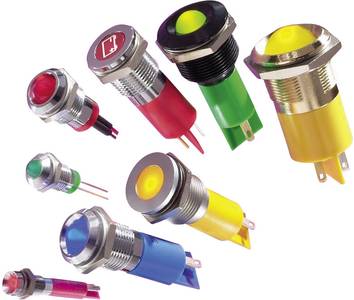 When purchasing signal lamps with LEDs, the following criteria must be observed:
Light mode and signal : The main function of LED indicators is to illuminate. Some versions are capable of producing not only continuous but also flashing light. In our online shop you will also find a selection of models that can send out acoustic signals , i.e. warning tones.
Degree of protection : depending on the application, the degree of protection is given special attention. Where many dust particles, moisture or extreme temperatures occur, LED signal lights must be designed accordingly. Pay attention to the degree of protection and check whether the selected indicator light is designed for outdoor use and is splash-proof.
Light color : Green, Red, Orange, Yellow or White? A large part of the LED signal lights available in our online shop are designed for one color. Multi-color variants usually support two or three light colors, which can be controlled as desired.
Lifetime : LED indicator lamps have a long life and reach 30,000 to 50,000 hours of operation according to the manufacturer, some even more.
Connection and installation : In order to be able to attach new LED signal lights, you must observe the connection option. In addition to LED signal lights with snap-in or screw fixing, many models have an open cable, are equipped with flat plugs for soldering or spade connectors, whose sizes range from about 2 mm to 6.3 mm.
Light intensity and angle of radiation: The light intensity emitted in a certain direction is given in the unit Millicandela (mcd). The angle of radiation (in degrees) is the angle at which the indicator light emits light.
Other special features: When purchasing such a lamp, information on operating voltage and current, storage and ambient temperature, internal and external reflector or series resistor and polarity reversal protection must be taken into account. The shape of the lens – round, flat or conical – must also be observed.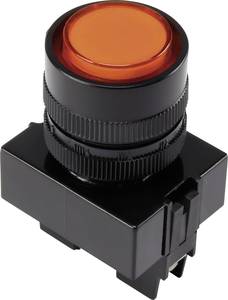 Our practical tip: Pay attention to series resistance!
As with all lamps with LEDs, a series resistor is required to prevent damage to the LED. If too much tension is applied, it can be destroyed. LED lights with integrated series resistor prove to be practical – especially for hobby users.
FAQ – Frequently asked questions about LED indicator lamps
Which colors cover LED indicator lights?
Most lights are single color. In our online shop you will find the largest selection of the signal colors green, yellow, red, blue and white. In addition, there are several other colors and multi-color variants available.
How large are signal lights with LED?
LED signal lights are available not only in different colors and shapes, but also in various dimensions. The size ranges from a single-digit diameter to a double-digit millimeter range.
What degree of protection must be observed?
This depends on the application area of the signal lamp. A large part of the LED indicator lamps are rated to IP67, which was designed to be dust-proof and protected against temporary immersion. Caution: Some models have different types of protection on the front and back.
What was LED?
LEDs now meet us everywhere: Whether traffic lights, television or lighting in private and business rooms. Due to their long life, their small size as well as the variety of shapes and color spectra, LEDs have become established in a short time as compared to light bulbs, halogen and energy-saving lamps. Behind each LED there is a whole piece of technology, which we explain to you in our guide.
This text is machine translated. Knowledge of LED indicator lights LED technology has long since arrived in the field of signaling: The small light emitting diodes inform us about the status of different machines, from small devices to large ...