This text is machine translated.
Useful information about LED kits
Areas of application for LED kits

Practical example: Indicator signal module for an alarm system

FAQ - frequently asked questions about LED kits

What was else to be observed when handling LEDs?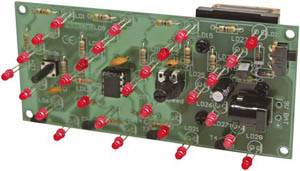 LED is the abbreviation for "Light Emitting Diode", also known as LED in German. In contrast to incandescent, halogen and fluorescent lamps, LEDs are extremely inexpensive , small , very economical in power consumption and have a life span of several thousand hours . Due to their usually low operating voltage, they are ideally suited for hobbyists.
Finished LED kits contain everything was needed for the installation of the circuit. Starting with the printed circuit board, capacitors and transistors up to resistors and precise LEDs. This eliminates the need to search for a circuit diagram for the selected purpose, as well as purchasing the individual components specified.
The most important thing is the included board . LED kits are a simple and cost-effective way to build circuits. The implementation of a circuit in a fault-prone "flying structure" can be avoided with kits as well as the "unbundling", in which the optimum positioning of components and cables on a PCB must first be found. The board is ready for use. The components are simply inserted into the corresponding holes and then soldered.
Areas of application for LED kits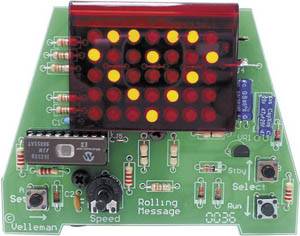 The spectrum of modern light emitting diodes ranges from infrared to ultraviolet. In between, the LEDs in red, orange, yellow and green, known for decades, and LEDs in blue, violet and white for several years. LED kits for private use range from versions as "wheel of fortune" to candles and tea lights.
In the professional field, two areas of application have established themselves for LED kits:
As signal transmitter: Red and green are signal colors and have made the winning streak of the colored LEDs possible. Hardly any consumer electronics device can be used as a status indicator without such LEDs. Popular with professional LED kits are signaling devices in the form of flashing lights or traffic lights. Together with other electronic components and sensors, for example for temperature, pressure or movement, clear signals can be transmitted optically. Kits with white power LEDs are often found in alarm systems : the bright flash light is designed to help deter unwanted visitors.
For information: Colored light emitting diodes can be cost-effectively combined to form running lights, which display animated texts or symbols manually or by means of triggers such as motion detectors or software. LEDs can also be found frequently as elements in digital clocks. Today, kits for torches or "invisible" surveillance lights are particularly popular. While the former emit very bright white light through power LEDs, the headlights use LEDs from the infrared range. However, images can only be displayed with night vision devices for infrared or surveillance cameras.
Practical example: Indicator signal module for an alarm system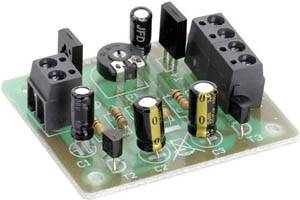 The task: If an alarm is triggered, the flashing signals that are visible from a distance should be activated.
The implementation: A kit with white power LEDs and two channels
Such an alarm extension is built in a few minutes, since all components are supplied. The special feature of the kit used here: The two flash modules with four power LEDs each can be separated from the control board. This makes it possible to install the control directly on the alarm transmitter, while the flash modules are installed independantly at places that are well in the field of vision. A simple wire is sufficient for the connection. You can control the flash speed as well as seven flash effects, whereby the last set effect remains stored.
FAQ – frequently asked questions about LED kits
Do LEDs have a plus pole and a minus pole?
Like all diodes, LEDs have a polarity (+ and -) and only allow current to pass through in one direction. Diodes therefore function quite frequently in electronic circuits as rectifiers. When installing the device, make sure that the polarity is correct! zu achten! This is printed on the circuit board; the negative pole (cathode) can be recognized by the shorter connection wire on the LED.
What must be taken into account when soldering in?
All diodes should be soldered with a little distance to the circuit board. For a very simple reason: There is still room to hold the two connecting wires with a narrow flat-nosed pliers, because all semiconductors – including transistors! – are relatively sensitive to heat . The heat of the soldering iron is safely dissipated via the flat-nosed pliers. This means that the soldering process should only take a few seconds.
What was else to be observed when handling LEDs?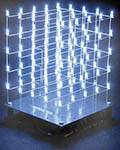 Light emitting diodes are extremely sensitive to high voltages and currents and the associated heat development. Above all, too high currents drastically shorten the life of LEDs. Preferred energy sources are therefore batteries or rechargeable batteries . If the completed kit is to be operated on the mains supply, a so-called constant power source should be connected between the power supply unit and the kit. They are also available as a kit at an affordable price. In addition to the printed circuit board, such a kit contains a transistor, two diodes and two resistors. By selecting the resistors, an operating voltage of 3 to 25 V DC can be set.
Our practical tip: Useful help
In addition to a soldering iron or soldering station, a "third hand" is very useful for working on electronic components. In this context, this does not mean a human hand, but a small metal helper with two adjustable "fingers" at the ends of which there are alligator clips. These clamps securely hold the board during the soldering preset. As a rule, a magnifying glass is also available, through which the soldering process can be observed closely.
What was LED?
LEDs now meet us everywhere: Whether traffic lights, television or lighting in private and business rooms. Due to their long life, their small size as well as the variety of shapes and color spectra, LEDs have become established in a short time as compared to light bulbs, halogen and energy-saving lamps. Behind each LED there is a whole piece of technology, which we explain to you in our guide.
This text is machine translated. Useful information about LED kits What was LED kits? Areas of application for LED kits Practical example: Indicator signal module for an alarm system FAQ - frequently asked questions about LED ki...