LED Outdoor Spot, Flood Lights
This text is machine translated.
Useful information about LED outdoor spotlights and LED floodlights
How quickly it happened. In the dark, when parking a company car, an unlit boundary pole can easily be overlooked. The Malheur has already happened.
Even worse, suppliers and customers do not immediately find their way to your company, just because signposts, company signs or the entrance area of the company building are insufficiently lit.
However, such unfortunate incidents could easily be avoided with efficient lighting.
We explain how modern LED outdoor spotlights put your company in the right light and save you a lot on operating costs.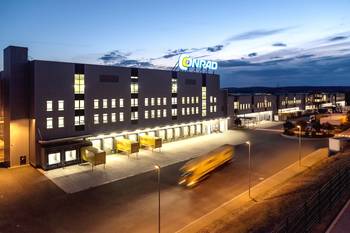 What was an LED spotlight?

What are the advantages of LED spotlights?

What are the different LED outdoor spotlights?
In this way, you can find the right LED spotlight

Frequently asked questions about LED outdoor spotlights
What was an LED spotlight?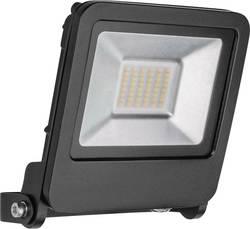 A modern LED floodlight with 30 W power.
LED spotlights are powerful lamps that generate light using LEDs (Light Emitting Diode).
In contrast to incandescent lamps, which emit their light in a spherical shape, LEDs have only one beam direction with a design-related opening angle. And it is precisely this light effect in a certain direction that is desired for spotlights. Complex reflector mirrors that divert the light in a certain direction are therefore not necessary.
If you want to know more about the exact function and the structure of a light emitting diode, you can find interesting information and interesting details in our light emitting diode guide.
For the light-emitting diode guide
What are the advantages of LED spotlights?
LED spotlights offer many unbeatable advantages. Which exactly, we have listed here for you:
Power saving
The most important advantage of an outdoor spotlight with LEDs is the enormous power saving. With almost the same light output, LED spotlights absorb less than 10% of the current that a conventional halogen spotlight would require.
Low heat generation
In contrast to halogen spotlights with filament lamps, LED outdoor spotlights generate significantly less heat. Since the current is mainly converted into light and not into heat, LED spotlights have enormous energy saving potential.
Long-lasting lamp
The light threads in halogen lamps are subject to aging and are very sensitive to vibrations. This results in a short lifetime with high failure rates.
Low operating costs
In addition to the low power requirement, LED spotlights also eliminate the costs of changing the illuminant. Because LED bulbs can withstand 15,000 hours of operation and more without any problem.
Simple connection
Due to the lower power consumption, it is possible to operate several powerful outdoor spotlights with LEDs at a power connection without any problem. No complex sub-distribution has to be installed.
High switching strength
In addition to the long service life, LED bulbs also shine through a high switching resistance. This makes it ideal to combine these lights with motion detectors that automatically switch on and off the bulb.
Low weight and compact design
Outdoor spotlights are getting smaller and lighter. As a result, the brackets or masts no longer have to be designed so massively. In addition, the outdoor spotlights can also be installed much more easily and inconspicuously at company buildings.
Individual light color
Depending on the LEDs used, the spotlights emit a light with a specific color tone. The color tone can be between warm white, neutral white and daylight white or cold white. RGB spotlights can produce red, green and blue as well as countless mixed colors.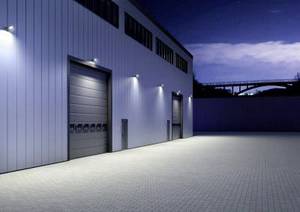 A brightly lit company premises ensure maximum security.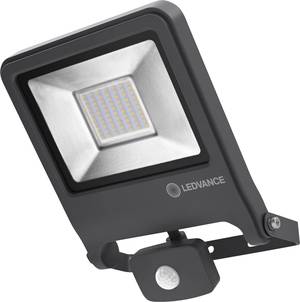 Thanks to its high switching resistance, LED spotlights are also ideal for operation with motion detectors.
Learn more about the color of light
The color tone or color impression of a light source is referred to as color temperature. The color temperature is indicated in Kelvin (K).

The higher the value specified in Kelvin, the more the color changes from red to yellow and white to blue.
| Light colour | Light sources | Color temperature in Kelvin |
| --- | --- | --- |
| warm white | Candles, incandescent lamps, halogen lamps, LEDs | Below 3300 K |
| Neutral white | Photo lamps, Xenon lamps, fluorescent lamps, LEDs | 3300 – 5300 K. |
| Daylight or cold white | Flash units, fluorescent lamps, LEDs, midday sun | Over 5300 K |
What are the different LED outdoor spotlights?
Classic LED spotlights for outdoor areas can be used as building lighting or for object lighting. They provide a high Leuchtkraft and are ideally switched over a time control.
LED spotlight and motion detector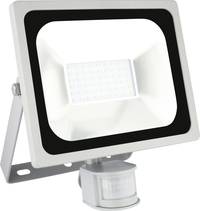 The passive infrared (PIR) motion sensor allows these floodlights to react to movements. The light is only switched on when it is really needed. However, there are a number of things to consider during assembly, as shown in the following practical tip.
To the LED spotlights with motion detector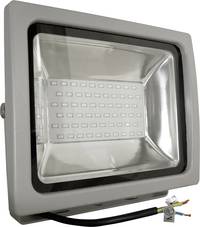 With the help of RGB spotlights, the color tone of the radiated light can be adjusted perfectly to the individual requirements. Thus, for example, the colors of the company logo can be impressively displayed.
To our RGB LED spotlights
LED solar lights can be quickly installed without the need for extensive installation. They are therefore ideal as sign lighting or for areas where laying a power line becomes difficult.
To our solar LED spotlights
Practical advice
In order for lights with PIR motion detectors to work efficiently, they must be mounted correctly. The detection range of the sensor is constructed in a fan-like manner and has different opening angles and ranges depending on the model. Since the sensor is passive, it does not emit radiation, but only detects infrared heat radiation in a specific area.
If the heat source (vehicle, person or even pet) moves in this area, the LED lamp is switched on automatically. The brightness at which the outdoor lamp is to be switched on as well as the light duration can be set individually.
The best motion detection is when a person moves across the sensor's "direction of view". When a person comes directly into contact with the sensor, the movement is detected very late. This must be taken into account when selecting the installation location. The recommended installation height can be largely read in the technical documentation.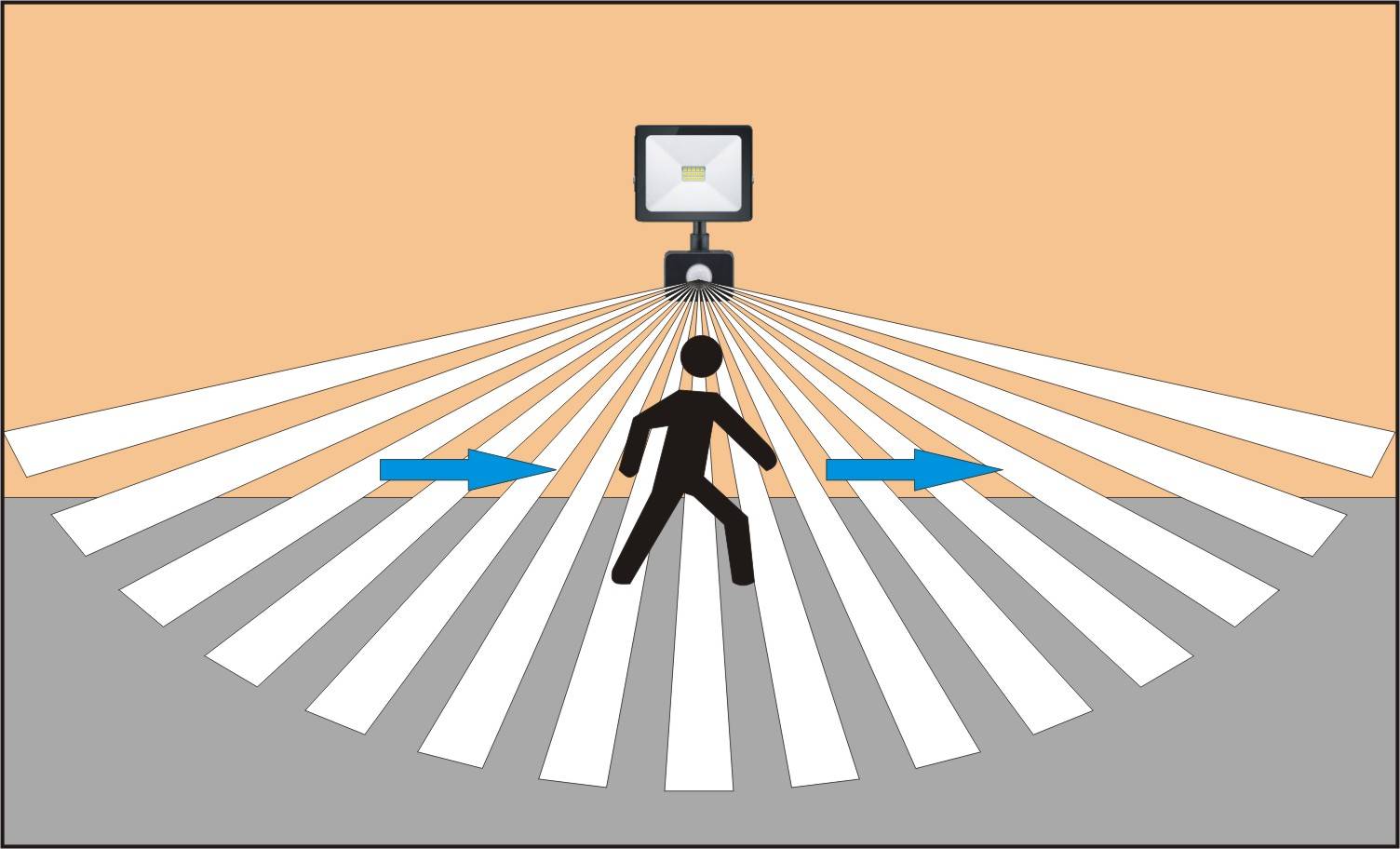 Movement across the "direction of view" of the sensor results in reliable detection of movement.
In this way, you can find the right LED spotlight
When selecting the suitable LED spotlight, different points of view must be observed:
Application area
If you want to efficiently illuminate the visitor's car park, the facade of the company building or the large company logo, powerful spotlights are essential. If the area to be illuminated is rather smaller, LED spotlights from the lower performance class are their own. These are partly even equipped with a solar module and can be used almost everywhere.
Light intensity
The light intensity, i.e. how much light a lamp emits, is indicated in lumen (lm). If the light output is compared with the power consumption in watts (W), you can make a statement about the efficiency of the emitter with the light yield or the value lumen per watt.
Installation location
If the LED lights are mounted on the outside, they should be installed as weather-proof as possible. If this is not possible, the outdoor floodlight exposed to the weather must have the required IP protection class (e.g. IP65). For more detailed information on contact/foreign bodies and moisture/water protection, please refer to our IP protection rating Guide.
For IP protection class Guide
Power Supply
Most outdoor lights are connected directly to the mains voltage with 230 V. However, since it is not always possible to lay a power cable, there are also LED outdoor spotlights with built-in rechargeable batteries and solar cells. In this case, the low power consumption of the LEDs is positively noticeable.
Motion Detectors
Spotlights with motion detectors are particularly suitable in areas where visitors, customers or other people are on the move. This minimizes the risk of accidents. In addition, the motion detectors ensure that the lighting is only switched on when it is needed.
Practical advice
LED outdoor spotlights with motion detectors are also ideal for securing your company premises. Especially remote and confusing areas can be protected very well thanks to motion detectors. If unauthorized persons attempt to gain access in an unusual way, they are immediately discovered in the bright light.
Frequently asked questions about LED outdoor spotlights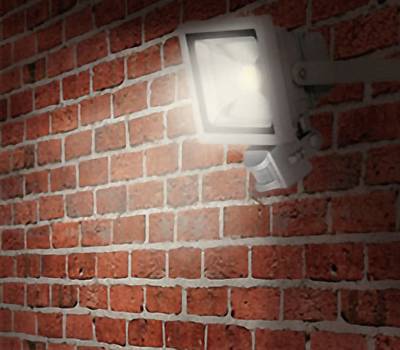 Would you prefer to use solar lights or permanently connected LED outdoor spotlights outdoors?

Solar lamps with earth spike and LED technology are ideal for a private garden. Especially when no high light output is required for the lighting. In addition, there are usually no weather-proof power connections at the necessary places in the garden. If high light output is required because the object to be illuminated is large and further away, LED spotlights with mains connection are the better solution. Even if the installation is more complex.
How is the color tone set for RGB spotlights?
Depending on the version, the light color is set via a control unit or a remote control.
How many radiators can be connected to a 230 V circuit?
As a rule, the individual AC circuits are protected by 16 A. At an operating voltage of 230 V, this results in a maximum load of 3680 W. The connected load of all LED lamps or floodlight spotlights operated on this circuit must not exceed this value in total.
Must an outdoor floodlight be IP65?
An outdoor spotlight must only have the IP65 degree of protection if it is installed without protection on the outside. Since they are protected against water jets, the outdoor spotlights do not mind if they are inadvertently sprayed with the garden hose. If the outdoor spotlight is mounted not in the garden but on the house or outside under the roof, it does not have to have the protection class IP65. In this case, the IP44 degree of protection is completely sufficient.
Why do some motion detectors often switch without any apparent reason?
Why motion detectors seem to switch off for no reason can have many causes. Often it is a wrong alignment. Motion detectors then react to people or vehicles outside the property. Another cause could be an exhaust air opening in the detection area, through which warm air escapes. Animals such as cats and birds can also trigger motion detectors. Even the evaporation cold of a wet leaf that has passed by can be sufficient for the motion detector to switch.
This text is machine translated. Useful information about LED outdoor spotlights and LED floodlights How quickly it happened. In the dark, when parking a company car, an unlit boundary pole can easily be overlooked. The Malheur has alrea...