About LED transformers
What is an LED transformer?
What is to be observed when purchasing an LED transformer?
What dimmer do I need for an LED transformer?
Which test marks and protection classes are available for LED transformers?
Bottom line
Compared to incandescent lamps or halogen lamps, light emitting diodes (LEDs) offer an economical and resource-saving alternative. What was closer than replacing the 12 volt halogen lamps with efficient 12 volt LED lamps. But unfortunately, problems often arise!
The new LED lamps flicker when switched on, buzz or light up only weakly. If the old halogen lamps are inserted again, everything works wonderfully.
This is often due to the use of an incompatible transformer. A special LED transformer can help. We explain to you what purpose LED transformers have, what variants are available and what you should pay attention to when purchasing them.
Converting from halogen to LED bulbs is often problematic.
What is an LED transformer?
As the name suggests, this transformer is specially designed for LED lighting. In contrast to a conventional low-voltage transformer consisting of two copper windings and an iron core, an LED transformer is an electronic transformer. LED transformers are sometimes also referred to as driver, ballast or LED power supply.

Basic operating principle of an electronic transformer
In an electronic transformer, the AC mains voltage of 230 V/50 Hz is first converted into a DC voltage with a bridge rectifier (GR) and a charging capacitor (K1). The DC voltage is fed via the primary winding of a transformer (TR) to a switching transistor (T1). This can switch the DC voltage on and off several thousand times per second.
The output voltage is generated by induction on the secondary winding of the transformer (TR). This is rectified using a diode (D1) and smoothed using a capacitor (K2). A direct voltage is thus available at the output.
A control stage (RS) with optocoupler (OK) controls the switching times of the transistor via pulse width modulation (PWM). This allows the circuit to precisely maintain the output voltage of e.g. 12 V DC. In principle, this is a switched-mode power supply with a fixed output voltage.
Note: For transformers with an AC output, the diode (D1) and the capacitor (K2) are omitted. In this case, the connections of the secondary coil are routed directly to the outside.
The great advantage of this circuit principle is that the transformer can be very small due to the high switching frequency. This saves material, making electronic transformers smaller, lighter and more cost-effective than conventional transformers.
What is the special feature of an LED transformer?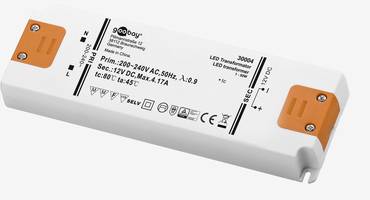 In contrast to electronic halogen lamp transformers, LED transformers do not require a high minimum load.
With some halogen lamp transformers, a considerable current must first flow through the lamps so that the transformer is able to precisely adjust the output voltage.
However, since LED lamps require very little current, very often the minimum necessary current is not reached and the transformer cannot generate the required output voltage. The errors described above will occur.
An LED transformer, on the other hand, is designed in such a way that it requires no load current or only a very low load current for setting the output voltage.
With a power bandwidth of 1 - 50 watts, the minimum load current is just 0.083 A.
What is to be observed when purchasing an LED transformer?
In order for LED transformers to have a long service life, they must be perfectly matched to the illuminants to be operated. They must also be operated within their performance limits. Therefore, there are a few important points to consider when selecting.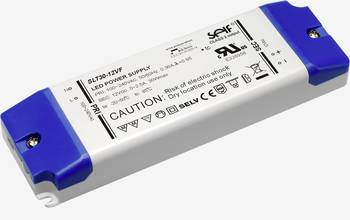 AC or DC voltage
Depending on the design, LED transformers can provide different output voltages: Most LED transformers output a direct voltage (DC). However, there are also some models that provide an AC voltage (AC).
When selecting a transformer, make sure that the type of output voltage of the transformer corresponds to the type of voltage required by the illuminant.
LED strips usually work with a DC voltage (DC), while the voltage required for the lamps may vary. A rectifier is integrated in some LED lights, which means that the lamps work with both AC and DC voltage. However, it should be noted that the rectifier in the illuminant heats up during operation, which increases the thermal load. This can reduce the life of the LED lighting.
Voltage level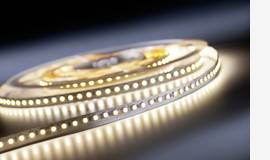 Apart from the type of voltage, the voltage level is also of decisive importance. Especially with LED strips, there is now a wide range of products with a wide range of operating voltages.
For this reason, LED transformers with different output voltages are also offered.
Due to the variety of offers, it is also possible to individually connect LED lamps or LED strips and to supply them optimally.
LED strips are available with a wide range of operating voltages.
Power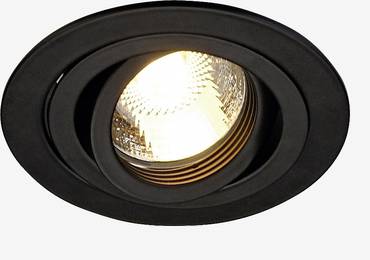 The power of an LED transformer is indicated in watts (W). In order to determine which power the LED transformer should bring, the individual consumers can be summed up. If, for example, five LED bulbs are to be operated à five watts, this results in a total power required of 25 watts (5 x 5 = 25).
If a 25 watt transformer was used for the LED light bulbs, it would have to run at full load all the time. In the long term this could lead to damage to the transformer. LED bulbs often require a higher power in the first few seconds when they are switched on.
The power of the 25 watt transformer would already be significantly higher at the moment of switch-on. If the transformer is equipped with overload protection, this can cause the device to switch directly to protection mode at the beginning and the LED lights will not go on at all.
The sum of the LED bulbs will give the total load of the transformer.
Practical advice
When purchasing an LED transformer, a reserve capacity of 30 to 35 percent should be planned. This ensures that the transformer provides sufficient power for the correct operation of the illuminants and does not overload. If required, the transformer power in watts can also be calculated according to the formula P = U x I. For this purpose, the output voltage (usually a DC voltage) is multiplied by the output current.
Dimmability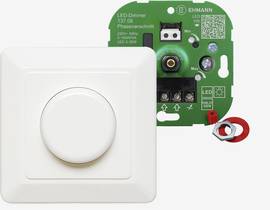 LED transformers can be dimmed and not dimmed in the versions.
Dimmable devices allow the brightness of the connected illuminants to be adjusted variably.
It should be noted that in addition to a dimmable transformer, a suitable dimmer is also required (see the following chapter).
If the light is only to be switched on and off, a transformer version that cannot be dimmed is sufficient.
The dimmer must match the LED transformer.
Purpose
Many transformers also have additional safety measures and additional extras that may prove helpful depending on the intended use. Most LED transformers have an electronic overload, overvoltage and short-circuit protection. This ensures that the device simply switches off in case of difficulties and that there is no damage.
It is also important whether the transformer should be mounted on a wooden piece of furniture, for example. In this case, it is best to choose a version with furniture approval (MM-mark), which guarantees that there is no increased risk of fire even when exposed to flammable materials.
Transformers with the furniture symbol (MM) are suitable for installation in and on cabinets.
What dimmer do I need for an LED transformer?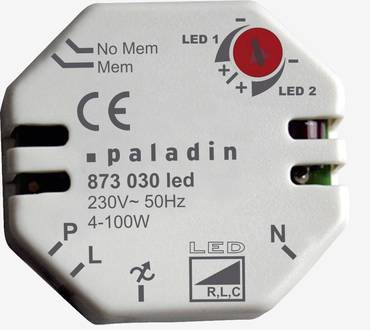 Depending on the function, dimmers are divided into phase angle dimmers and phase angle dimmers:
A detailed description of the different types and further interesting information can be found in our dimmer guide.
As a rule, the manufacturers indicate exactly for the different dimmers which loads (lamps or transformers) the dimmers are designed for. On the other hand, the transformer manufacturers specify whether a product can be dimmed and which dimmer is to be used.
If no information is available, a phase section dimmer must be used for an electronic transformer or an LED transformer. However, the dimmer must be explicitly designed for capacitive loads (code letter C).
This dimmer is suitable for resistive loads (R). Inductive loads (L) and capacitive loads (C).
Which test marks and protection classes are available for LED transformers?
There are various standard regulations for LED transformers which can provide orientation when buying. The two protection classes I and II can be distinguished. Protection class I guarantees that all electrically conductive parts of the housing are connected to the protective conductor system, while devices in protection class II have a reinforced or double insulation between the mains circuit and the output voltage.
The IP code also indicates how the device is protected against dust and water. For indoor operation, a device with the marking IP 20 is usually sufficient; for outdoor use, a higher value of IP 65 should be targeted.
Bottom line
The installation of a lamp with LED spotlights or LED spotlights offers an energy-efficient and gentle lighting alternative. The use of a suitable LED transformer guarantees long-term problem-free operation of the new illuminants. When purchasing, particular care should be taken to select a transformer with sufficient reserve capacity in order to avoid overloading. Criteria such as voltage type or specific use can also help to select the right device that matches the lights used and the specific conditions of use.
(This text is machine translated.)
About LED transformers What is an LED transformer? What is to be observed when purchasing an LED transformer? What dimmer do I need for an LED transformer? Which test marks and protection classes are available for LED transformers? Bottom line...