This text is machine translated.
What was a solenoid?

What types and types of lift magnets are available?

Buying criteria for lift magnets - what is it all about?

FAQ - frequently asked questions about lifting magnets

Conclusion: How to buy the suitable lifting magnet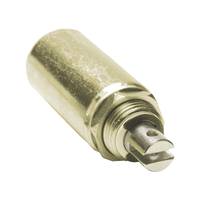 Illustration of the pushing solenoid in the rugged housing and return spring
A solenoid, also known as a linear magnet, is an electromechanical component and performs a straight-line lifting movement. Like all electromagnets, a solenoid is based on the same basic design principle:
A coil of copper wire is wound onto a coil carrier and forms an electromagnet together with an iron core. However, this iron core is not closed in itself – as with transformers – but is provided with an interruption and has a oblong recess, which serves as the bearing of the moving armature.
The magnetic field lines therefore flow preferably in the anchor of the lift magnet and move it in an effort to reduce the air gap.
The solenoid "pulls on" when its coil winding is flowing through electrical current – a stroke is carried out.
What types and types of lift magnets are available?
Lift magnets are available in different versions, depending on whether the stroke of the anchor ("plunger") is desired as a pulling or pushing movement. Depending on the application, the tappet is designed as a simple pin for transmitting the (then pushing) force effect or is provided with a clevis or threaded pin. The return from the stroke position after magnetic actuation is usually done by means of a spring.
Such a magnet is also referred to as a single thrust magnet or load lifting magnet; the force always acts in one direction. If a force is to be applied in both directions, bi-directional lift magnets are used. They have two separate coil windings, each of which is alternately energized. Depending on which winding is used, the magnet either performs a pulling or pushing motion.
Other versions are monostable and bistable electromagnets. They automatically lock at one or both end positions.
In the case of the design, one differentiates between cylindrical magnets with a round, cylindrical housing and the frame magnets in a rectangular design.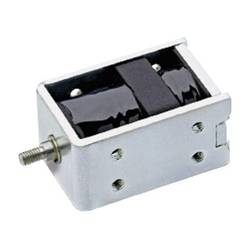 Illustration: Bidirectional and bistable magnet suitable for overcurrent.
Buying criteria for lift magnets - what is it all about?
The solenoid must provide the required force and stroke for the respective application. In terms of force, it must be taken into account that the coil resistance increases both through self-heating and at high ambient temperatures, thus reducing the power output. On the other hand, overdimensioning also has disadvantages: The high acceleration and impact forces that occur during each stroke unnecessarily increase the wear of the solenoid and mechanical components.
Especially for industrial applications, the magnet must operate reliably for a long time. Robust cylinder magnets are recommended for rough operating conditions. Its closed housing provides better protection against corrosion and mechanical damage to the coil winding.
The permissible duty cycle is not 100% for each electromagnet. Refer to the relevant data sheets for details. If forces are to be applied in both directions, bi-directional versions with two coils are used. For applications for locking or unlocking, such as tool output systems or steering wheel locks, monostable or bistable magnets are available. Here, only a short current pulse is required for a stroke, then the tappet remains in a certain position. This also prevents an unwanted hub, which could lead to dangerous situations in the event of a power failure.
Our practical tip: Damping rings
If the stopper noise of the anchor is disturbing, it can be reduced with many lifting magnets with so-called damping rings. Rubber shims used between the armature stop and the housing significantly dampen such stop noise.
FAQ - frequently asked questions about lifting magnets
Are there lifting magnets for connection to AC voltage?
In addition to the electromagnets for direct voltage, they are also used for alternating voltage operation. However, the disadvantage here is that their force at the start of the stroke is relatively low, but suddenly increases with the plunger further immersed, which was a very strong stroke noise. In addition, AC voltage magnets tend to produce unwanted humming noises.
Ich need more force for an actuation, can one apply a higher operating voltage than the nominal voltage of the lift magnet?
Short-term overcurrent to increase the force is possible, however, the data in the data sheet on the permitted duty cycle and the maximum number of switching cycles per time unit must be observed in order to avoid overheating.
Conclusion: How to buy the suitable lifting magnets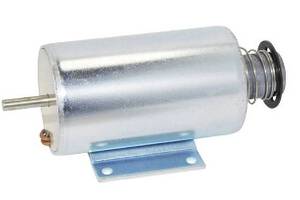 Figure: Cylinder magnet pushing with an initial force of 30 Newtons
For the required actuating forces for the mechanics to be actuated, calculate with a factor of approx. 1.4 to 1.5. If, for example, a actuating force of 20 N (corresponds to approximately 2 kg) is required, ideally select a lifting magnet with 30 N. in the data sheet, values usually refer to a temperature of 20 °C; this must always be taken into account in the calculation.
If only brief actuation is required at any given time interval, a smaller design and power solenoid can often be used in conjunction with short-term overcurrent current. This not only saves costs, but can also make a newly designed device lighter and more compact.
The subsequent use of damping rings reduces the useful stroke. If necessary, this loss of path must be taken into account from the outset. Mono or bistable lift magnets are available for power saving or for safety-relevant applications.
This text is machine translated. About lifting magnets What was a solenoid? What types and types of lift magnets are available? Buying criteria for lift magnets - what is it all about? Practical advice FAQ - frequently ask...