This text is machine translated.
Useful information about interference suppression filters
What was electromagnetic interference?

Measures against interference radiation

Which interference suppression filters are available?

Buying Criteria – that's what it's all about

Our practical tip: One line filter per power connection

FAQ – Frequently asked questions about noise filters
What was electromagnetic interference?
We are constantly surrounded by electromagnetic waves. Radio transmitters, mobile phone networks or the domestic WLAN network radiate energy at different frequencies. And that's so desired. All these waves are the carriers of information that we access with the right devices such as radio, television, smartphone or PC – to name just a few.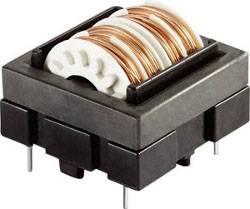 Interference suppression filter for mounting on a printed circuit board.
In addition, there are electromagnetic waves that can significantly interfere with the intended reception and processing of the information and provide noise. Have you ever heard a crackling noise on the radio when you operate a light switch? Something "growled" in the Hi-Fi amplifier when you were on the phone with your landline handset? Switched-mode power supplies also work at higher frequencies and radiate their working frequency. Each PC has a clock for the processor, which transmits disturbing signals. Similarly, the domestic 230 V power supply can be used to "insert" unwanted, high frequencies of interference radiation.
This should not happen normally, because the suppression of unwanted interference is done by means of interference suppression filters. As different as the possibilities for the penetration of interference signals are, the design and electrical design of these filters are different.
Measures against interference radiation
There are several ways to reduce radio interference:
Radio interference can be reduced at the source, for example by series resistors, capacitors and/or chokes (coils) . Such interference suppression components must be as close to the source of interference as possible to eliminate the antenna effect of the supply lines.
In addition, there is the possibility of shielding the interference source, e.g. by high-frequency-tight metal housing.
Filtering of the supply lines to and from the source of interference is possible, for example, with feed-through capacitors.
Another solution is the galvanic separation of signal source and signal receiver .
The electrical components that can solve this task are interference suppression filters . Of these, there are different types of construction with different elements.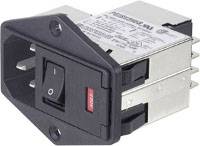 In-built noise filter with IEC socket and switch.
Which interference suppression filters are available?
Noise filter (general)
These are inductors or capacitance, which are installed directly on motors with collector brushes (rod suction) or in the connection box of larger electric motors, for example, in order to suppress the interferences that arise from such machines.
Depending on the application area, these filters are designed with special technical data and are designed to withstand certain environmental influences.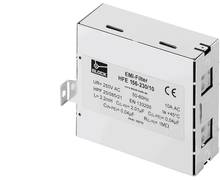 Radio interference suppression filter against conducted interference emissions.
EMI filter
The main task of the radio interference suppression filter is line-side interference suppression of power supplies and electronic devices . These filters suppress frequencies in the power grid that are above 63 Hz. They are mainly installed on mounting rails directly in the house connection box. They conduct high currents of up to 16 ampere as required.
So-called sheath current filters are used to eliminate high-frequency interference in coaxial cables. . These filters, which contain only two capacitors, can be simply looped in between the consumer and the antenna socket as a "capacity coupler" and are well suited for suppression of frequencies above 1 GHz, so that analogueue and digital radio and television reception is still possible without any problem.
For use in interference suppression filters, the capacitors are divided into two classes: X capacitors and Y capacitors. For X interference suppression filters, capacitors are connected between the phases or phase and neutral conductors. Class Y suppression capacitors are used to bridge the basic insulation in order to avoid hazards to the environment in the event of a short circuit.
Radio interference suppression capacitors are offered as individual components and completely as a multi-connection component.

Line filter
These filters keep disturbances from the low-voltage power supply (230 Volt) at the power supply connection of a device. At the same time, they prevent the return of possible interference frequencies from the connected devices to the low-voltage network via the socket. They are usually installed in the connection plugs and tuned to the power consumption of the devices. The problem – not only with medical devices – is so-called leakage currents, which are caused by the fact that interference suppression capacities are connected to the protective conductor. In modern filters, the is so low by technical measures that it meets the requirements of international standards (UL/IEC).
Many line filters consist of a IEC socket with integrated electronics (chokes and capacitors). Some models also have a power switch and fuses. Line filters are also available for PCB mounting.
Line interference suppression filters are sometimes used in socket strips in combination with overvoltage protection, for example.

LF noise filter
Low-frequency noise filters retain interference in LF components , for example in car audio systems or between components of the home hi-fi system. Faults are often caused by different ground potentials at the radio and amplifier or by the radiation from other car components such as generator or starter motor. Interference suppression filters of this type can be installed in cinch cables, for example. This is achieved by means of so-called sheath current filters (ground loop isolator) or ground filters (ground breaker) for ground decoupling. This separation can be realized with the help of coupling capacitors or transformers. The practical solution ultimately used depends on the desired frequency response.
In addition, there are special applications for data connections on PCs.
Buying Criteria – that's what it's all about
The first consideration should be whether you want to disturb individual devices or complex circuits. If installation work on the low-voltage power supply is necessary, you should seek the help of a specialist. It has qualified measuring instruments to check the effectiveness of the interference suppression components.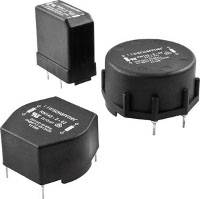 It is easier to install individual line filters . If there is sufficient clearance in the housing, existing cold device sockets can be replaced with those with line filters. Pay attention to the colored marking of the connections and their secure attachment.
If there is too little space for installation, it is possible to design a central power distributor . Here, several line filters can be used on a single wall connection via a parallel connection. But note: Each line filter is designed for a specific current load, ranging from 1 to 20 amps. In order to be safe, filters of at least 3 A (corresponds to approx. 700 Watt) should be used.
Our practical tip: One line filter per power connection
Many power distribution boards have only one line filter for all power outlets. However, this can have a negative effect on all connected Hi-Fi and TV components, as the current resistance (impedance) of the distributor strip changes toward the mains. Although there are virtually no interference currents flowing into the network, they are fed into other devices connected to the strip. It is more appropriate to provide each power connection with its own line filter or to use a distributor with individual or at least group interference suppression.
FAQ – Frequently asked questions about noise filters
What was the "EMI filter" printed on?
The abbreviation EMI stands for "electromagnetic interference", meaning electromagnetic interference or radio interference. Electromagnetic compatibility (EMC) indicates the ability of the component to prevent such interference. For this reason, the passive components are also referred to as EMC filters.
Can a line filter be integrated into a self-made cable?
This is easily possible. Instead of a solution with shrink tubing or even insulation tape, we recommend the purchase of a line filter with PVC cover and integrated power switch.
Is there a line filter without a pin for the protective conductor?
No, there is no. Not only for safety reasons, but also for functional reasons. The protective earth conductor – usually connected to the metal housing of the consumer – is absolutely necessary for filtering high-frequency waves. The water and heating lines of a house or apartment (the "earth") can act as a huge antenna for radio frequencies, they must therefore be included in the filter function.
This text is machine translated. Useful information about interference suppression filters What was electromagnetic interference? Measures against interference radiation Which interference suppression filters are available? Buyi...