LiPo rechargeable battery
About Lithium Polymer Batteries
What is a LiPo battery?
What types and types of LiPo batteries are available?
Purchase criteria for LiPo batteries - what is it?
Our practical tip: The right charger
FAQ - frequently asked questions about LiPo batteries
Conclusion: Suitable battery
What is a LiPo battery?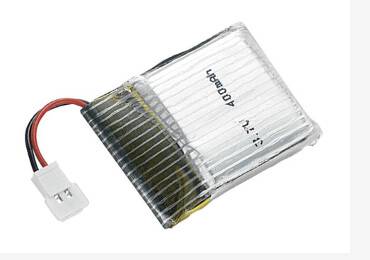 Lithium polymer batteries, or LiPo batteries, are rechargeable electrical energy storage batteries. From a cell chemistry perspective, they are similar to lithium-ion batteries..... Her cell chemistry is similar to lithium-ion batteries. In other words, their negative electrode is graphite, the positive electrode is lithium, more precisely a lithium metal oxide, which is the name of the electrode.
In contrast to lithium-ion cells, which usually have a prismatic design and always require a solid casing coating due to their liquid electrolyte, lithium-polymer batteries have polymer-based electrolytes.
These gel-like electrolyte films allow a high degree of freedom in the mechanical construction of the individual cells and thus particularly well-adjustable shapes. Especially flat or individually adapted form factors to the respective device housing enable a very good integration and space utilization. A separate housing is not absolutely necessary for LiPo batteries.
LiPo batteries function in the same way as other rechargeable batteries. These are electrochemical energy converters that use the voltage difference between two different elements in an electrolyte. The oxidation and reduction of the electrodes that takes place during discharge is reversed by the subsequent charging process at the charger; the LiPo battery can thus – depending on the treatment and conditions of use – carry out several hundred charge and discharge cycles until it has to be replaced.
What types and types of LiPo batteries are available?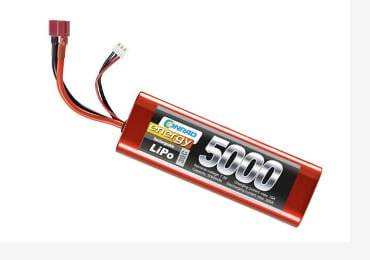 LiPo batteries are available as single cells and battery packs. Depending on the required supply voltage, several cells are connected in series in battery packs. The model of a parallel connection to increase capacity is rather rare, especially since lithium polymer batteries are manufactured in almost all the required capacities.
A large number of rechargeable batteries are available especially for model making, for transmitters, receivers and the drive of the actual model. Battery packs contain either a built-in balancer, an electronics that ensures an even charge distribution of the individual cells, or – in the case of many model batteries – special balancer connections for correct charging.
Lithium polymer batteries are available in the so-called hard case, i.e. a housing around the cells, as well as without such additional protection. Rechargeable batteries for space-optimized and weight-optimized applications, for example in mobile phones, are usually only covered with an insulating plastic film. In addition to integrated plug-in contacts on the battery itself, short connection cables with a variety of different plug connections are common.
Purchase criteria for LiPo batteries - what is it?
In addition to the electrical data such as rated voltage, capacity and current carrying capacity, the permissible temperature range and the required resistance to environmental influences must be observed. If a defective battery is to be replaced, the mechanical compatibility, i.e. the dimensions, plays an important role. In addition, the electrical connectors must match and the connection cables of the rechargeable battery must be long enough. Never use a rechargeable battery whose cell voltage does not exactly match the charging electronics.
Our practical tip: Use a high-quality charger
To ensure a long service life and consistently high performance of the battery, a good charger should be used. LiPo batteries are very sensitive to overcharging and deep discharging. Its capacity can be significantly reduced even after a single overcharge. Therefore, the charging electronics must be able to charge and monitor the battery precisely with the specified parameters.

If the rechargeable batteries are not used, they should never be stored completely or almost completely discharged. If the discharge voltage is below the permissible end-of-discharge voltage due to the always unavoidable self-discharge, the rechargeable battery will be unusable. The ideal solution is to store the product in a cool, dry room between 40 to 60% of the capacity and above a voltage of 3.6 volts per cell.
FAQ - frequently asked questions about LiPo batteries
How long does a LiPo battery last?
Differentiation must be made between aging-related wear, which always occurs and can hardly be influenced, and the maximum possible number of cycles. The number of charge cycles to be achieved depends on several factors. The quality of the LiPo charger is decisive for a long service life, as well as the avoidance of deep discharges or the charging and discharging at too high or too low temperatures. The respective data sheet provides information about the permissible charging and discharging currents, the temperature range and other specifications. If properly handled, several hundred complete charge cycles are realistic.
Do LiPo batteries have a memory effect?
Unlike the NiCd batteries that have now practically disappeared from the market, LiPo batteries do not have a memory effect. There is also no battery inertia effect, as can occur with NiMH batteries.
What voltage does a LiPo battery have?
Single lithium polymer cells have a voltage of 3.7 volts. Battery packs from several single cells are available in stages, for example with 7.4 V, 11.1 V, 14.8 V and so on.
Why does my lithium polymer battery suddenly stop charging?
LiPo batteries and battery packs usually have an internal electronic protective circuit. If the battery can no longer be charged or if the charger signals an error, the LiPo battery is defective and must be replaced.
Can LiPo batteries be disposed of in household waste?
Lithium polymer batteries contain lithium as well as other substances that require professional disposal. They must not be disposed of in the household waste under any circumstances. Special battery collection boxes are available for this purpose, as are recycling centers and many shops.
Conclusion: How to buy the matching LiPo battery
Lithium polymer batteries have a high energy density and are sensitive to influences of electrical, thermal and mechanical nature. Damage or overload can lead to overheating or even to a fire (which can hardly be extinguished by conventional means). Make sure that the battery covers the required power and temperature ranges and that the housing design is robust enough for the intended purpose.
Rechargeable batteries with integrated protective circuit are preferred, they offer a higher safety. It is better to avoid batteries and battery packs of unknown origin that are particularly cheap, they can not only be potentially dangerous, but also usually only offer a low service life and rarely the promised capacity.
(This text is machine translated.)
About Lithium Polymer Batteries What is a LiPo battery? What types and types of LiPo batteries are available? Purchase criteria for LiPo batteries - what is it? Our practical tip: The right charger FAQ - frequently asked questions about LiPo b...