Mains Power & Power Cable Connectors
This text is machine translated.
Useful information about power plugs & power couplings
Mains plugs are plugs for the power supply of electrical devices by plugging them into standard sockets. Power couplings are the "female" counterparts of the connector types. Both can be used to quickly establish detachable plug connections for the flexible use of electronic devices.
Power plugs and power couplings are installed as replacement connectors on the connecting cables of finished devices or for the power supply of self-made devices. To do this, the individual wires of the connection cable must be connected to the plug in a suitable way was required, which requires electronic expertise.
Which mains plugs and mains couplings are available?

What was to be observed when selecting power plugs and power couplings?
Which mains plugs and mains couplings are available?
Mains plugs are connectors for electrical devices. With these "male" plugs, power can be supplied via a conventional "female" socket, also known as a power coupling.
In Germany, the main applications are C-plugs and F-plugs.
C-plug / Euro plug
C plugs, alternatively type C plugs, are two-pole plugs without protective contact. The pins of these connectors are round. They are designed for the mains voltage of 220 Volt to 240 Volt, which is common in this country.
The so-called Euro plug is also a C plug. In order to be able to use devices with low power throughout Europe in the low-voltage network, the aim was to standardize the device using a two-pole plug without a protective contact. However, the corresponding socket type-C is no longer installed nowadays, because of its fault: The missing earthing contact.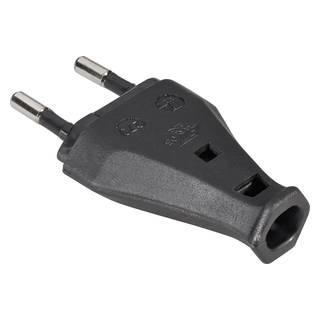 Practical advice
The C-plugs also fit in earthing contact sockets. However, F-plugs should be used if possible.
F plug - waterproof
F-plugs have a third contact for grounding in addition to the two pins for the phase conductors and neutral conductors. This protective contact should immediately discharge any false currents. Sockets for plug type F are widely used in Europe.
F-plugs usually fit in sockets type C, but they cannot fulfill their protective function, since there is no contact for the protective conductor for C-sockets. In addition, the raised shape of the F-plugs as profile plugs or contour plugs may not fit into very old sockets.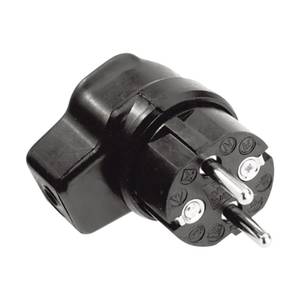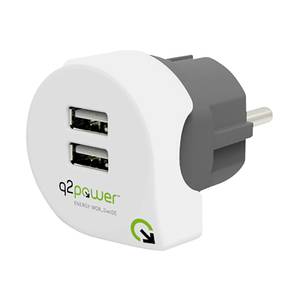 USB couplings as adapter plug
USB sockets are used to charge mobile devices. In practical implementation, the USB connection is often implemented with an adapter adapter at a normal socket. The adapter plugs are suitable for mobile use and offer great flexibility, since you can charge your smartphone and other small devices anywhere via data cable, where a normal socket is available. The constant carrying of the charging cable with power supply is not necessary.
Search tip: The alternative to the USB-coupling is the fixed installation of a USB-socket. USB charging sockets for stationary installation can be found here.
ILU plug
ILU plugs, also known as Illu plugs, are special plugs for lighting elements. The name is derived from the Latin "illumination", which means exposure, lighting or illumination in German. Flat cables are usually used for lighting. The associated plugs and sockets do not have a protective earth conductor.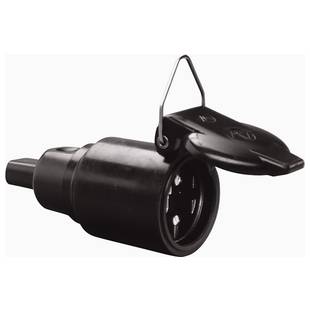 PRCD intermediate switch
Portable Residual Current Device (PRCD) are mobile residual current protective devices that are installed in the connection cables of electrical devices. They detect or monitor the function of protective conductors and are designed to protect against personal accidents in the low-voltage range. PRCD adapters are used both in the commercial area of electrical installation as well as in risk areas such as damp rooms.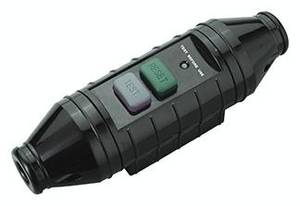 What was to be observed when selecting power plugs and power couplings?
Nominal voltage for the power supply
Most power plugs and power couplers are designed for the voltage standard in the low-voltage range from 220 volts to 240 volts. Some connectors have a nominal voltage of 250 volts and have a slightly upward tolerance, making them suitable for use with high-performance electrical consumers.
In exceptional cases, the permissible nominal voltage is 400 volts. These are plug connectors for mains voltage and control connections without public access, i.e. behind the wall or in technical rooms. These connectors have additional safety mechanisms.
Safety note: Most plugs are designed for around 230 volts, but not necessarily the devices you want to connect with them. Lower rated electronic components require additional power supplies or series resistors to transfer the output voltage of the power supply to a correspondingly lower voltage level. Failure to observe the voltage specifications on the devices poses a considerable safety risk!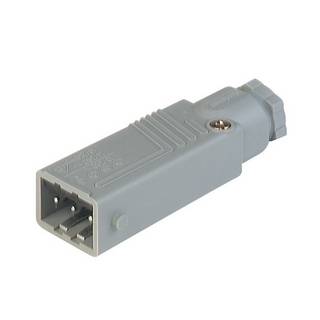 Accident prevention: IP protection types and protective conductor
Mains plugs and couplings are classified in IP protection types. These consist of two digits each. The first digit indicates protection against foreign objects and contact. The second paragraph gives information on protection against water. In general, the higher the numbers, the higher the protection against unwanted power transmission.
The plug design is also safety-relevant. While C-plugs and C-sockets do not have a protective earth conductor, the F-plug system with profile plugs and earthing contact offers a greater protection against current accidents. Of course, the earthing contact only works if the earthing cable behind the socket is available and adequately maintained.
Plug versions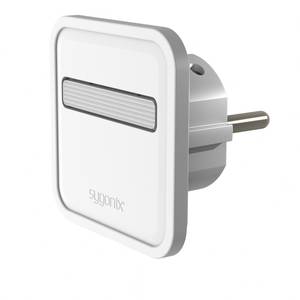 Mains plugs are available in straight versions and as angled plugs. Angled plugs are used where there would be insufficient space for the plug with a straight cable connection or if the angled cable routing is so desired.
A special type of the angled plugs are the flat plugs. They are suitable for use in confined spaces, for example behind furniture pieces.
Actually no mains plug, but nevertheless here are worth mentioning adapter plugs. They are not installed in the power supply cables. An adapter plug is plugged directly into the socket, on it other plugs are plugged. Adapters often have adapter or switching functions, such as switching the power supply on and off or converting a normal socket into a USB charging port.
Power couplings are also available in different versions. A fundamental distinction is made between mains couplings with protective conductor for plug type F and mains couplings without protective contact for plug type C and F. Whenever possible, mains couplings with protective earth conductor are used today, because their use is mandatory for powerful electrical devices.
For areas where dust or moisture is at risk, mains couplings with high IP protection should be used. In addition, there are covers for mains couplings, so that a short circuit is not triggered by dust and other interference factors when an unused socket is used.
A special design is multiple mains couplings for the power supply of different devices from a socket.
This text is machine translated. Useful information about power plugs & power couplings Mains plugs are plugs for the power supply of electrical devices by plugging them into standard sockets. Power couplings are the "female" counterparts...